Masters Beater 2018
We put some time into considering the Masters this year, thanks most likely to the rebound golf gets from return of Tiger Woods. People like to pretend that sports dynasties (same team always winning) like the Yankees and Patriots aren't good for the sport; but in fact, a seemingly impossibly dominant force sparks intrigue like no other. People just love a David vs Goliath story, and always have (or that story wouldn't be so old). Plus, his name is Tiger Woods; this would be like if LeBron James' name was Baller MacMofo. Even Grant Balfour's (one-hit-wonder A's closer) Dad couldn't top Tiger Woods in this respect. So now that you remember why you're reading this, let's bring up some more scattered points about the Masters which may intrigue?
Thomas Pieters: Why is he so popular this year?
Pieters is rocking as low as 54:1 to win the Masters as of day-before. To give you comparison, you can get Adam Scott & Louis Oosthuizen for 80:1, Russell Henley who always seems to play above his abilities at Augusta for 140:1 and you can even get a previously-injured-but-fully-recovered-wrist multi-majored champion Martin Kaymer for an incredible 380:1.
But Thomas Pieters? What's he got? Pieters is young, so perhaps this fields some hope? But he's not THAT young, he's 26 and has amassed a top 4 finish-- last year's Masters. This was the ONLY Masters he ever played, so perhaps the golf world thinks he's just a guy who loves Augusta and can oft-repeat what he did LAST year? Did they say the same of Rich Beem in 2003 after he dominated Peak Tiger Woods for an entire day 4 back 9, beating Woodrow like a lil beeotch? Wish we could look up THOSE odds in retrospect, but something tells us ol' Rich Beem wasn't anywhere near 54:1 back then.
Maybe it's Pieters stellar play this year? His best finish was 3 tournaments ago at 13th, and since then he's posted finishes of 37 and 52. YUCK, that's not a hot streak. How about Pieters innate ability to handle pressure, and just make cuts in majors? Nope, Pieters missed half of his last 4 cuts in Majors. Do you wanna do better than Pieters but betting on a similar concept? How about Haotong Li at 540:1 odds!!?!!
Li Haotong: CSHHHINA!!
Li is 22 years old, and already has a 3rd place finish in a Major (last year's British Open). That's 25% improvement on Pieters accomplishment last year, but at 4 years younger, so one could imply the talent here is larger. Li is 6 feet tall, but on Jan 28 2018 when he beat none other than Rory McIlroy for the Dubai Desert Classic, he stood much taller in stature. He posted a round of 66, 66, 64, and 69. Wow. He hasn't been as hot since, but he's hotter than Thomas Pieters for sure!
Why do we like Haotong so much tho? bc white punters in the US and Europe don't ever give any credit to the Asian tour members, they're always overlooked. It took Matsuyama some unbelievably high consistency and high placings and world ranking, to get respect, and even he is always underrated consistently. We don't know if Haotong is boom or bust, we just know that at literally 1 full order of magnitude higher odds, he's just a great bet.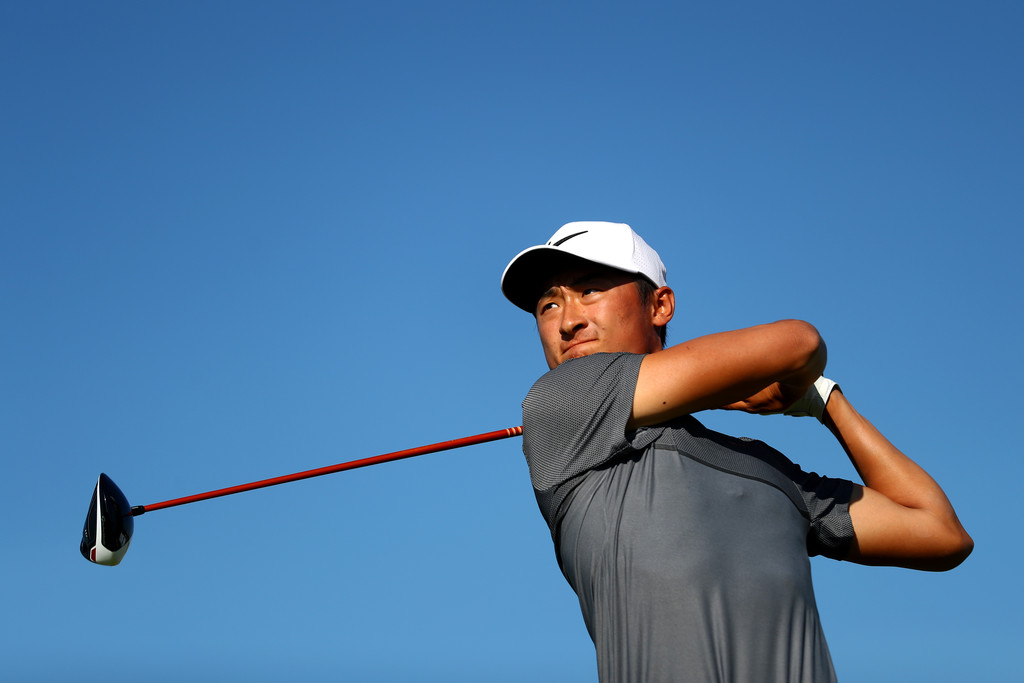 Louis Oosthuizen: 80:1####
Oosthuizen has talent galore, he approaches day 4 like Gus Hansen approaches a final table-- a heavy favorite or bust (missed cut). Oostie goes for it, he's not pulling punches. Sure, he might be gone by Friday, and probably will be gone by Friday in most majors, but when he's in it, he's a MAJOR threat on Saturday and Sunday to take it down (and he has already). We think Oosthuizen will win another, it's inevitable. 80:1 odds? CRAZY good.
Here's Louie's favorite motivational scene, sorry for the AWFUL music:
https://www.youtube.com/watch?time_continue=167&v=rVfIhrHTs5M
Ha Ha Ha very funny Tin Cup writers, but there's actually a decent unintended lesson somewhere in this scene-- it turns out he went conservative with that 7 iron the rest of the round, and made the cut which set up the rest of the movie.
Matt Kuchar: 65:1
Look, Paul Casey has a higher probability than Kuchar to win the Masters this year, but he's also priced at 24:1 odds. We think they are both pretty close to each other in their chances, but Kuchar pays 3x more. Unlike Oosthuizen, Kuch is likely to get you to Saturday and Sunday without a hitch, he's batting 95% in cuts made lately, and he's made 8 Masters in a row. But it gets better folks: Kuchar in those last 8 Masters, has finishes of 3rd 4th 5th and 8th. So half the time he makes the cut he's in the top 10? We'd say his odds should be about 10 or 15 to 1, and at WORST maybe 20 or 30 to 1.
Jordan Spieth: 10:1, 12:1 in certain places.
We're not all about the longshots (see below), sometimes you just have to know when an alpha-male favorite is priced like he's just a dog in the pack. Remember when Tiger Woods was winning multiple majors before he turned 25? Yeah, his odds back then would typically price around 4:1, sometimes lower. If you can get 12:1 odds on Spieth to win a major, you're making money. Spieth is like getting Niklaus in the 1970s. He and Rory are the best golfers on the tour right now, and Spieth is probably a lot better than Rory. Maybe it's the religious thing? (fodder for a future article) We don't know or care, we just know that getting great odds on the favorite is usually a recipe for making good money in the near term.
Here's some longshots we've identified. Keep in mind, we did our research in time to make our bets BEFORE the tourney, whereas the tourney has now been going for a couple hours and we haven't yet looked at the results so far, so we write this and are SURE some of our picks will look either suspiciously genius by the time your read this, or obviously stupid. But at least we're honest when we tell you we haven't looked yet, so if you see the odds change vs what we're printing here, you can either take advantage or stay away, we just present our take as of last night....
HOT LONGSHOTS
Webb Simpson: 290:1 (BetFair) Guy has been playing great recently
Austin Cook: 960:1 (Betfair) We weren't kidding about the word "longshot". he's 27 and relatively unknown, with no Masters experience whatsoever.
Martin Kaymer: 490:1 We already mentioned him above, his odds come from the recent wrist injury which helped him miss 4 important prep weeks this year, but his last tourney after recovery he finished 16th.
Fred Couples: 1,000 to 1 Fred shouldn't have odds this high, but he's also been injured this year. He didn't get to do his normal Masters preps. But Fred really cares about the Masters, so his absence from the tour might just be some super-secret method to ensure he's still NEAR his top capabilities come Masters time. You just never know with a guy who pays attention to his health. Yeah, we really mean longshots.
Wishing you the best of luck, you might find much lower odds than we found, Betfair tends to rock more favorable odds than your typical sportsbook or bookie, but you can use these numbers as a guide, and can even pay for odds for these players which are much much lower. We've focused on the absurdly priced here (other than maybe Spieth whose 10:1 is actually easily gotten and is just 100% higher than it should be).
QUESTION OF THE DAY:
Who was a better golf-movie foe? Shooter McGavin or Don Johnson?