#UCL // LIVERPOOL VS PORTO // Controversial Again with the VAR
Good evening, gentlemen, today I'm coming back here with more football, this time it's Champions League night.
As you know, the quarter-final matches are being played, which today were against Liverpool against Porto (match I'm talking about) and Tottenham against Manchester City.
Rapidly the local team would be placed in advantage, in a long pass that reaches the feet of Mané by the left wing who holds the ball until his teammates reach the area, in that he makes a pass to Firminho and this with his back to the goal is placed to Keita, who hits the ball first, and with a bit of luck a defender reaches to divert and places it practically on the crossbar, 1 to 0 for the local in the minute 5
Subsequently he remained attacking Liverpool concisely.
And in the 25th in a play in the middle field that Henderson kicks in the direction of the right wing that leaks the Arnold sideline over the defenders, and that with a simple touch he passes it to Firminho on the line (there is no offside ) and the Brazilian only has to push it. 2 to 0 crushing for the moment.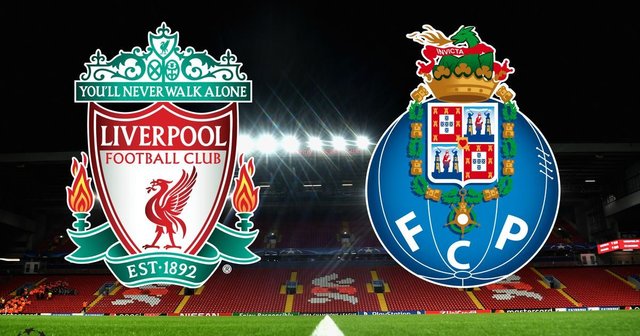 source
There was a controversy over one of the few offensive actions of Porto, in which in an attempt to get the ball by the Liverpool goalkeeper, he would hit a defender in the arm, a situation that was not taken to review the VAR but that It is hard to believe that the penalty was not sanctioned, since there is really no need on the part of the player to lift the limb either, or to cover his face.
And what could be the 3 to 0 for Liverpool, by Mané but was canceled by offside, minimally but there is the advanced position.
It is true that the dominance of Liverpool was clear, but there is doubt that would have happened if that penalty was granted, assuming that it would subtract 2 to 1, it would be a fairly open result for the return in Portugal, a new controversy where we asked ourselves which serves the VAR
source
---
---
---
ESPAÑOL
Buenas noches señores, hoy regreso aquí con más fútbol, en esta ocasión es noche de Champions League.
Como bien saben, se están disputando los encuentros de cuartos de final, en el cual el día de hoy se enfrentaron Liverpool contra Porto (partido del que vengo a comentarles) y Tottenham contra Manchester City.
De forma rápida el equipo local se colocaría en ventaja, en un pase largo que llega a los pies de Mané por la banda izquierda quien aguanta el balón hasta que sus compañeros lleguen al área, en eso hace un pase a Firminho y este de espaldas a la portería se la coloca a Keita, que le pega al balón de primera, y que con un poco de suerte un defensa alcanza a desviar y la coloca practicamente en el travesaño, 1 a 0 para el local en el minuto 5
Posteriormente se mantuvo atacando el Liverpool de forma concisa.
Y en el 25 en un jugada en el medio campo que Henderson patea con dirección a la banda derecha que se filtra el lateral Arnold por encima de los defensas, y que con un simple toque se la pasa a Firminho en la línea (no hay offside) y el brasilero solo tiene que empujarla. 2 a 0 aplastante por los momentos.
Hubo una polémica por una de las pocas acciones ofensivas del Porto, en la que en un intento de sacar la pelota por parte del portero del Liverpool, le pegaría a un defensa en el brazo, situación que no fue llevada a revisión del VAR pero que cuesta creer que no fue sancionado el penal, dado que realmente no hay una necesidad por parte del jugador de levantar así la extremidad, ni para cubrirse el rostro.
Y lo que pudo ser el 3 a 0 para el Liverpool, por parte de Mané pero quedó anulado por offside, mínimamente pero existe la posición adelantada.
Es cierto que el dominio del Liverpool fue claro, pero existe la duda de que hubiese pasado si se le otorgaba ese penal, suponiendo que restaría 2 a 1, sería un resultado bastante abierto para la vuelta en Portugal, una nueva polémica donde nos preguntamos para que sirve el VAR