ADSactly Sports: Corruption, cheating and exploitation? Is this what college sports have come to?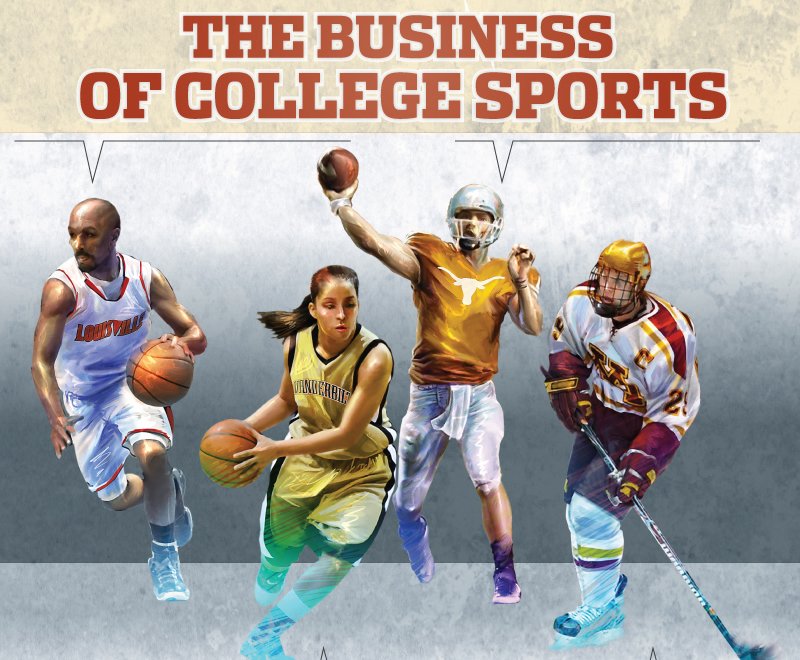 Source
Spring can be an extremely important time of year for college athletes. For those who have excelled at their craft, it is a time when they will be drafted into the professional leagues and finally have a chance at that payday they had been dreaming of since they were little. All those years thinking about what it would be like to make it to the bigs and play with the best of the best. A feat that as we have talked about in a previous article is not easy. For many of these college athletes, they are coming to the end of their sporting careers. If they don't get drafted to the pros then there is a good chance that they will not play sports at an elite level again. After watching the NFL draft I couldn't help but think about all that encompasses the world of college sports and its athletes. There is a whole lot going on with college sports and not every fan truly understands the good, bad and the ugly surrounding it.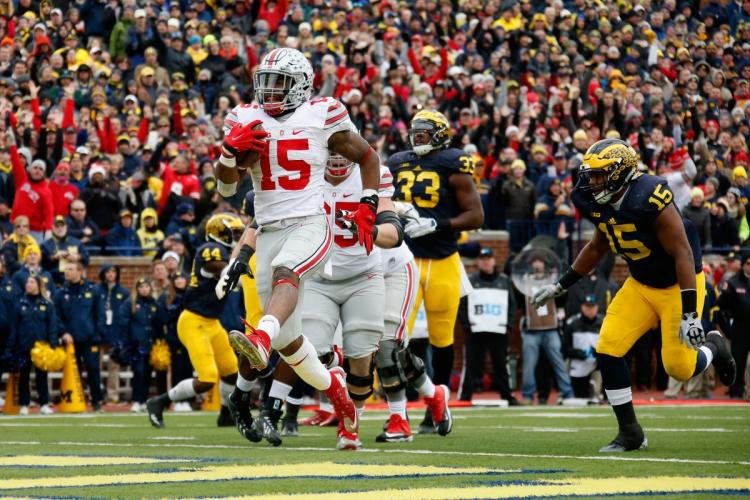 Source
At its roots, college sport is a wonderful opportunity for young athletes. It is a chance to get an education while continuing to play sports at an elite level after high school. Athletes get to develop their craft and get an education while gaining notoriety and the potential for a professional career. On the other side of the coin, the universities get to have positive attention to the schools and promote the school through the success of its athletes. This is how things were meant to be. Over time this has changed and college sports has become something else. Something bigger. College sports has become big business.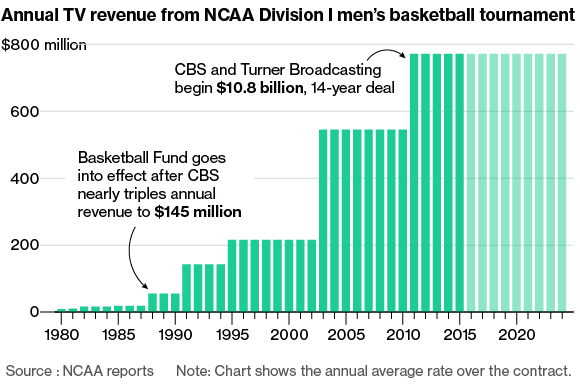 Source
College sports are widely considered to be some of the best and most entertaining sports to watch. There are many people that would consider themselves to be bigger college sports fans than pro sports fans. In fact, college sports has become a huge business in the United States with billions of dollars at stake. This has created a culture where the lines between right and wrong have become blurred. Money and profits have had an impact on almost all aspects of college sports. From recruitment to stardom and everything in between, money has its claws buried deep into the backbone of college sports.
With the rising demand for revenue and the fierce competition to be the best, there has been a rise in the negative publicity for college sports. Especially the big revenue earners. Football and basketball are far and away the leaders when it comes to revenue earning for a U.S University athletics program. These sports alone bring in millions and millions of dollars in revenue to their universities and athletic programs. Revenue has become such a driving factor in many of the current issues with college sports. The more successful a college team is then the more money they will get back in things like television and media revenue and through the sales of merchandise. Schools have become dependent on this revenue and are spending that money as fast as they get it to continue "building" the program. In some cases, even with the massive influx of revenue the athletic departments of many of these schools are operating at a loss.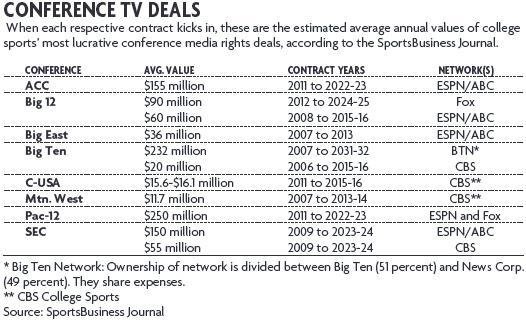 Source
To critics of big-time college athletics in America, however, the persistent inability of programs to profit despite continually rising income is evidence of systemic, wasteful spending.
"College sports is big business, and it's a very poorly run big business," said David Ridpath, a business professor at Ohio University and board member for the Drake Group, a nonprofit advocating for an overhaul of commercialized college sports.
"It's frustrating to see universities, especially public ones, pleading poverty . . . and it is morally wrong for schools bringing in millions extra on athletics to continue to charge students and academics to support programs that, with a little bit of fiscal sense, could turn profits or at least break even."
Source
How is it possible for these universities to be losing money when they are receiving so much revenue? Where on earth is this money going? It seems that the more money you make then the more you need to spend in order to keep making that same revenue. The problem is that there are big inequalities to the spending of this money and this has lead to a lot of scrutiny of NCAA policies. Some of these school biggest expenditures are marketing, recruiting and coaches pay. In fact, in many cases the coaches pay is by far the biggest expense for these schools. A coach can be the difference in the efforts to recruit a star player.
Source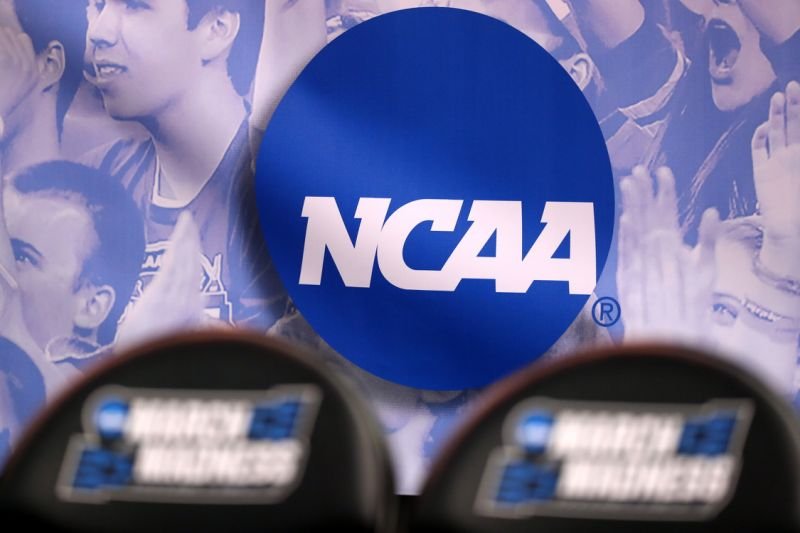 Source
There was a time when I thought that the biggest expense for a school would be the amount of money handed out for scholarships. Scholarships are:
a grant or payment made to support a student's education, awarded on the basis of academic or other achievement.
Source
Universities use scholarships to lure elite athletes to come to their school and play sports. This means that not only does the player get to play sports at a high level and potentially attract professional scouts, they also get a free education. I was shocked to find out that there was such a low number of college athletes that actually get scholarships.
The odds of winning an NCAA sports scholarship are miniscule. Only about 2 percent of high school athletes win sports scholarships every year at NCAA colleges and universities. Yes, the odds are that dismal. For those who do snag one, the average scholarship is less than $11,000.
Full-ride sports scholarships are scarce. There are only six sports where all the scholarships are full ride. These so-called head-count sports are football, men and women's basketball, and women's gymnastics, volleyball, and tennis. In these Division I sports, athletes receive a full ride or no ride.
Source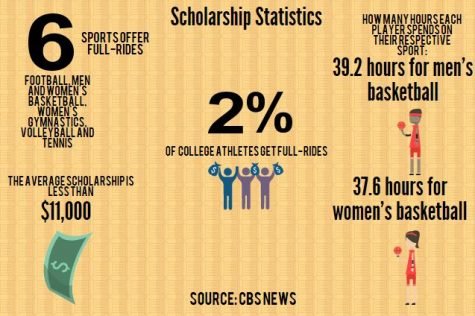 Source
This means that the majority of these college athletes are paying full price to attend these universities and on top of that there are athletic fees at a lot of these schools. How could I have been so naive as to think that most of these athletes were getting their education either fully paid for or supplemented? The reality is that most fans have a very similar misconception. This information coupled with the fact that only a minute percentage of college athletes will actually make it and go on to the pros makes me wonder if it is even worth it for these kids to play and give their all. I get that they all have the dream of making it to the pros but they risk injury all the time for schools that reward and glorify only the elite players and make millions of dollars off the backs of these athletes.
There has been an increasingly brewing argument about whether or not college athletes should get paid. Under the current rules, college athletes are considered amateur athletes and are forbidden from receiving payment for their playing outside of the rewarding of scholarships. This has lead to a number of high profile scandals in the NCAA as schools have attempted to recruit high-level players by offering them "gifts". These gifts are often arranged through a third party supporter of the school who is willing to pony up some money in order to help keep a potential star happy and playing at a particular school. There have even been cases where coaches are the leaders of this corruption.
In 1989 University of Oklahoma Sooners head coach Barry Switzer was caught offering illegal cars and money to players.
Source
Schools have been caught faking test scores and having students pass classes without doing the work or even attending class at times. There have even been findings of players being recruited through the use of prostitutes and drugs. Students have even been caught up in gambling and shaving points in NCAA sports. Manipulating scores of games to ensure a certain bet wins can be a way to supplement your income if you are an athlete struggling to get by. This type of corruption is a tragedy when at the end of the day these players will do 4 years at school and then be moved along and forgotten while the schools continue to reap the rewards.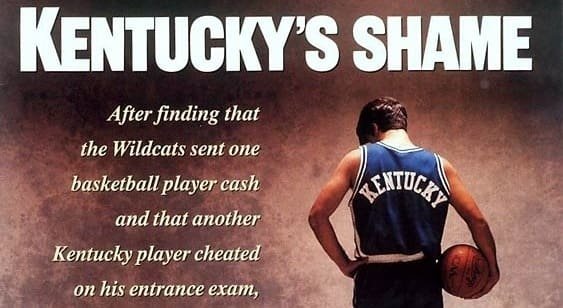 Source
There have been several films documenting the corruption in college sports. One of the most notable is the movie "Blue Chip" starring NBA stars Shaquille O'Neal and Larry Bird as well as well renowned actor Nick Nolte. The film is a scathing example of how corruption can play a part in the creation and development of teams. From cheating to boosters rewarding players through gifts "Blue Chips" demonstrates the worst of what college sports can be.
Blue Chips Trailer

Source
The reason professional athletes make so much money is the fact that they are the product. Owners and teams are able to charge high prices for tickets and merchandise as well as sign massive television deals because the public wants to see these players. This same phenomenon has occurred in college sports as well and yet a measly 2% of players are rewarded in any way? How can it be considered fair in any way that these schools are able to bring in these obscene revenues while the majority of players are getting very little in return? There has to be a better way. The efforts of these players should be rewarded in some way. Many people believe that players should be getting paid to play college sports and there is a feeling that players are being taken advantage of. In 2013 Sports Illustrated printed an article titled "Pay for Play" where all the reasons to pay college players for playing college sports are outlined.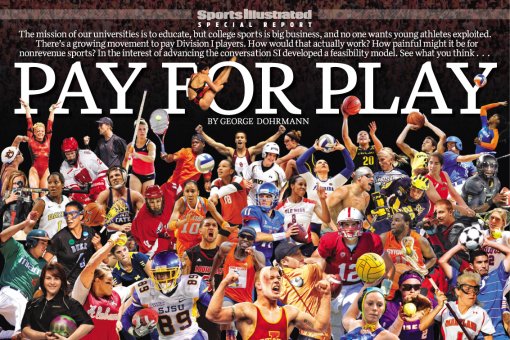 Source
College sports have even been described as:
exploitative and immoral, replete with lies, scandal, and corruption, denigrating the academic mission of universities.
Source
This is a scathing statement about an institution that is supposed to be setting the standard for the growth and development of tomorrow's leaders. What are we teaching these young people about how the world works. Forget about sports for a moment and just think about the inequality and negligence of this whole system. I personally don't know if paying players in the right answer but I do feel that something needs to change. How can we continue to support these programs? Does the entertainment value supersede our moral compass? Why can't these huge revenues go towards providing more scholarships and assisting with the cost of education for more of these athletes? Should universities be making profits while student tuitions continue to rise?
I would love to hear how you feel about the issues of corruption and cheating in college sports. Do you think the system is fine the way it is or does there need to be a fundamental shift in how these schools operate?
Click on the coin to join our Discord Chat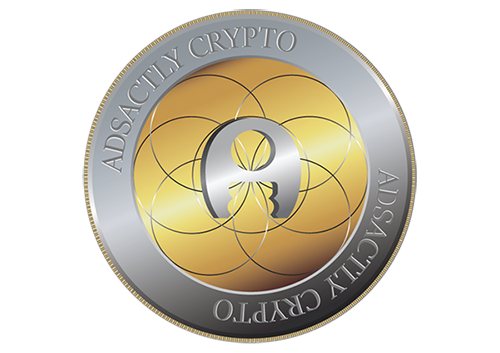 ---
Vote @adsactly-witness for Steem witness!
Witness proposal is here:



Go To Steem Witness Page
In the bottom of the page type: adsactly-witness and press vote.



Use small letters and no "@" sign. Or, click here to vote directly!
Thank you!

---