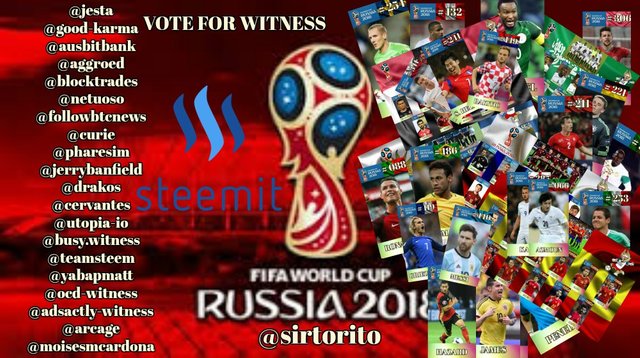 The third stage of the World Cup (Russia-2018) has already started and here it is in the bloctrades country, bringing us the next phase. If you already participated in the first and second, what are you waiting for! and if you have not done anything to compete in this third phase Enter Here
---
| Score | Team | vs | Team | Score |
| --- | --- | --- | --- | --- |
| 02 | France | vs | Belgium | 01 |
| 01 | Croatia | vs | England | 02 |
---
RULES
1 - The title of your post must be: The @blocktrades World Cup | My selections for the Semi finals
2 -In your post, you have to include a link to this announcement.
3 - Use the format included on this post to make your predictions so we can organize each entry.
4 - Use the tags "blocktradesworldcup" and the tag "mypicks"
5 - Resteem this post. We need everyone to see this post so no one stays behind.
6 - You can't edit your post after the first match of this stage start.
7 - Minimum Reputation to participate is 40. This is to avoid bots from joining and we will be checking that the winners ARE ACTIVE AND REAL STEEMIANS.
8 - You can submit your entry until July 10th 2018 at 20:59 pm, UTC+3 Time zone. If you don´t know that time zone, check it here
Scoring
You have to include the score for these predictions. For each correct score you will get three (3) points. If you only get right who won but you didn´t get the correct score, you will be awarded one (1) point.