Splinterlands Strategy Talk: Reverse Speed Battle | Fire vs. Death Splinter (21 Mana)
In @splinterlands newest share your battle it is the challenge to talk about a reverse speed strategy. In this post, I want to talk about one of my battles.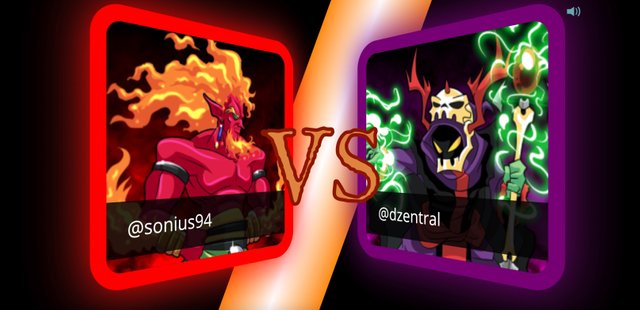 My summoner
There is no special strategy in choosing the Fire Splinter as a summoner. It was my quest and this is not a rule that brings some special advantage to any kind of summoner. Also, my rank was pretty high personally so that I was not looking too much on rules anyway (I hoped to lose some ;)). Sadly my opponent realized the pattern and chose the biggest counter with the death splinter. But all it means was that we are playing without any summoner bonuses in the end.
My team:
Furious Chicken
Pit Ogre
Giant Roc
Parasitic Growth
Kobold Miner
The battle:
My strategy
I love Furious Chicken in low mana cost battles. I love him, especially in Reverse Speed battles. Normally I put him into the last position to tank 1 sneak ability hit. But with reverse speed, there is a high chance that I will be able to make the first hit and to do one extra damage on the opponent's first position. Though my opponent used a 1-speed monster as well I was able to hit this first hit.
Next, I hoped that my opponent also uses a 1-speed monster so that my Pit Ogre and Giant Roc will be able to do a hit in the first round. Lucky me, my opponent killed the chicken with 1 speed. I used Giant Roc as a second position monster because many players put a tank or in the worst case a monster with healing ability in first position. As a counter I wanted my Pit Ogre to stun this "maybe"-healing. At what can I say: It worked as well. This was my lucky winning move.
For the rest of my team, I looked up monsters with the ability to attack somehow so that I can take down all my opponent's monsters as fast as possible. The Giant Roc should help my Pit Ogre to take the first position monster down. Parasitic Growth just should help to do the last hit on some monsters with low hp before any ability will be activated at the start of a (what worked also). Kobold Miner's job was to take down the monster in the last position in case there are any abilities that will weaken my team. This was not the case in this battle but it helped anyway to take down those ranged attack monsters.
I had many "small" strategies in this team composition and it worked perfectly. I was a little bit surprised that my opponent did nearly everything as expected and I was lucky a little bit that my stun worked on the first attack. This match was wonderful and I will probably try this strategy again.
Thoughts about Reverse Speed
I still do not know if I like this strategy or if I hate it. Speed is really important in matches. One monster that will increase your speed by 1 can change the complete battle. I like to try to increase my speed if possible.
But to have everything revered means that you cannot use all those speed increase/decrease monsters anymore. They just die although you can still choose them. I think it would be a good idea to publish a new ability that decreases your own speed (or increases opponents' speed). This card could be stronger than normal cards but will have this as ability as a downside. By this, they are still usable in normal battles but will get the king of reverse speed battles. Anyway, I would love cards with "bad" abilities but good stats. This would be one more thing to think about in team building.
In the end, I think every rule is awesome just because they are rules. If there wouldn't be rules like this you would start to choose the same team again and again. But with rules like this, I was searching for low-speed monsters first so that my brain started to think in another way about team building and this is so important to keep the game exciting and alive.