Untamed cards are too weak?
I had been playing an alt account with mostly Untamed cards at Gold Level. One season almost ending soon and this account is still struggling at Diamond III. Was hoping to reach at least Diamond 1 but that seems impossible now .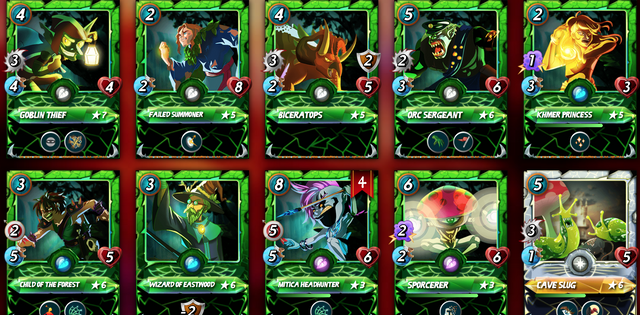 The account has almost all Untamed cards at Gold level, with a few essential Beta Neutrals like Lord Ariantus, Peaceful Giant, and some Rewards cards. Also two Beta Legendary Summoners in Plado and Valnamoor. From Peakmonster, the account is worth about $1000. But, it is struggling to win.
Admittedly, I did not have much time to study the Untamed cards and the new abilities. I am still using my Alpha/Beta experience to play them and most of the time it doesn't work.
I find that with only Untamed cards, it is really difficult to create a balanced team. In Alpha/Beta, the strategy is always ,
Concentrate on tank attacks
Double Snipe
Double Sneak
With Untamed, it is not realistic to piece such strategy in my team. Doubling Snipe or Sneak are usually too mana expensive. Many monsters either have low attack power or low health, or they cost lots of mana. Compared to Alpha/Beta cards, I think Untamed cards have imbalanced Attack-Health ratio.
Sure, they come with lots of new amazing abilities, but the best ones are usually only unlocked when the card is maxed. At Gold level, I find them really weak. So I am interested to see if anyone had been playing a pure Untamed deck at maxed level and how far you can rank.
Maybe Untamed cards are not meant to be played on their own. Maybe they are supporting cards to Alpha/Beta. Maybe I am just not good enough. Guess I will play a few more season with this account and try harder.