Equipo de Curación STELLAE | STELLAE Curation Team | Actualizaciones de Proyecto | Project Updates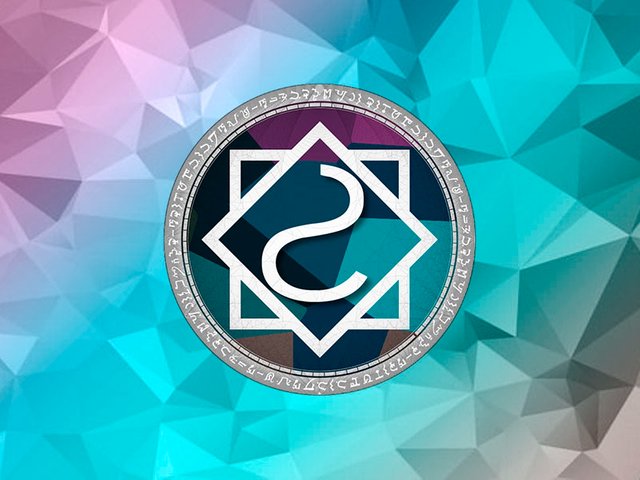 Equipo de Curación STELLAE | STELLAE Curation Team
Actualizaciones de Proyecto | Project Updates
"Los astros traen un mensaje para ti: el camino que sigues es el correcto."
Ya hace casi un año desde que iniciamos el equipo de curación Stellae, en donde diversos curadores de la comunidad hispana seleccionan los trabajos artístico de la comunidad y le brindan un pequeño aporte en forma de voto.
El día de hoy queremos anunciar un par de cambios dentro de este espacio dirigidos a mejorar la difusión artística y el crecimiento de la comunidad.
It's been almost a year since we started the Stellae curation team, where various curators from the Hispanic community select the community's artwork and give it a small contribution in the form of a vote.
Today we want to announce a couple of changes within this space aimed at improving artistic dissemination and community growth.

¿Que busca el equipo de curación stellae?
What is the stellae curation team looking for?
Incentivar a los artistas hispanos.
Realiza una mejor revisión del contenido artístico.
Seleccionar artistas para nuestras editoriales como medida de difusión.
Invitar a la mejora del contenido comunitario.
Buscar la participación de los usuarios en la comunidad.
Llevar la blockchain al mundo offline mediante la realización de actividades artísticas sociales financiadas con los ingresos recaudados por el proyecto en apoyo a artistas emergentes hispanos.
— Incentivize Hispanic artists.
— Perform a better review of artistic content.
— Select artists for our publishers as a diffusion measure.
— Invite community content improvement.
— Seek the participation of users in the community.
— To take blockchain to the offline world by carrying out social artistic activities financed with the income collected by the project in support of emerging Hispanic artists.

Automatización del sistema. | System automation.
Durante mucho tiempo buscamos evolucionar al margen de la evolución de la plataforma, en donde discord se ha convertido en el espacio idóneo para la convivencia de la comunidad. En este espacio los usuarios dejan su contenido en canales destinados a este fin y a su vez comparten dentro de las comunidades en diversas actividades con el resto de usuarios.
El arca a estado activo por más de un año y en función de mejorar y automatizar el trabajo de los curadores hemos creado un pequeño bot usable en la plataforma de discord con la ayuda de @crimsonclad y @rishi556.
Funciones:
-Uso del comando $upvote para votar el contenido.
-Accesible sólo desde un canal privado para los curadores en nuestro servidor de discord.
-Comandos para visualizar el Voting Power restante.
-Respuesta automática si algún curador intenta introducir el post de un usuario ya votado en los últimos 5 días.
-Respuesta automática si el Voting Power está por debajo del 80% o cantidad especificada.
-Posibilidad de cambiar el tamaño del voto.
-Comentario automatico en post tras ser votado.
-Función de resteem automatico en nuestra cuenta.
For a long time we sought to evolve outside the evolution of the platform, where discord has become the ideal space for community coexistence. In this space users leave their content in channels intended for this purpose and in turn share within the communities in various activities with other users.
The ark has been active for over a year and in order to improve and automate the work of the curators we have created a small usable bot on the discord platform with the help of @crimsonclad and @rishi556.
Functions:
-Use of the $upvote command to vote the content.
-Accessible only from a private channel for curators on our discord server.
-Commands to visualize the remaining Voting Power.
-Automatic answer if some curator tries to introduce the post of a user already voted in the last 5 days.
-Automatic answer if the Voting Power is below 80% or specified amount.
-Possibility to change the size of the vote.
-Automatic comment in post after being voted.
-Automatic resteem function in our account.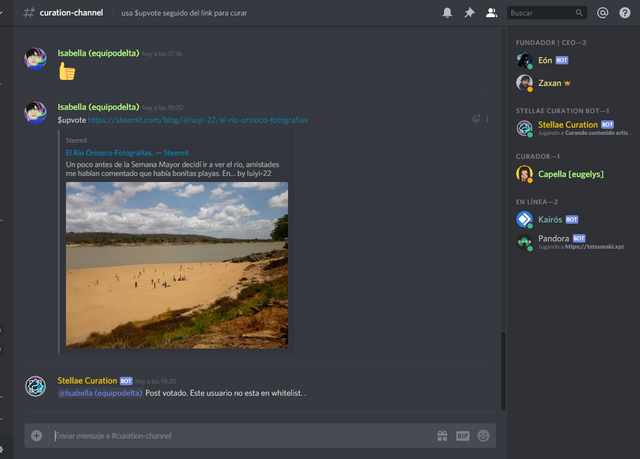 Nuevos curadores | New curators.
A la labor esta vez se suma nuestra querida @equipodelta, quien en su trabajo como curadora ha demostrado que posee un ojo clínico para elegir contenido de calidad.
¡Agradecemos su participación en este espacio y bienvenida al equipo!
This time our dear @equipodelta joins the work, who in her work as a curator has shown that she has a clinical eye to choose quality content.
We appreciate your participation in this space and welcome to the team!

Cambios en el blog | Blog changes.
Desde ahora este blog no publicará más reportes de curación. En cambio, usaremos la cuenta principal @elarca para publicar los reportes de curación del proyecto. Desde la misma haremos los respectivos power up a esta cuenta para el correcto aprovechamiento y aumento constante del SP del proyecto.
En este blog serán publicados los post votados en forma de resteem.
From now on this blog will not publish any more curation reports. Instead, we'll use the @elarca main account to publish the project's curation reports. From the main account we will make the respective power up to this account for the correct use and constant increase of the SP of the project.
In this blog will be published the post voted in the form of resteem.

Formas de apoyarnos en este nuevo año.
Ways to support us in this new year:
a._ Delegando: este medio permitiría un mayor poder de voto lo cual nos ayudará a apoyar en mayor medida el trabajo artístico hispano y a su vez nos ayudaría a sustentarnos mejor como proyecto.
b._ Apoyando nuestro trail: muchos inversores a veces resultan un poco escépticos sobre si apoyar o no a un proyecto con delegaciones, sin embargo hoy día existe un medio más factible para ellos el cual es el uso de trails mediante Steemauto. No importa qué porcentaje de voto apliques, el apoyo siempre será recibido.
c._ Donando STEEM/SBD al proyecto: el mismo será convertido en steem power.
d._ Donando Booster Packs/Cards a nuestra cuenta de Steem Monsters @elarca.play: hemos anexado esta modalidad al proyecto para así permitir conseguir recompensas mediante esta DApp y ser convertidas en Steem Power.
a._ Delegating: this means would allow a greater voting power which would help us to support Hispanic artistic work to a greater extent and at the same time would help us to support ourselves better as a project.
b._ Supporting our trail: many investors are sometimes a little skeptical about whether or not to support a project with delegations, however today there is a more feasible means for them which is the use of trails through Steemauto. No matter what percentage of votes you apply, support will always be received.
Donating STEEM/SBD to the project: it will be converted into steem power.
Donating Booster Packs/Cards to our Steem Monsters account @elarca.play: we have annexed this modality to the project in order to obtain rewards through this DApp and be converted into Steem Power.
---

Enlaces de interés:
Powering Up con Steem Monsters. | Un llamado a las estrellas. | STELLAE Curation Team | Project "the ark" @elarca

Unete a nuestro proyecto | Join our project:




Apoya al equipo de Curación Stellae | Support curation team:
Delegate 25 SP | Delegate 50 SP | Delegate 100 SP
Delegate 250SP | Delegate 500SP | Delegate 1000SP
Sigue nuestro | Follow our trail de curación (curation trail)

Haz un donativo al proyecto enviando cualquier cantidad de STEEM/SBD a @elarca
(Make a donation to the project by sending any amount of STEEM/SBD to @elarca).
Dona cartas de Steem Monsters a @elarca.play (Donate Steem Monsters cards).