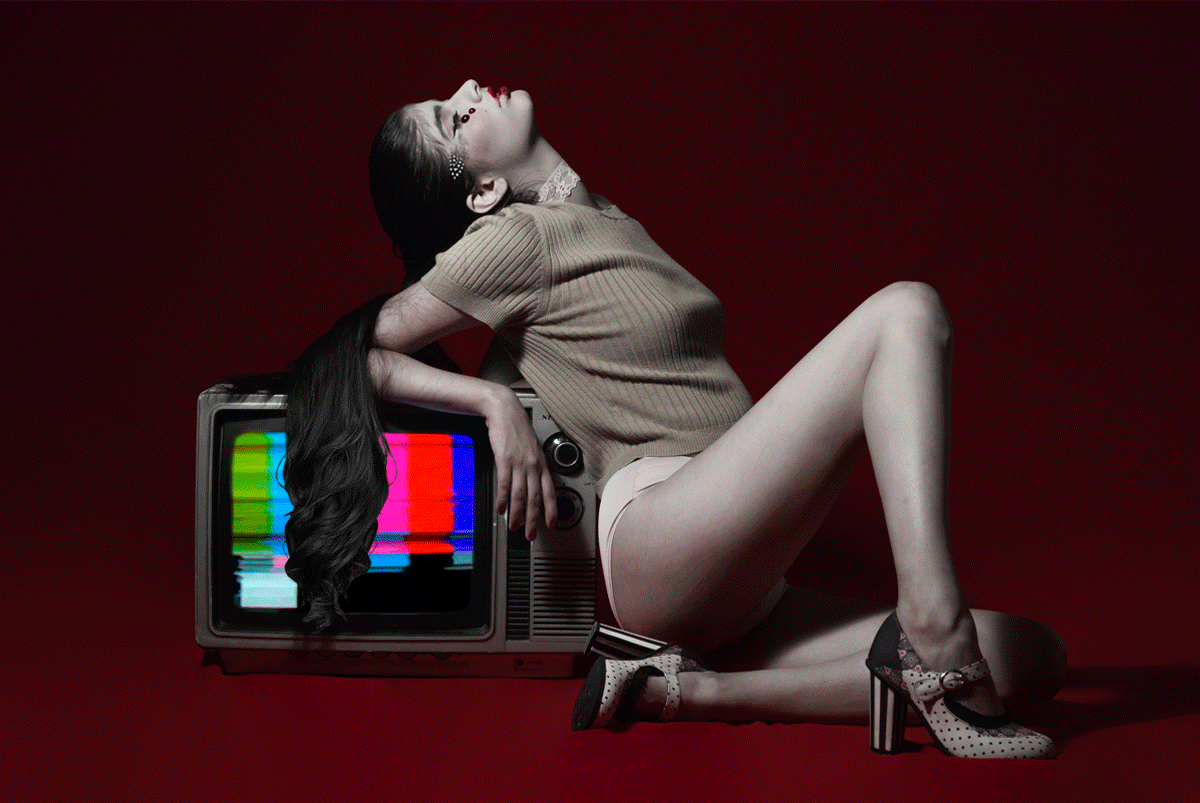 Greetings to all my Steemit followers! After a small Christmas break (among other things), I want to share with you this photoshoot to which we have dedicated a lot of love. Maybe some of you are familiarized with the style we've been working on, for example, "My Sweet Elisabetta". For these photos we had the pleasure to work with the beautiful Sharon Simonette. Her work made the experience great in every way. Her big eyes matched perfectly with the pearls on her face. For the costume, we decided to play with red and beige (cream). The little details like the spots on the feathers and on the high heels are some of my favorite things. To complete the scenery we used an dark red background and an adorable vintage TV set, which became another character in the shot. Later, in the editing process, we made it so that Sharon's skin was as pale as posible so that it could stand out much better from the background. As a final touch, we inserted small video loops on the TV giving an animated touch to the images. Gerardo and I are delighted with the results. We'd like to know... Which one of these pictures is your favorite? We hope our effort is to your liking. A strong hug to you all!
  ¡Un saludo a todos mis seguidores de Steemit! Luego de una pequeña pausa debido a la temporada navideña (entre otras cosas) hoy quiero compartir con ustedes esta sesión de fotos a la cual le hemos dedicado mucho corazón. Quizás algunos estén familiarizados con la estética que venimos trabajando, como por ejemplo "Mi dulce Elisabetta". Para estas fotos contamos con la presencia de la hermosa Sharón Simonette, su buen desenvolvimiento hizo que la experiencia fuera genial en todos los sentidos. Sus grandes ojos combinaron a la perfección con las perlas que le aplicamos en el rostro.  En la elección del vestuario decidimos jugar entre los colores crema y el rojo. Los pequeños detalles como los lunares presentes en las plumas y en los tacones son una de mis cosas favoritas. Para completar la escenografía usamos un sinfín rojo oscuro y un adorable televisor vintage, el cual se convirtió en otro personaje dentro de la toma. Posteriormente en la edición buscamos que la piel de Sharón quedara lo más clara posible para que resaltara mucho mejor del fondo y como toque final insertamos pequeños loop de vídeo en el televisor dándole un toque animado a las imágenes. ¡Ambos (Gerardo y yo) quedamos encantados con los resultados! Y nos gustaría mucho saber… cuál de estas fotos es su pieza favorita? Ya que esperamos que nuestro esfuerzo también sea del agrado de todos ustedes! ¡Un fuerte abrazo para todos!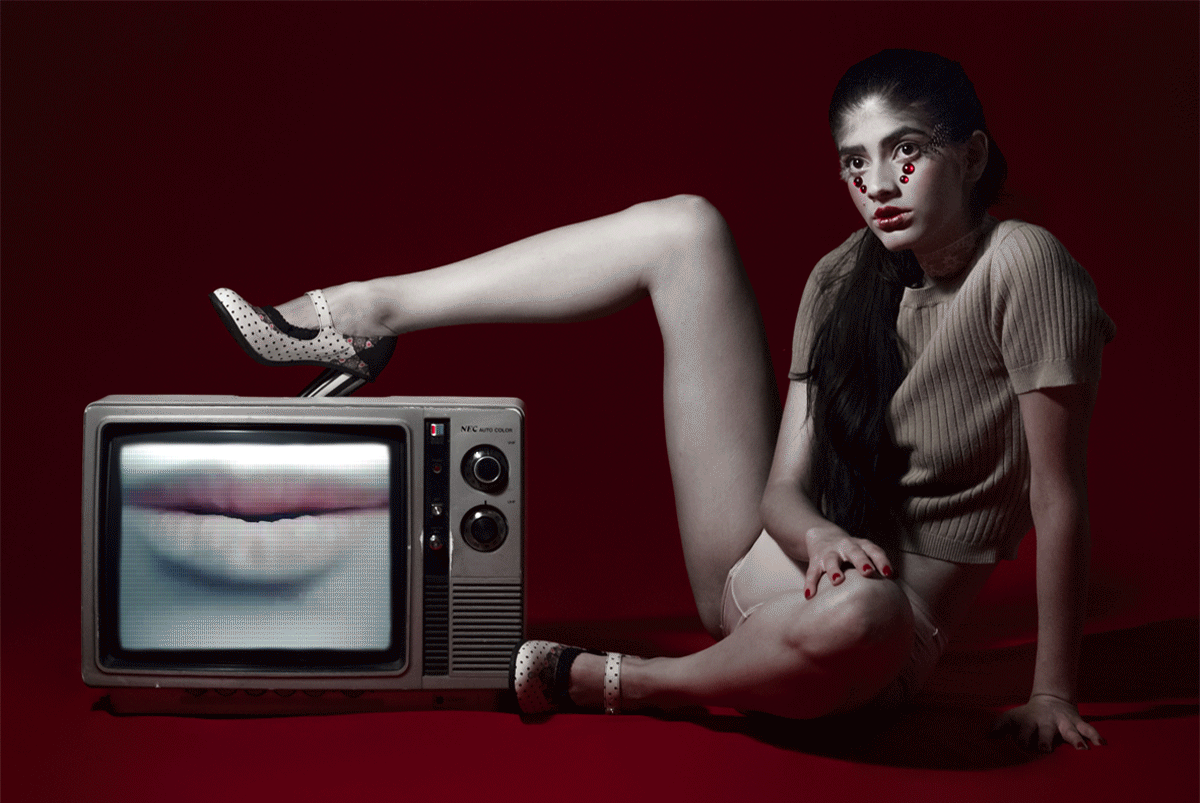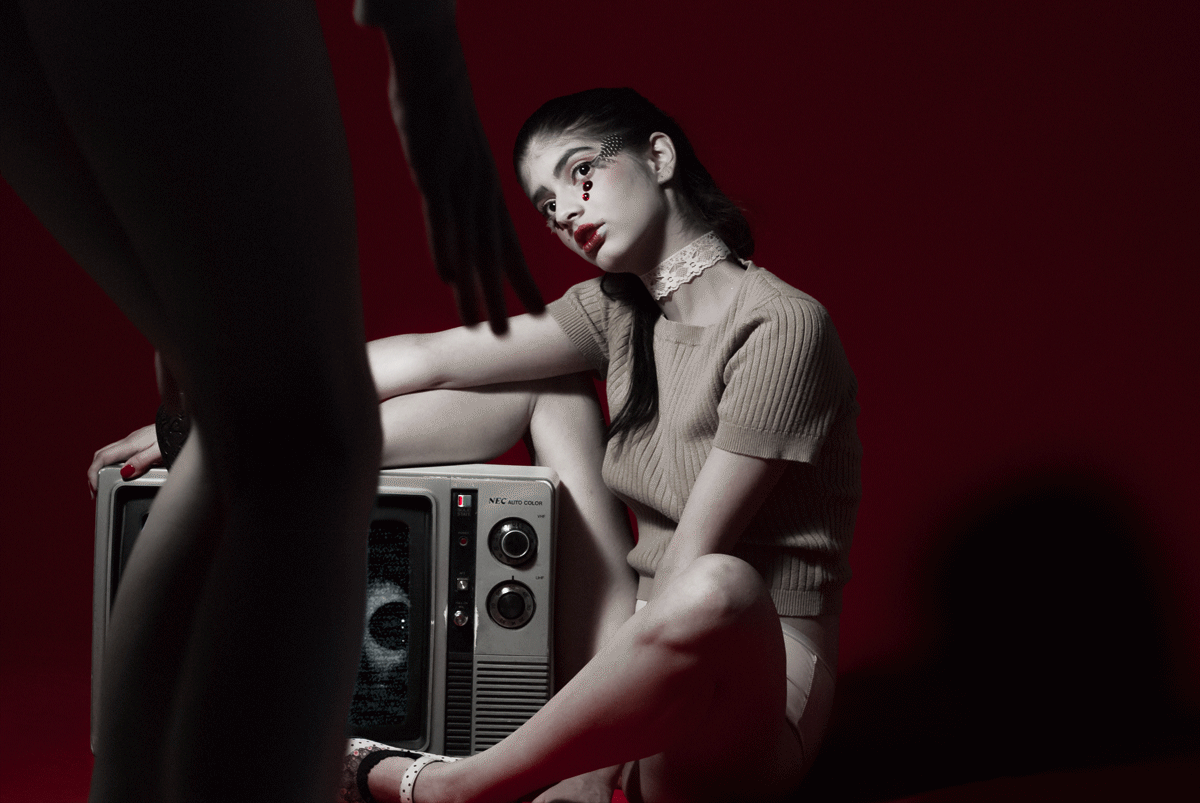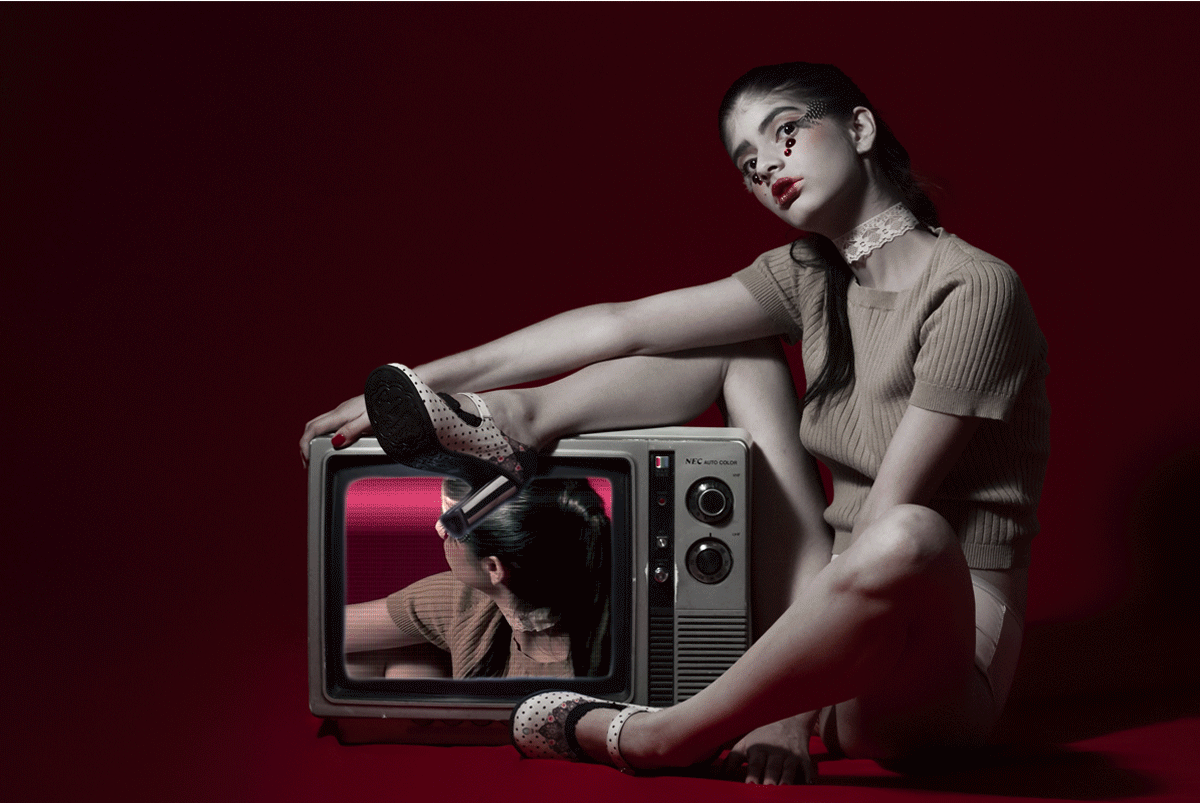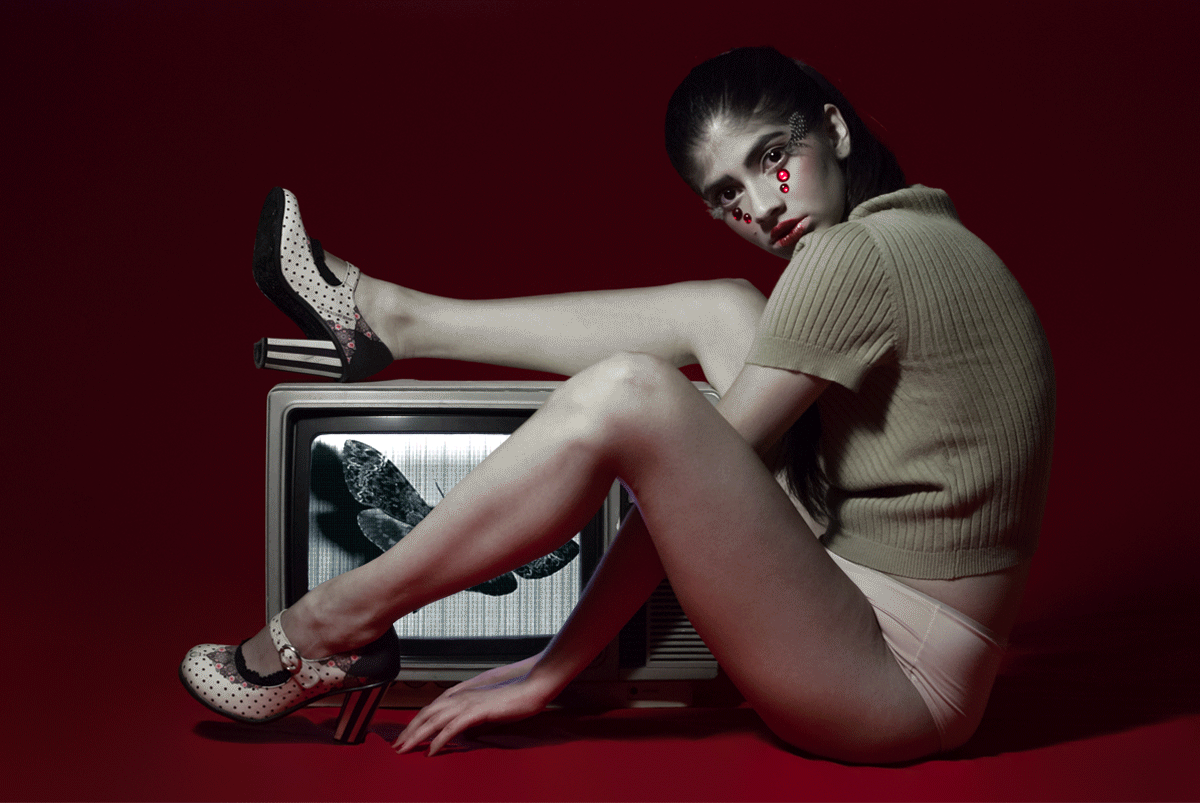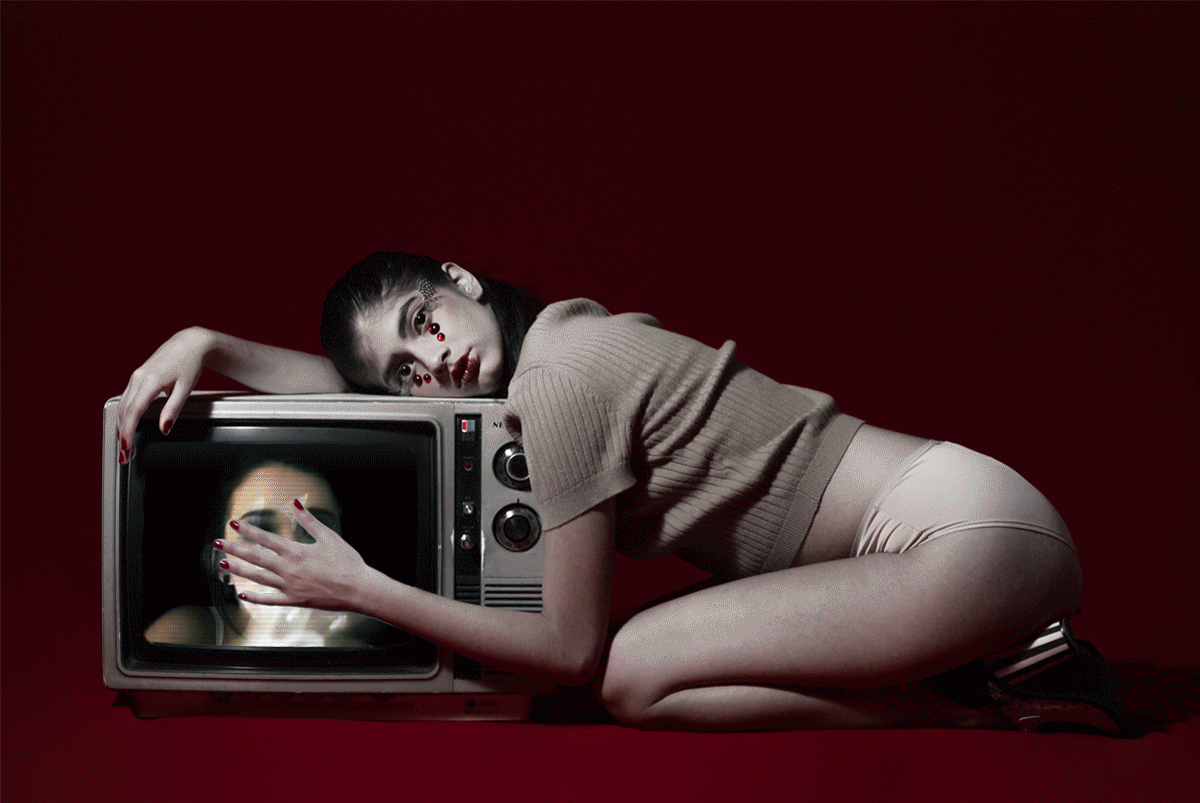 Photography, makeup and editing (Fotografía, maquillaje y edición):
Genesis Ochoa & Gerardo Arenas.
Model (Modelo):
Sharón Simonette.   
Thanks for your visit!
(¡Gracias por tu visita!)