«Mira detrás de ti, ¡un mono de tres cabezas!»

Guybrush Threepwood, The Secret Of Monkey Island
Hola Steemians, hoy he querido darle una variación a la temática que normalmente trato, recuerden que desde un principio dije que iba usar este blog, para hablar sobre mis intereses en general, bueno; uno de ellos son las consolas de video juego, lo extraño del asunto, es que no soy especialmente aficionado a los juegos de video, al menos no hoy en día, sí, tuve momentos en los que dedique mucho tiempo a ellos, pero con el tiempo, por el trabajo y otras obligaciones, fueron perdiendo interés para mí, sin embargo y aunque parezca raro, soy aficionado a coleccionar consolas y video juegos retro, actualmente mi colección incluye unas 30 consolas, el número de juegos si no es muy significativo, pues como les digo no son mi principal interés.
Así que hoy quise presentarles mi colección de consolas, en posts posteriores, le dedicaré un poco de tiempo a algunas de ellas, pero por hoy sólo quiero que conozcan en general mi colección, aquí se las presento.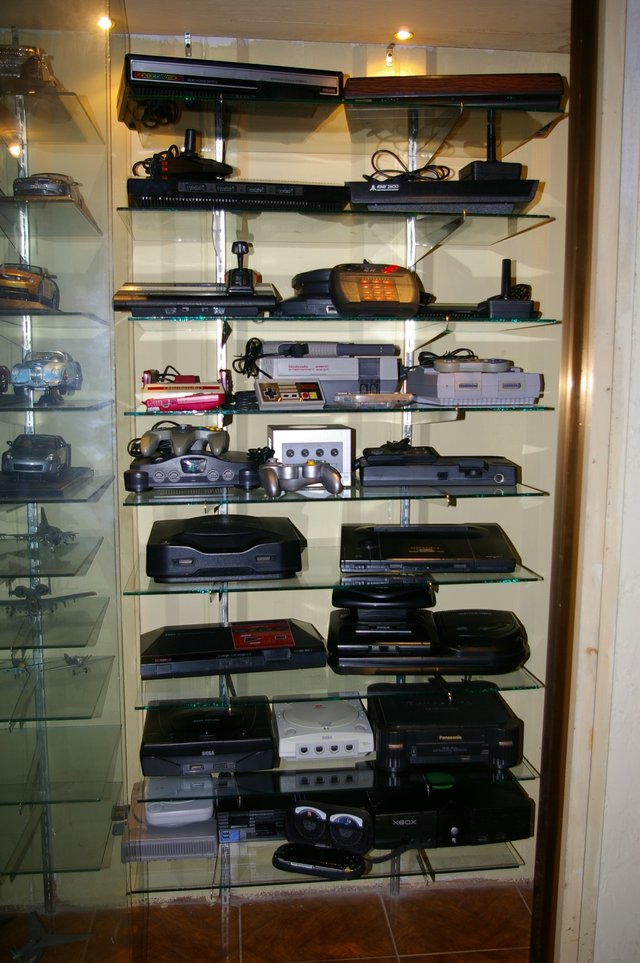 Una vista global de la colección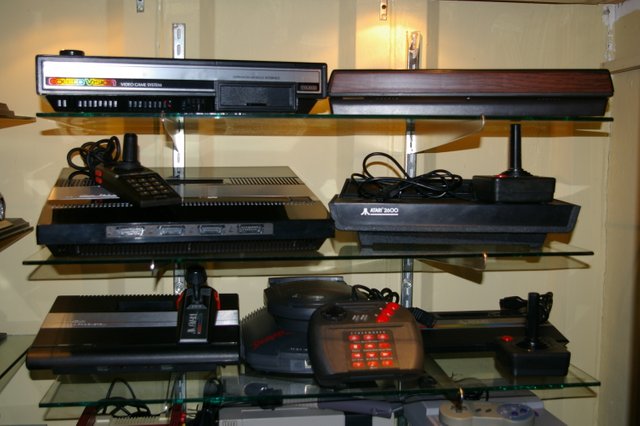 Las más viejitas, arriba Coleco e Intelevision, después la colección de Atari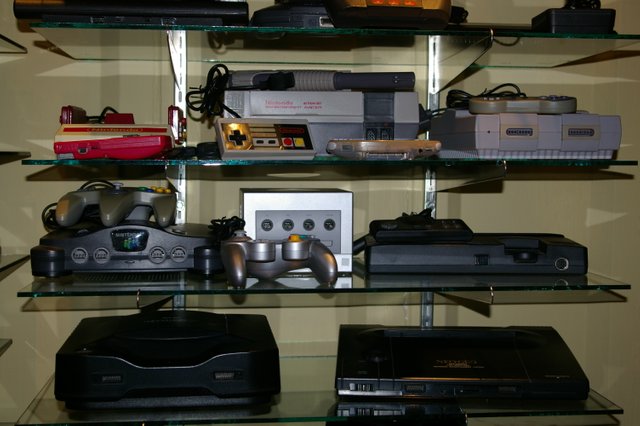 Colección de Nintendo, Turbografx y Noe Geo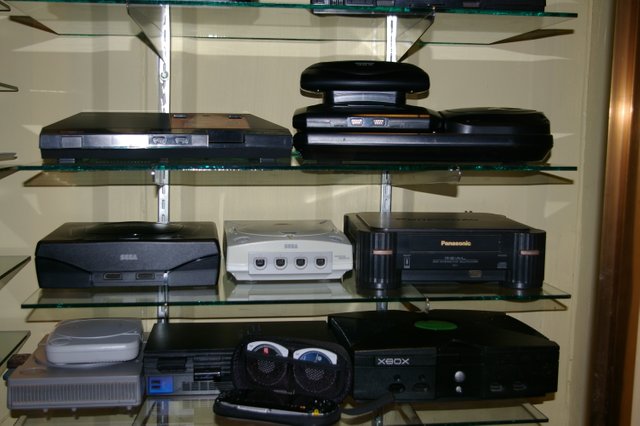 Colección de Sega, Panasonic 3DO, Play Station y XBox
Como no tengo espacio, ni donde exhibir los juegos, los tengo almacenados, junto a los accesorios de las consolas, en contenedores plásticos, les muestro un poco: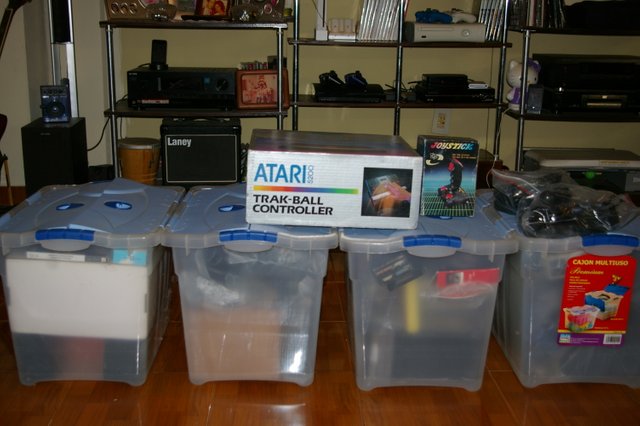 Aquí pueden ver los contenedores, por cierto, al fondo las tres consolas que tengo en uso, cuando puedo usarlas, lo que no es muy a menudo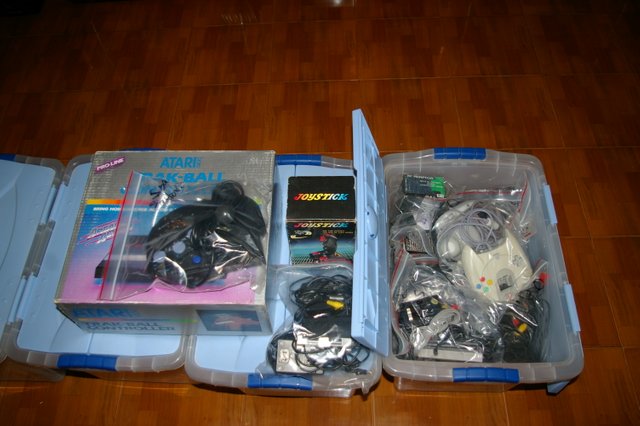 Algunos accesorios, los tengo clasificados por consola, en bolsas ziploc identificadas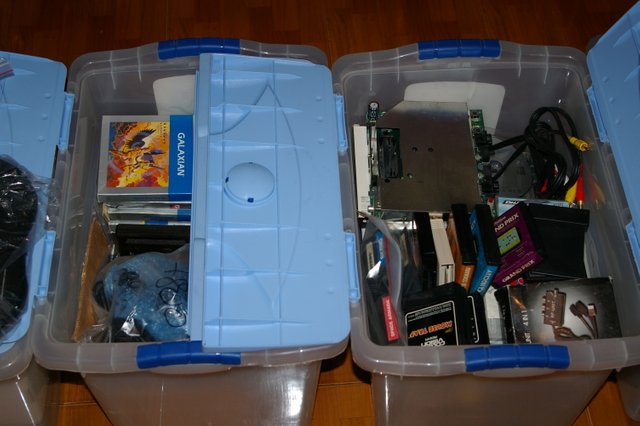 En esta foto pueden ver algunos de los juegos, y otros accesorios, prometo mostrar todo más detalladamente después
Pero, ¿por qué mi interés en coleccionar consolas?; si no tengo particular interés en los juegos, en realidad si tengo interés, pero por el día a día, me he ido quedando sin tiempo para poder hacer uso de ellas, así que se la he dejado en stand by, en espera, del momento en que pueda dedicarle tiempo a no hacer nada; para poder hacer algo con ellas.
Mi interés por las consolas viene de mi infancia, desde muy pequeño, empecé a quedarme solo por las tardes en casa, y a diferencia de Macaulay Culkin, no me dedicaba a ver películas viejas, comprar suavizante de ropa y torturar rateros de poca monta, en cambio mi compañía eran la tanda de animes de las 4 a las 6 pm, y mi primera consola un Atari 2600, normalmente cuando mi mamá salía al trabajo, yo hacia la tarea y luego dedicaba el resto de la tarde a jugar con el Atari, claro hasta que el transformador se calentaba demasiado y debía dejarla descansar por un rato, y así, entre: River Raid, Asteroids, Pitfall y las ocasionales sopladas de cartuchos, sorteaba la insufrible tanda de telenovelas que iba de la 1 a las 4 pm.
Ya cuando inicié el bachillerato, el boom de las consolas de los 80 había decaído, había llegado ET a mandarlo todo al demonio (bueno esto es en parte un mito, pero me gusta echarle la culpa al extraterrestre), y su renacimiento de la mano de Nintendo y Sega, por motivos económicos, no llegó a mi casa, después del Atari 2600 no volví a tener una consola hasta llegar a la universidad.
Que le paso a aquel Atari, no tengo ni idea, en realidad no fue sólo uno, fueron dos y a decir verdad no sé qué le paso a ninguno, sé que hubo varios cambios de transformador y de controles y varias visitas al taller, pero no sé cuál fue su destino final, sólo recuerdo que ya para cuando estaba en el tercer año de bachillerado, no tenía ninguna consola.
Mi regreso al mundo de los video juegos llego con la computadora, cursaba el tercer semestre en la universidad cuando, por intermedio de un amigo, llegó a mis manos, Mortal Kombat y así vinieron el MKII el 3, etc., luego conocí los juegos de aventura y me apasioné con ellos, aunque ya muchos eran viejos para ese entonces, Monkey Island, Indiana Jones, Shadow of the Comet, Veil of Darkness entre otros, dedicaba una buena parte de mis ratos libres a tratar de descifrar acertijos y buscar objetos ocultos que me ayudaran a avanzar en la trama de algún juego.
Ya para mis últimos semestres en la universidad adquirí un Play Station, gracias a una preparaduría; sí, para aquellos estudiantes de mi país que leen esto y que hoy tienen una preparaduría, en aquel entonces la preparaduría alcanzaba para comprar una consola, motivado a un creciente interés por jugar el Final Fantasy VII, del cual había leído en revistas y había intentado jugar en un emulador, pero mi computadora no daba la talla.
Nunca había dedicado tanto tiempo a un juego como el que le dediqué a Final Fantasy VII, fueron en total unas 300 horas, claro no contínuas, el juego me pareció realmente atrayente y con una trama impresionante, aparte de unos subjuegos muy entretenidos, las carreras de chocobos son inolvidables.
A Final Fantasy VII, siguió el FFVIII, también con una trama soberbia, pero para mí, un poco menos atrayente que el anterior, sin embargo, también le dediqué sus buenas horas de juego. Después de eso FFIX, no me atrapó, no me gustó el diseño de los personajes y la trama se me hizo pesada, así que el encanto se perdió.
Para ese entonces, ya me había graduado de la universidad y trabajaba, eran tiempo más holgados económicamente hablando, mi esposa y yo teníamos poco tiempo de casados y estábamos en un periodo de relativa bonanza, para los que dedicamos nuestra vida a la universidad, para quienes no lo saben aun, soy profesor universitario, así que quizá en una prematura y extraña crisis de la mediana edad, comencé a comprar cuanta consola antigua añoraba y deseaba haber tenido en mi infancia y adolescencia, estaba satisfaciendo mis sueños de niño no cumplidos.
Así llegué a comprar todo lo que encontré a mi alcance en ese momento, desde mi añorada Atari 2600, hasta el muy cotizado y costoso SNK Neo Geo, si bien a mi colección le faltan las más retro como el Vectrex, el Magnavox Odyssey y clásico Atari Pong y algunas rarezas menos viejas, pero igual de interesantes como el Pippin la única consola hecha por Apple y un fracaso contundente, considero que he reunido una buena muestra de especímenes representativos de la historia de los videojuegos caseros.
Hoy en día, a causa de las limitaciones que vivimos en mi país, me encuentro un poco atrasado en mi colección, aun me falta la última generación, además de estar babeándome por la venidera Atari VSC, pero sin mucha esperanza de poder adquirirla.
Bien con eso concluyo el relato sobre mi colección de consolas de video juegos, espero que haya sido de su agrado, próximamente iré mostrándoles algunas de ellas, dando algunos detalles técnicos, históricos y anecdóticos al respecto. Si les gustó el post, pues que esperan para votar y hacer resteem. Hasta la próxima y gracias por su atención.
Texto y fotografias originales de @amart29, Barcelona, Venezuela, junio de 2018



Deseas una renta semanal en criptomonedas sólo por ser parte de una comunidad, únete a manna y contribuye a lograrlo para ti y para todos los participantes, tu apoyo ayudará a muchas personas a obtener un ingreso semanal básico, sólo tienes que hacer clic en la imagen para participar.

O puedes hacer click aquí.