SpaceX's Falcon Heavy completes final test before anticipated launch in February
All eyes were on SpaceX and the Falcon Heavy rocket yesterday as it completed its first static fire test on January 24. A static fire test is where a launch vehicle is brought to its intended launch pad to fire the engines at full capacity whilst the rocket is firmly attached to the launchpad. This is done to measure pressure, temperature and propellant-flow gradients to check whether everything is go for launch.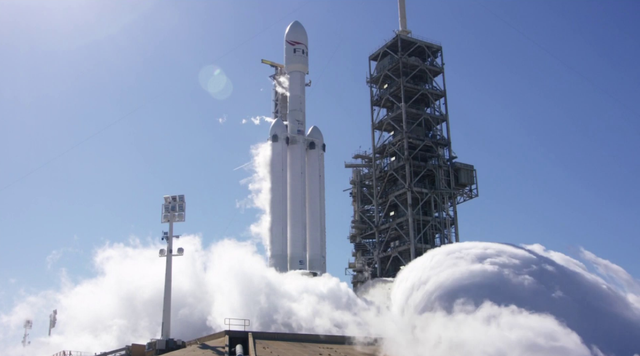 Falcon Heavy during the static fire test at NASA Kennedy Space Centre
image credit: SpaceX image source
SpaceX CEO Elon Musk, took to Twitter shortly after the event to share that everything looked as it should.
Falcon Heavy hold-down firing this morning was good. Generated quite a thunderhead of steam. Launching in a week or so.
Elon Musk, Twitter 24. January
This means that already in a week, we could see the first ever launch of the Falcon Heavy! An event that has been highly anticipated by the whole global space community.
So what's so exciting about the Falcon Heavy?
The Falcon Heavy will be the most powerful operational rocket in the world, twice as powerful as the Delta IV Heavy which comes in second. What this means in practice, is that we will have reusable rockets capable of sending large communications satellites to geosynchronous orbit. If you have watched SpaceX's launches over the past year, you will know that some launches have not attempted to land the booster stage of the rocket.
This is because in order to have the required power to carry the satellite to geosynchronous orbit, which is almost 100 times further from Earth than Low Earth orbit, the Falcon 9 can not afford to spare fuel to perform the re-entry burn and finally fire off the retro rockets to make a secure landing. By literally strapping two extra booster engines to the main body, taking the number of Merlin engines from 9 to 27, the Falcon Heavy is capable of carrying up to 8 tonnes to high earth orbit, meaning it can also be used for manned missions to the Moon and beyond.
Video footage of the static fire test
,
video by SpaceX source
The launch of the Falcon Heavy, expected to take place in February, is certain to be one of the big highlights of 2018. Musk has previously insisted that the Falcon Heavy is likely to fail, saying there will be some "spectacular failures on the road to success". However, once the launch and landings are mastered, it will be spectacular to see nothing less than three booster engines coming down to land at the same time.
Needless to say, there are fun and exciting times ahead. I hope you look forward to the event as much as I do!


Want to discover more science and technology related content on Steemit? Follow @steemSTEM to see a weekly selection of quality science posts, as well as STEM-related contests. Are you interested in writing posts on related topics yourself? Make sure to join the steemSTEM channel on steemit.chat or Discord to engage with other scientists on steemit!
As always, take care and steem on!