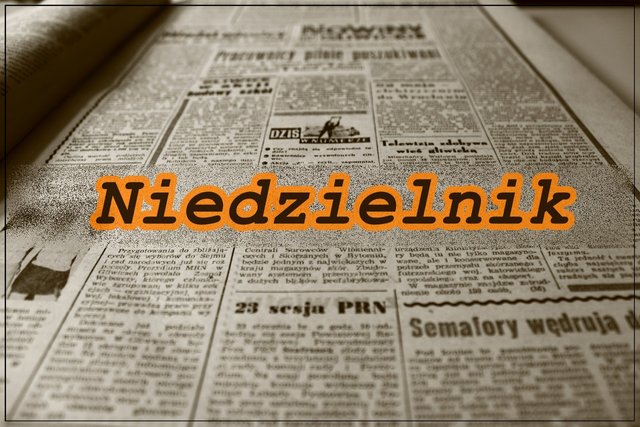 Witajcie!
Z Naszego Niedzielnika dowiecie się:
kto został mistrzem "Zagadek muzycznych",
jaka odpowiedź w "Niedźwiedziowych dyskusjach" w minionym tygodniu została uznana za najlepszą i jaki jest temat obecnych;
kto wygrał "Sfokusowanych" minionego tygodnia i kto walczy o wygraną w tym tygodniu. Głosujcie w komentarzach!
Zapraszamy!!

Zwycięzcą Zagadek muzycznych został
@bartheek
Zagadki muzyczne są cykliczną zabawą muzyczną pojawiającą się na naszym koncie co czwartek. Żeby wygrać wystarczy odpowiedzieć prawidłowo na trzy pytania muzyczne, wśród których znajdą się i trudniejsze i łatwiejsze, ale również zupełnie proste pytania otwarte. Zabawa ma na celu zachęcić Steemian do zaprezentowania swojej ulubionej muzyki oraz wykonawców.

Tematem aktywnych Niedźwiedziowych dyskusji jest "Wygrywasz milion złotych. Jak wyglądałyby Twoje wymarzone wakacje?"
Niedźwiedziowe dyskusje są cykliczną zabawą pojawiającą się na naszym koncie co sobotę. Udział w zabawie może wziąć każdy kto ma coś do powiedzenia w temacie jednocześnie zachowując kulturę nawet gdy inne osoby dyskutujące mają inne spojrzenie na dany temat. Zabawa ta ma na celu zachęcić Steemian do kulturalnej i merytorycznej dyskusji.


W tym tygodniu o wygraną "Sfokusowanych" walczą:
Prawidłowo oddany głos:
1miejsce: @autor 3 pkt,
2miejsce: @autor 2 pkt,
3miejsce: @autor 1pkt.
Prosimy o głosowanie w komentarzach pod tym postem. Macie na to tydzień.
To wszystko na dziś!

Chcesz nas bliżej poznać? Porozmawiać? A może chcesz do nas dołączyć? Zapraszamy na nasz czat: https://discord.gg/rcvWrAD