The best way to promote your book - get the spy agency to ban it
Happy Sunday, Steemians! Here in South Africa we've been reeling this last week from the release and political reaction to a most extraordinary book, first announced in one of our Sunday newspapers, the Sunday Times, last Sunday. It seems like a lifetime ago that I started reading excerpts online from the Sunday Times, and vowed then and there to get to the bookstore the next day as this book had all the hallmarks of something the authorities would do anything to get off the shelves.
I'm speaking, of course, of The President's Keepers, an explosive exposé authored by the redoubtable and extremely brave Jacques Pauw, an investigative journalist who earned his stripes exposing the dirty tricks of the apartheid regime.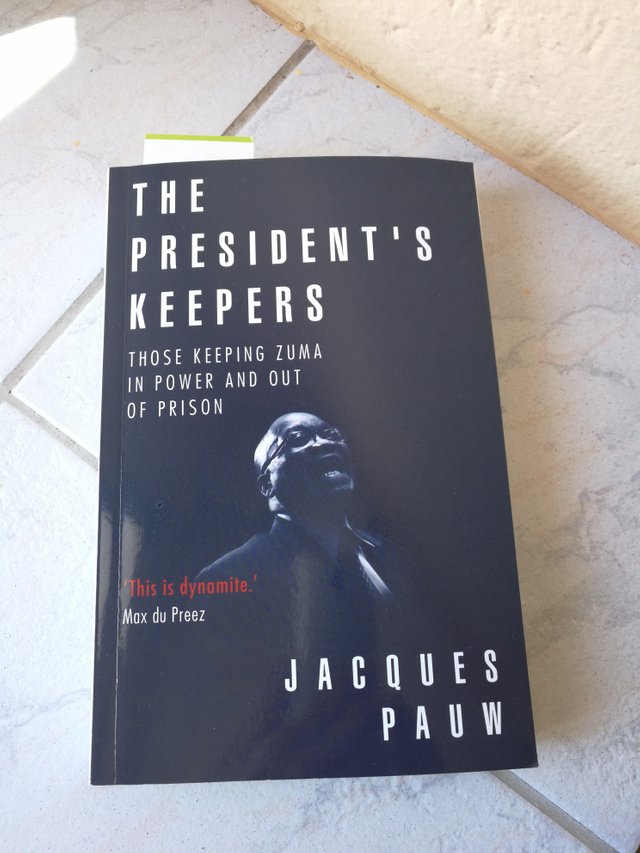 Some of the key revelations in the excerpts were that:
Zuma hadn't paid his taxes the first five years he was President (sound like anyone in the US?)
he had received a salary (!!!) of a million rand a year from a private business at the outset of his presidency
he had received direct support from a known tobacco smuggler, who is now funding Zuma's ex-wife's presidential campaign
the tax evaders have already admitted in sworn affidavits to having hundreds of millions of rands of taxes outstanding, and that our (captured) tax authority, the South African Revenue Service (SARS) appears to be doing not very much about collecting from them (I don't think they spent all the proceeds of tobacco smuggling on fancy rugs, though)
a group of gangsters got together one day to plot and scheme, as gangsters do, and one of them said, "He's a gangster like us," referring to Zuma.
Those were just a few of the gasp-eliciting (and who knew South African politicians could still inspire gasps), well-documented revelations in the excerpts. I'm citing these from memory, not reading out of the book, so any errors introduced into the above bullet points are solely due to my memory of last Sunday's reading.
The numbers are eye-watering, and surely add up to more than the entire budgetary requirement to fund higher education in this country. We seem to be talking about a few billion rand here.
So I got my copy on Monday afternoon
Yes, that photo is of the copy I got on Monday afternoon, quite reasonably priced at R287.00.
I chatted with the young guy behind the counter as he rang up my purchase - yes, he had read the excerpts in the Sunday Times, yes, he did think this was explosive but like most of us think it will take far more than a smoking gun or even proof of criminality for our governing (they say ruling) party, the ANC, to do the right thing and let this guy be charged for at least some of the wrongs he's done South Africa, and yes, he did think there was a really good chance the authorities would find a way to ban the book and get it off the shelves within the next couple of days.
We cynically traded views that if I bought five copies and sold them at inflated prices because demand would be so high, I'd be no better than the bad guys. I was actually thinking that I should buy five copies so I could give them to friends, as I was convinced the bad guys would take them off the shelves the next day.
Turns out my faith in the bad guys was misplaced
They didn't act the next day. Or the day after that. But there was a lot of bluster coming from places near high places. The temperature was rising. But they weren't as omnipotent as I had expected.
It took them until the end of the week to come up with some cockamamy story about Jacques Pauw having breached some law about revealing taxpayers' details (that's rich - these guys are tax evaders, not payers, but let's not get distracted by fact here), and then they sicced the State Security Agency (SSA) on him. Specifically, they threatened to lay criminal charges against Pauw and the publishers for violating a number of statutes, including the Tax Administration Act and the Intelligence Services Act, and even had the nerve to say they'll hold the author, editor and publisher responsible for any repeat publication of what they called "fake information". You can read more about it here and here for starters.
Cease and desist order
The publisher, NB Publishers, issued a press release confirming that the SSA had issued a "cease and desist" order. All the news anchors and reporters I heard read this over South African media irritatingly pronounced this aloud as a "seize and desist" order; perhaps there's an irony hidden in there, and perhaps my irritation was misdirected at this possible turning point in our country's history, but then, I get irritated when people say "mischievious" instead of "mischievous" on radio too. Pedantic moi.
Anyway, they haven't ceased, nor have they desisted. And nobody except bookstore customers have had an opportunity to seize the book.
The Streisand effect
Thanks to the SSA's actions, 20 000 copies of the book flew off the shelves, and the desperate calls I had expected from friends who were slower off the mark than I was started to flow. A pdf version started to circulate on WhatsApp when people thought the book would no longer be available (dear SSA: try to prosecute tens of thousands of citizens for "circulating" this!), but all quickly realised the book was available as a Kindle download on Amazon, and frankly, nobody wants to cheat the author of his rightful revenues for this tremendous work of patriotism. Check out that link - you'll see it's the number one best seller in nonfiction on Amazon. Not Amazon South Africa. Amazon. Let that sink in for a second.
And thanks to @tim-beck, I learned the name for what had happened - the Streisand effect. Check out that link - it's possibly one of the funniest things you'll read on Wikipedia. Views of the thing she didn't want viewed catapulted to around 420 000 from 6, because she issued the equivalent of a cease and desist order. The act of drawing attention to something you don't want people to pay attention to causes a LOT more people to pay attention to it.
Get the book and read it...
If you care about supporting those who take on those in power abusing their power, I urge you to buy this book. You don't have to be South African to appreciate the crime drama unfolding between the covers. Plus you can get the bonus of watching the bad guys try to shut down the good guys.
Another important book for South Africans to read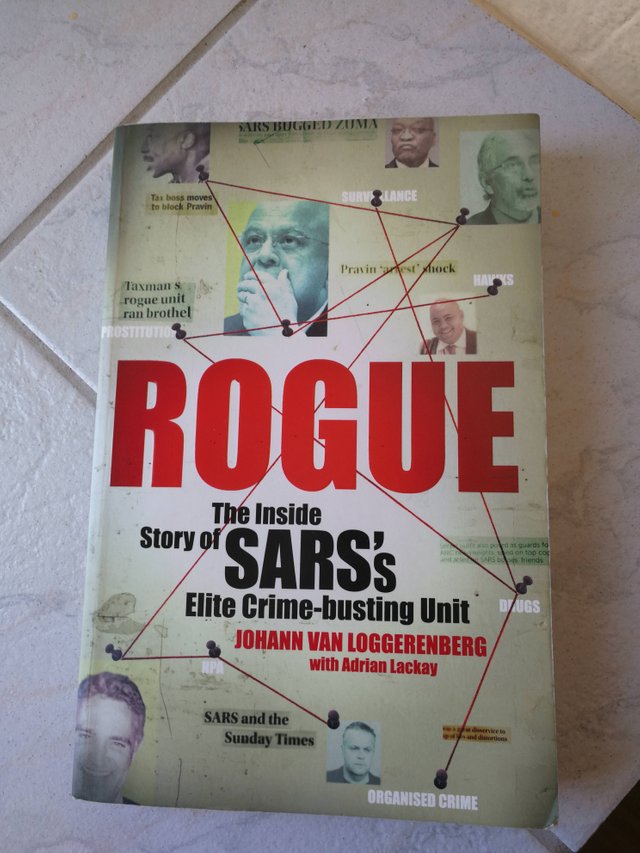 And to get a fuller picture of this cabal of connivers and how they infiltrated SARS (and kicked out the good guys), I suggest you pick up the "prequel", Rogue, written by ex-SARS lead investigator Johann van Loggerenberg and published in 2016. It gave hints as to the extent that tobacco smuggling was fuelling some aspects of state capture in South Africa. He also described in the most astonishingly dispassionate terms how the bad guys ruined his life.
...because knowledge at least gives us some power as ordinary citizens
We seem to be at a number of crossroads in our democracies, realising the extent to which the health of our democratic institutions are still so vulnerable to a clever Oceans Eleven-style bunch (really not as good-looking as the Hollywood stars, though) intent on robbing not a casino, but an entire country. This is not boring politics; this is about the very survival of South Africa as a diverse and democratic nation, and the country finding its way back to being a beacon of hope to those who simply want a better life for their children than they had.
---

Team South Africa banner designed by @bearone
​