First San Diego Steemit meetup: when you realize it's actual people writing on steemit.
So.....I met some steemians this past Sunday, under the cold, but welcoming San Diego sun. It was awfully nice to see that people behind the words and pictures on steemit are actually....woooow! People.
People who have two names: their given name and their @name. Some of us, like Larry, even chose to have two name tags and could not figure out which one to write on, in spite of being a super brainy guy with advanced degrees in geochemistry, if I can remember anything correct for once. Ask @csusbgeochem1, he knows what he studied better than I do.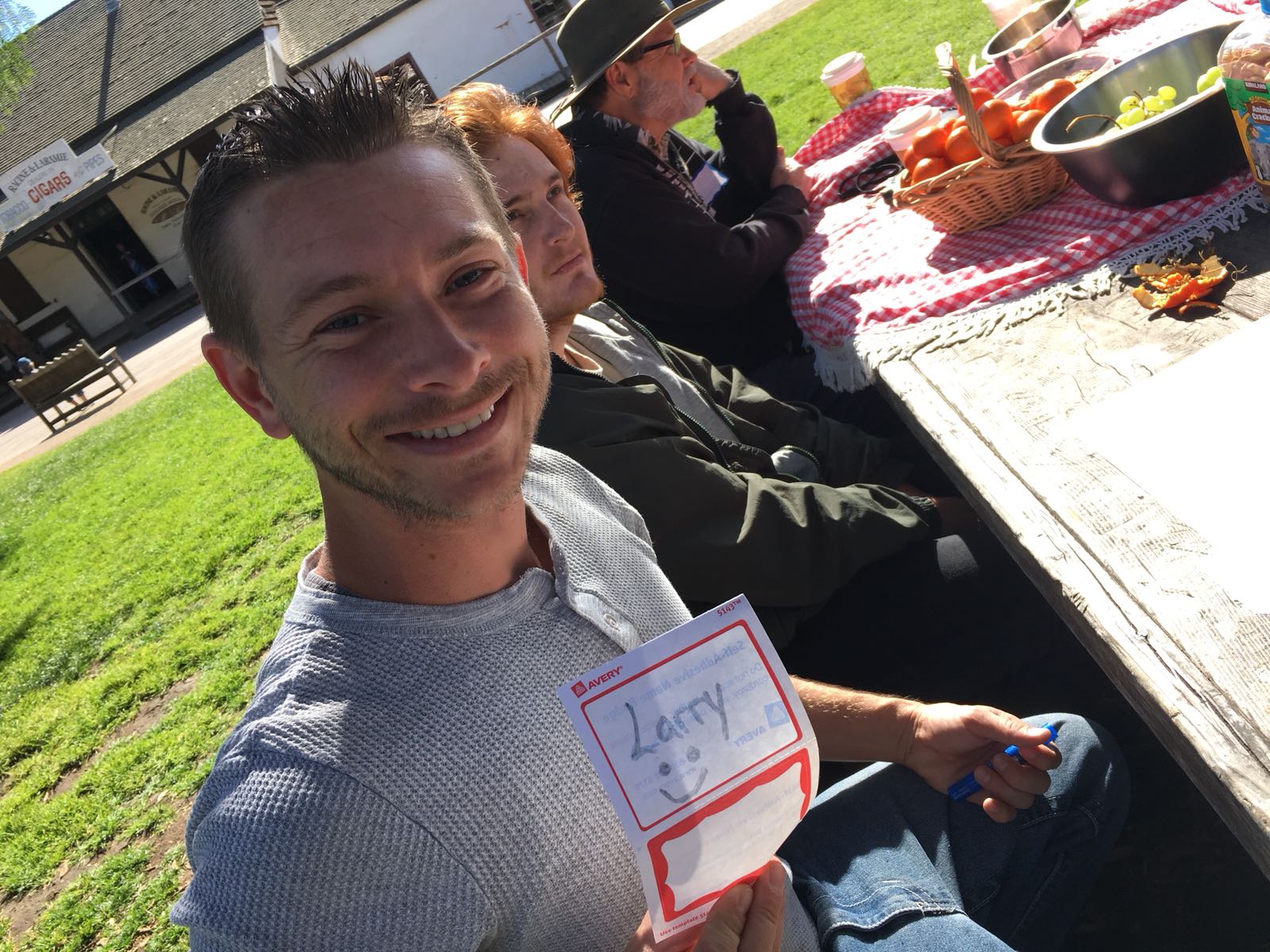 We talked a lot about world domination, but mainly, we talked about pizza.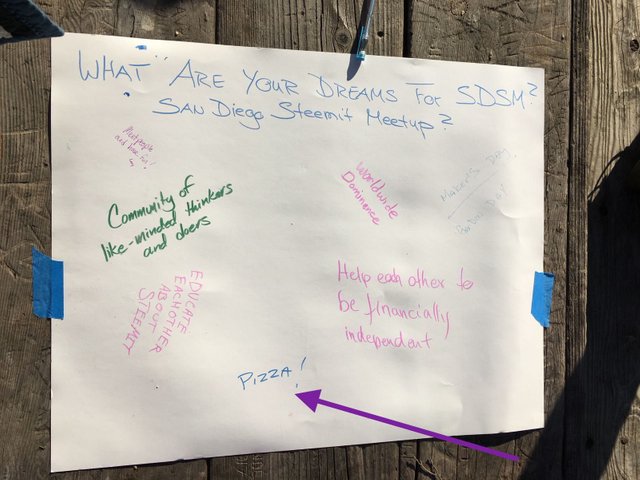 Marianne was the genius behind this happy family of misfits. She made @thisgirl walk 18 miles to find her an Americano coffee. She would not settle for anything less, and she would neither abandon her post nor her gorgeously crafted sign.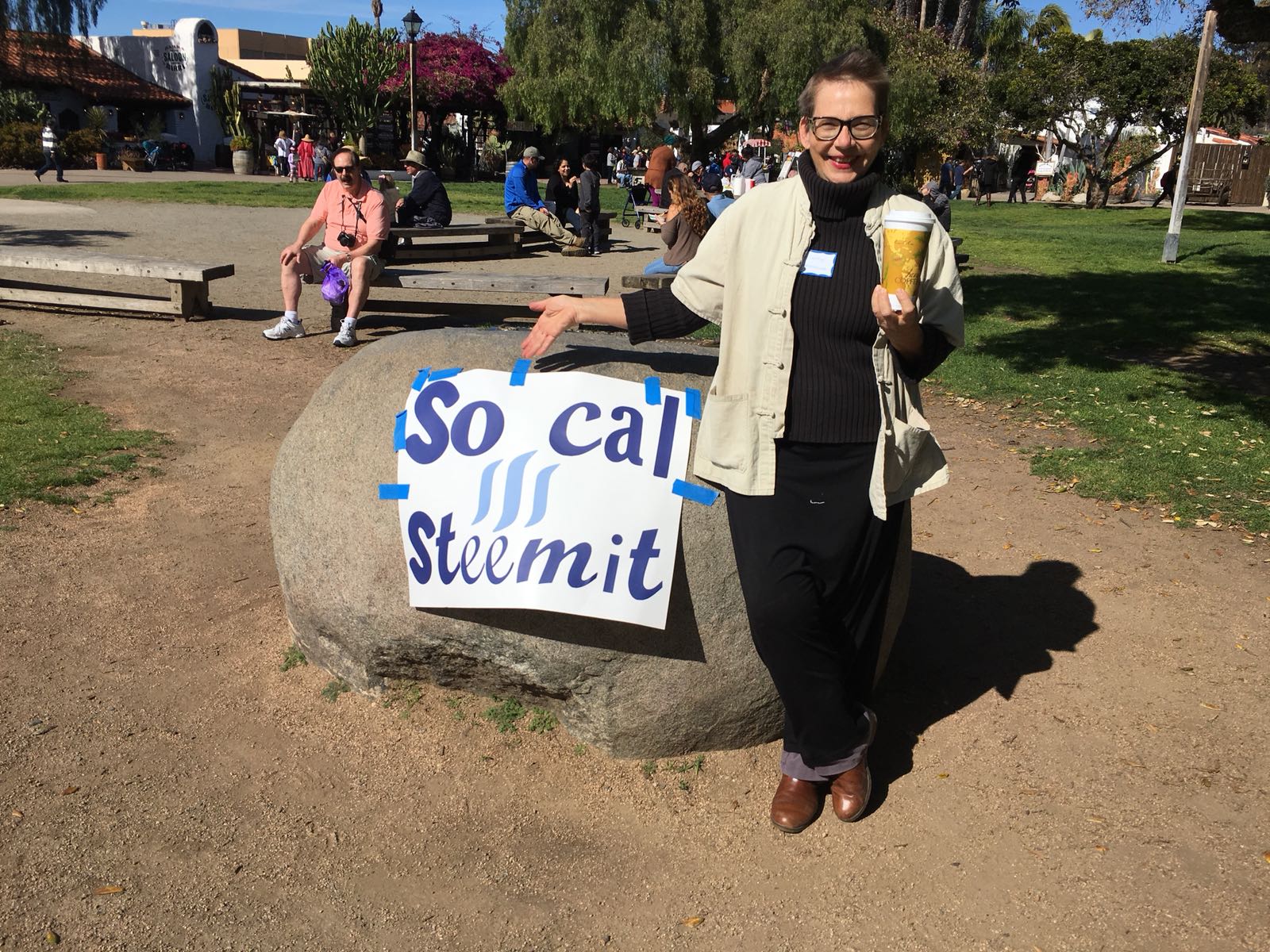 Speaking about crafting, some beer enthusiasts crafted ideas for beer domination.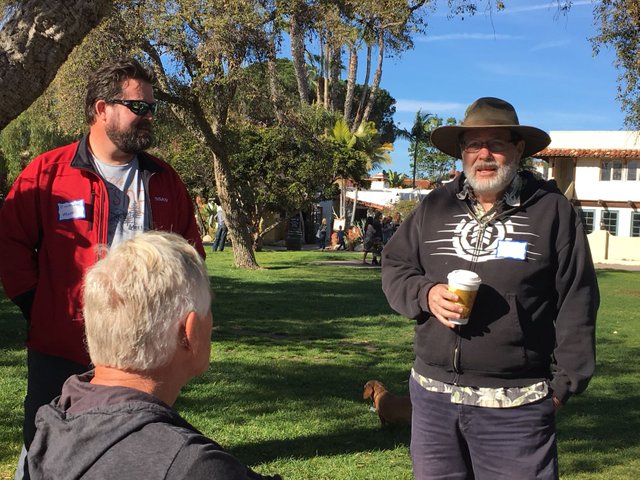 Others were just very mad at pots, or with pots, like beautiful @madpotters.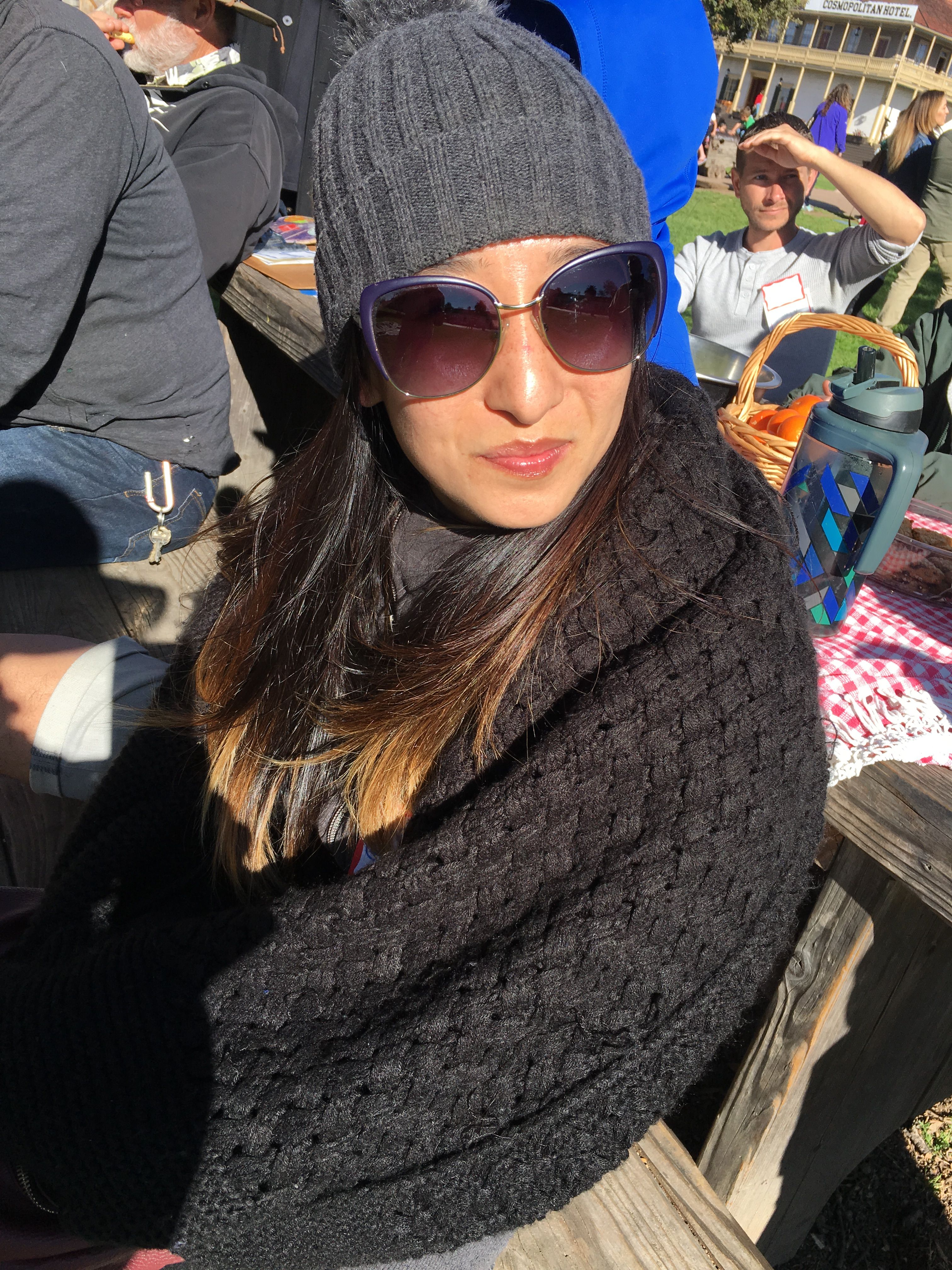 It's hard to imagine her mad at anything, actually.
There was a super-crafty lady from San Bernardino. Too bad I did not have a backpack, or she would have probably stuck one of these beauties on it, too.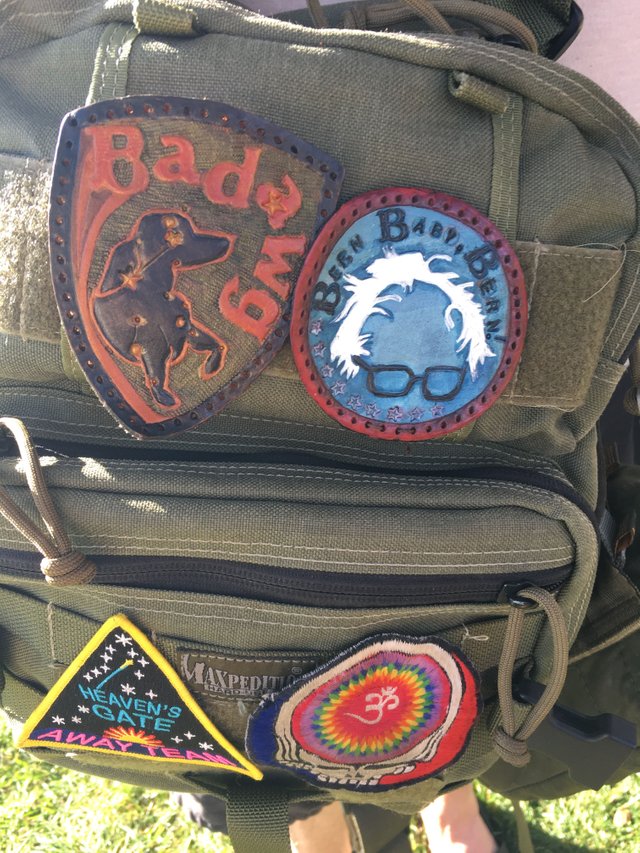 You can see her in all of her glamorous red hair here. That's Cat @creationofcare, and seriously, she struck me as an exceptionally caring person. Next to her, Matt, as in @mattlovell who decided to match his jacket to her hair for the day.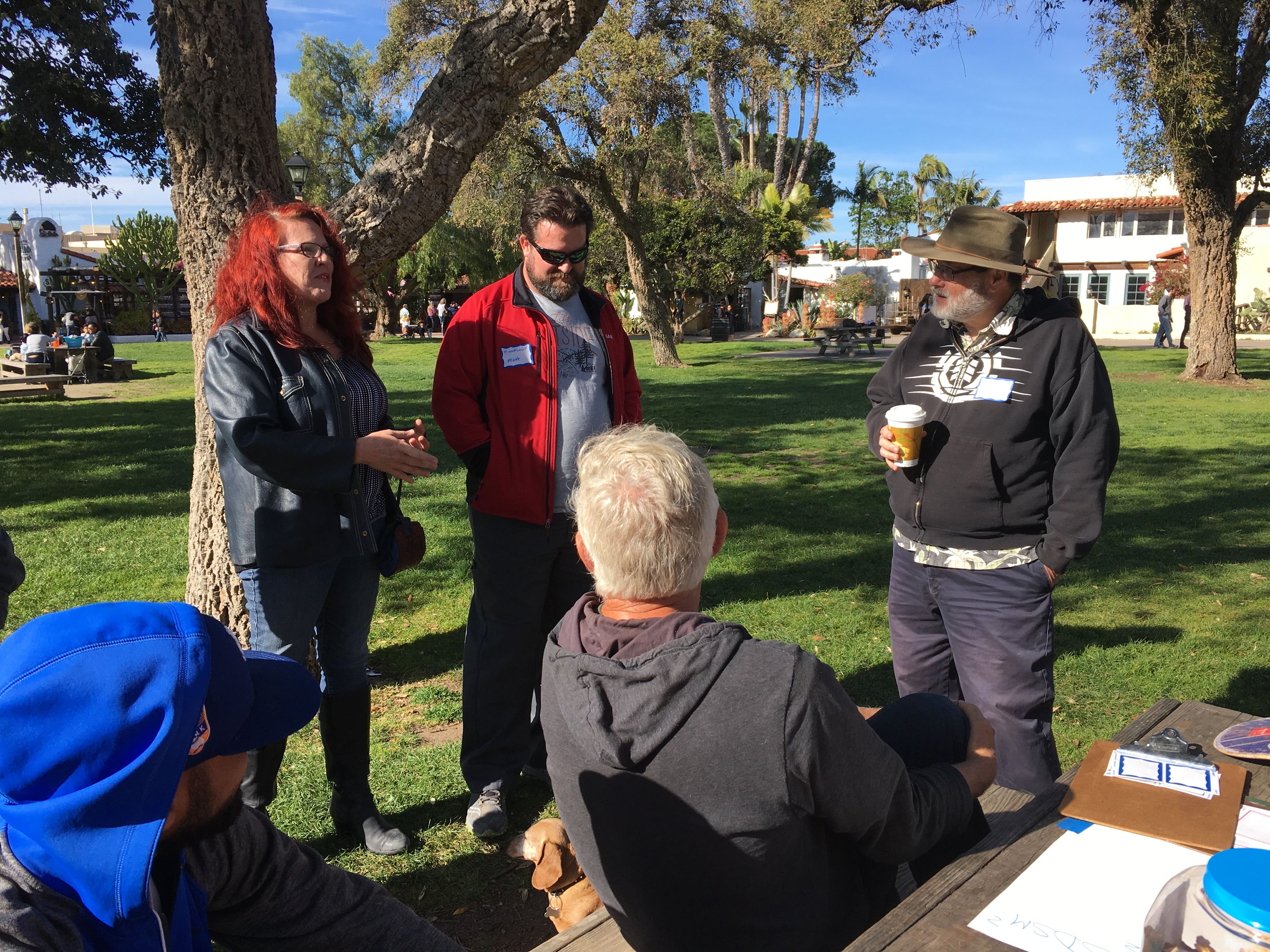 @citizenzero was not mad at all, in spite of his arms being crossed as if he was. He taught me a lot about the fun of reading lips and being unemployed, I mean, retired, and how beautifully freezing the nearby mountain town of Julian is in comparison to San Diego (I was freezing in San Diego! You'll see me in @mariannewest's post all wrapped up in any blanket I could find). @nutinbutdatruth was just being naturally cool, in his blue jacket. He is used to New York weather, so the chill did not seem to faze him.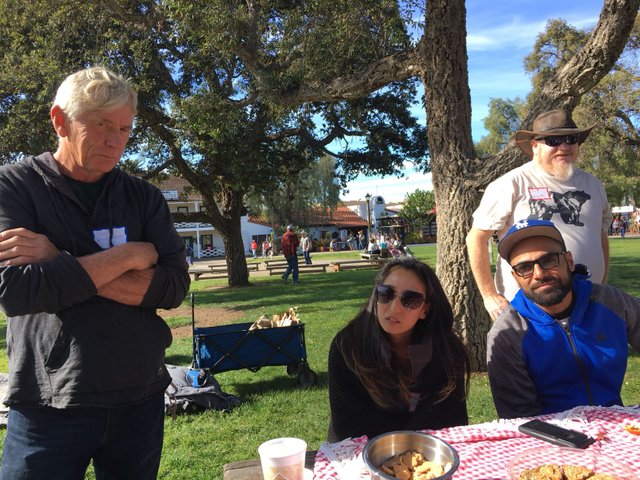 We all loved to wonder how you get to make your living though steemit and @bxlphabet received a warm applause by all of us. Look at that awesome auburn hair.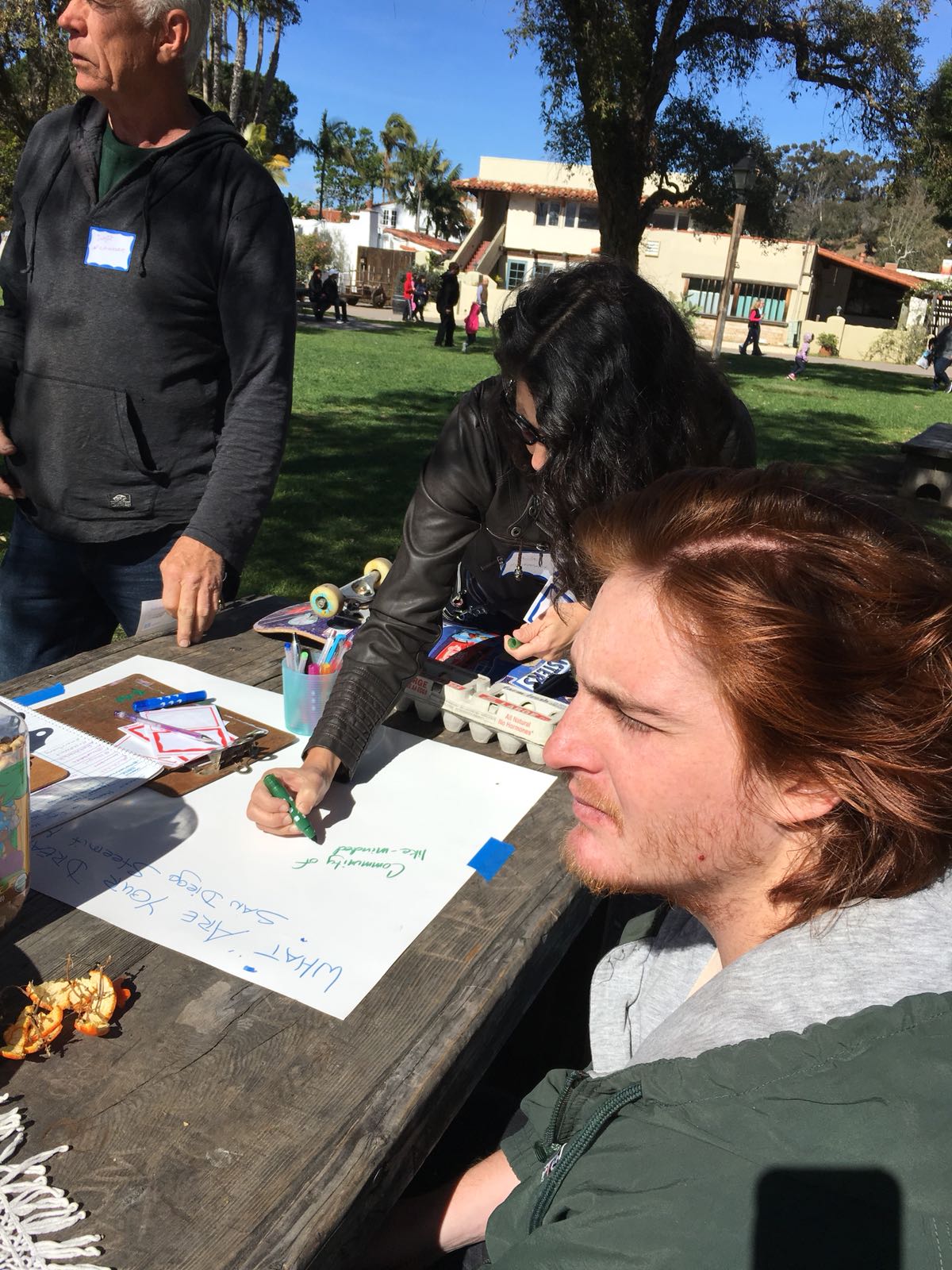 The morale is always the same. Meet your fellow steemians in person, and it's a lot more fun to steem it up afterwards!
I have a lot more photos to add, but may get back to this post after I squeeze in a bit of my actual work. You know, the one that pays my exorbitant pizza bills.