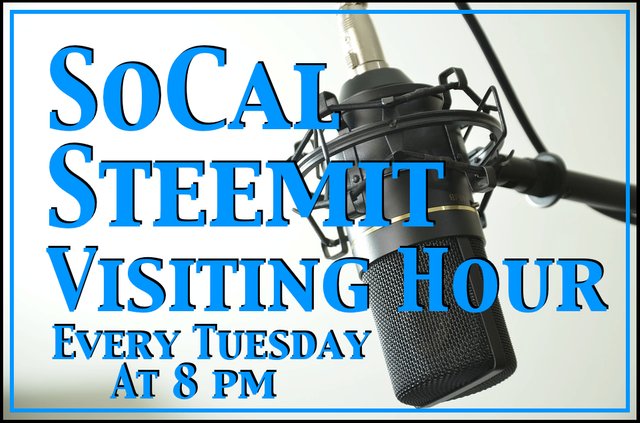 Welcome to the latest edition of the SoCal Steemit Visiting Hour post!
Every tuesday at 8pm @socalsteemit is doing a weekly voice and text chat for the members in our Discord server! Here we'll be giving a short summary of our previous chat and bring up potential topics for the next upcoming chat.

Last Nights Visiting Hour
In the last SoCal Visiting Hour we just had @csusbgeochem1 and myself (@derekrichardson) join in the conversation!
I started it off by talking about the big DPoll where @theycallmedan is offering up a 10K SP delegation to the winner! I told @csusbgeochem1 why I am supporting @steemitbloggers (now #powerhousecreatives) and asked for his support. You can see why I am supporting them here in my post. And if you can please check out the DPoll here and help me show some support for the awesome @steemitbloggers community! They really deserve to win this!!
Next we talked about our next SoCal Steemit meetup which is ONLY 3 DAYS AWAY!! In case you missed it, we're going
bowling in Norco, CA
! So far we have six people who have said they are attending, but it's not to late to RSVP so if you are interested in coming let us know! We have a reservation already which will cover the bowling, the goofy shoes, and even some appetizers! If you're not a good bowler, don't worry... I'm horrible! lol. But it's gonna be a ton of fun and I'd love to see you all there!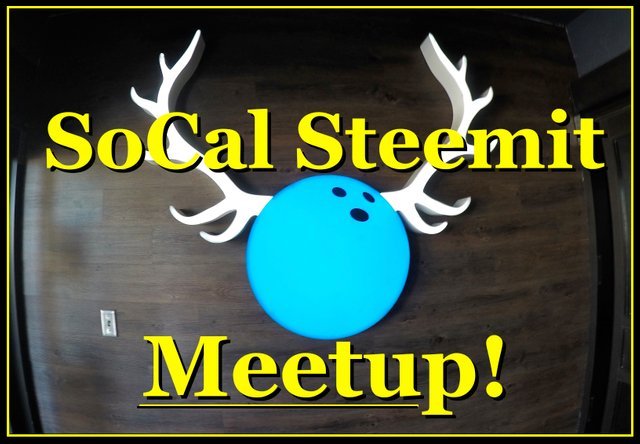 After that we talked a bit about the upcoming rain/snow in the forecast. And we talked a bit about me trying to sell my Toyoto 4Runner and we compared websites like
craigslist
vs
offerup
vs
letsgo
.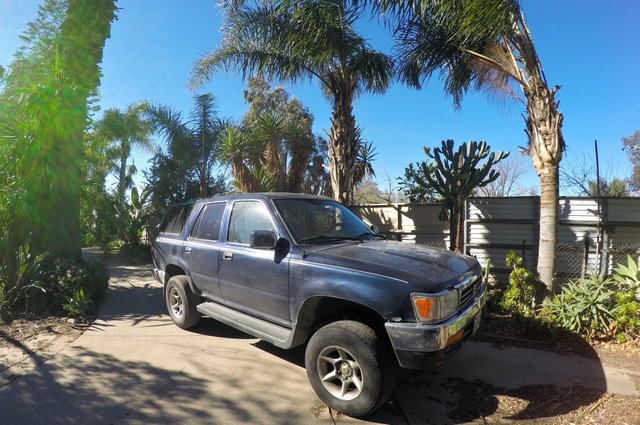 Then
@csusbgeochem1
was asking me about the
"new direction"
of Steemit Inc. He was wondering about the new managing director at Steemit Inc., but was really interested more in
Hivemind
and how it's been able to make it cheaper and easier to run a full node. Unfortunately for some reason the connection was breaking up and we were having a hard time hearing each other so I dropped him a few links so he could check it out and we called it a night.
Big thanks to @csusbgeochem1 for joining me in this weeks discussion, it was fun as always!!

Next Tuesday
In next Tuesdays SoCal Visiting Hour I'd really like to hear what you guys think about SoCal Steemit? What do you like? What do you think we could improve on or change? I'd love to hear all your ideas! I'd also like to talk about starting to plan our next meetup for March where we are planning to go check out some live blues music from SoCal Steemit member @melbookermusic and his band! I'd love to talk about any other ideas for future meetups as well! And of course we welcome ANYTHING ELSE any members would like to bring up and discuss! So again, it's tuesday at 8pm in the SoCal Steemit Discord server. If you are not equipped to voice chat or are a bit intimidated to get on a mic, feel free to come listen to the chat and communicate with the group through the corresponding text channel. We'd love to have everyone come join the conversation!!

SoCal Steemit Meetup!
Come meetup with your fellow SoCal Steemians! Our next meetup is on February 2nd at the Brunswick Zone Classic Lanes bowling alley in Norco, CA! You can find the details in this post. as usual we will have free SoCal Steemit stickers for everyone who comes!

We hope to see you there!!

?New Mystery Photo Clue?

In the 1920's there was a monorail that crossed the valley on a long wooden trestle.

make your guess here

Would you like to help us support the SoCal Steemit community?

Consider joining the SoCalSteemit curation trail

or giving a delegation

5SP
10SP
20SP
50SP
100SP
200SP
500SP
1000SP

#SoCalSteemit is building and supporting the Steemit community of Southern California. If you are from SoCal and are into creating quality content here on Steemit, we'd love for you to follow us @SoCalSteemit and join our group on Discord