Project Giving | Permaculture Principles Series with @MountainJewel: 1. Observe & Interact
Project Giving's primary aims are to raise funds for causes or initiatives in need. Secondarily, our wider goal is simply trying to create exposure and encourage adoption of the UN Sustainable Development Goals throughout the Steemit platform.
To this end, we're excited to announce a new Sustainability series created by @mountainjewel centered on the 12 Permaculture Principles.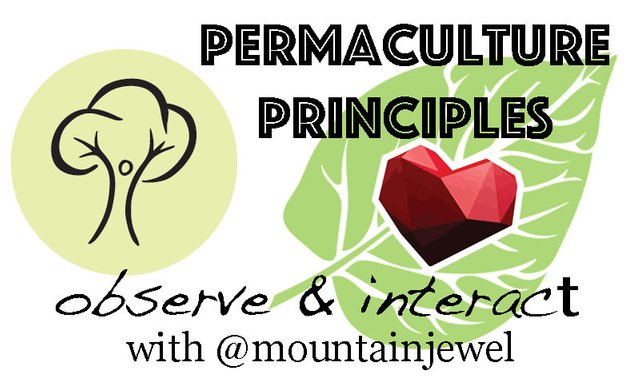 Permaculture is a series of ethics and design principles geared toward helping humans create permanent cultures (hence the name) in harmony with nature's systems, instead of exploiting, destroying or making inefficient systems that require lots of resources to prop up. It can be growing food, building shelter, energy usage, political organization and more.
Through sharing these 12 Principles along with @mountajewel's Radio Show on each principle (which can be found on the Global Homesteading Network's Discord Channel every Tuesday from 4-5 pm EST), we hope to engage Steemians in conversations around sustainability in practical and theoretical ways. Whether you live in a city in an apartment or a small rural community, it is our aim to share ways each of us can be rethinking our connection with the earth.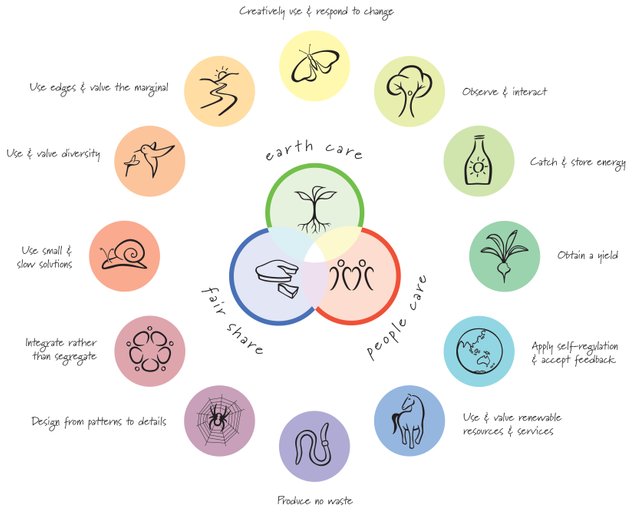 These principles provide a framework for ways we can be more conscious in relationship with each other and natural systems!

Without further ado, we introduce the first of 12 Permaculture Principles,
Observe and Interact
Here is @mountainjewel's hour Radio Show episode.
We offer a few simple techniques that can facilitate this observation process and share stories of how it has affected our life on the land so far. Read further to hear more about what we talked about in this first episode:
---
For the first principle the image is of a "human becoming a tree".
This principle invites us to "think like a tree", setting our concepts about the space we're observing to the side. In order to really observe a space, it is helpful to have an open mind in order to open to the possibility of seeing it in a new way. We may pick up on some things we've missed!
This first principle is arguably the most crucial because it sets the stage for further action or inaction. As we inhabit the role as designer and insert ourselves, we affect change in our environment. This principle reminds us to do nothing (except observe) before moving into action mode so that our action may be informed and aligned. As we step into creating sustainable systems, it's crucial that we allow this time to observe and interact with the space instead of rushing into action!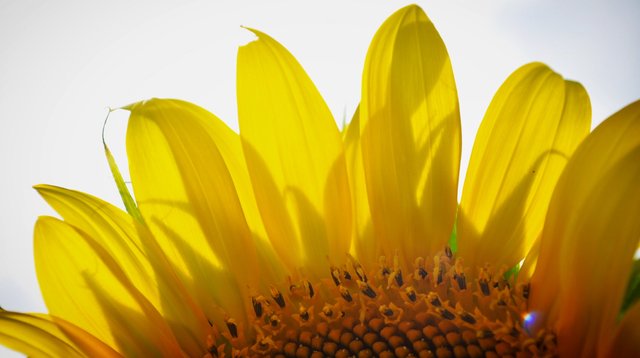 Some ways that we can do this include
Choosing a sit spot that you return to often to pay attention to the changes in light, wind, rainfall and movement on the landscape, animal activity, and more through the seasons
Meditation, breathing awareness, and journaling
Nature Walks in order to get in touch with the flora and fauna around you
Herb Walks in order to learn about wild edibles and medicinals
Tracking/hunting skills,
Awareness of movement of the constellations and the moon.
As you familiarize yourself with place, whole aspects of your landscape open up to you.
---
Incredible examples of the results of these deep observation practices (which we also talk about in this episode) are the cosmically connected & terrestrially grounded human cultures of the past. We cite the Chaco Canyon cultural site (in New Mexico in the United States) as one example. Their dwellings and ceremonial sites are aligned with cosmic cycles and rhythms and the connection they embodied is truly astounding. Read more about it here. In fact, they're so aligned that over a 5,000 sq km area, buildings are lined up acutely with cosmic astrological cycles over dozens of kilometers!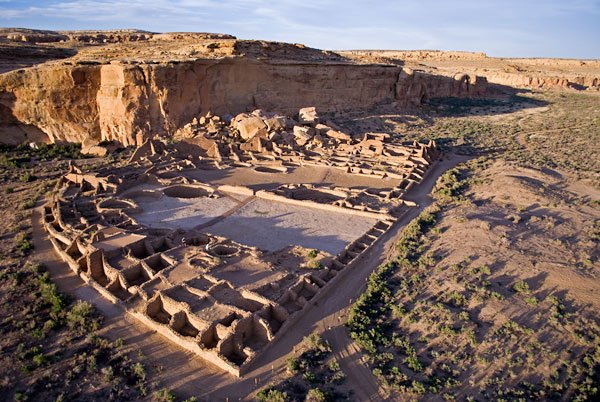 The inter-building alignments form an astronomical regional pattern of approximately 5,000 square kilometers.
Learning to Dance with Nature
We also go into how the Native Americans were managing the North American landscape and talk about how the European arrivals didn't understand the extent of human and land interaction when they arrived here. How would our experience of life differ if our ancestors had met the Native Americans and their management of the landscape with curiosity and observation instead of domination/exploitation?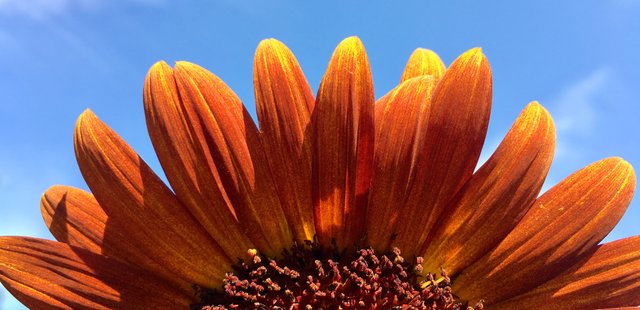 Through the Observe & Interact principle, we start to gain an understanding that we can meet our needs without having to impose our will on a landscape.
As mentioned earlier, by paying attention to weather patterns, microclimates, existing species on the land, history of the place, we can incorporate a more holistic place-based interaction with the environment through taking a step back and slowing down (we'll save that for another episode though...).
We have a powerful toolkit at our disposal if we are willing to use it.... Our mind, memory and forethought can guide us to amazing things.
Next week we'll be going through the principle Catch and Store energy. Stay Tuned!
@mountainjewel is a homesteading couple who live in the United States and practice permaculture on 18 acres. Check out their Steemit page for more writings on sustainability and permaculture. Portions of this article previously appeared on their page.