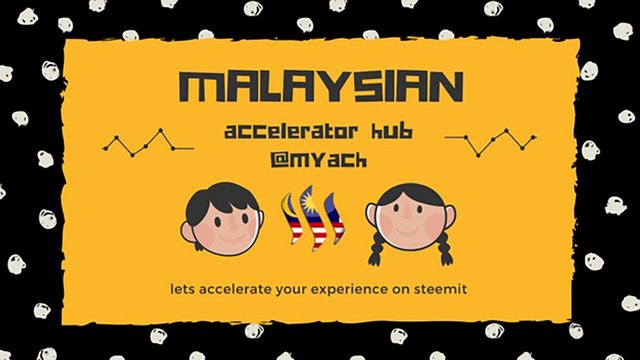 This post is an introduction post of Malaysian Steem Accelerator Hub ( @myach ) a new collaboration with @sndbox to accelerate the growth of Steemians in Malaysia to nurture great quality content from the community.
---
They are an incubator project dedicated towards bringing STEEM to the professional practice of creatives and entrepreneurs in New York City and beyond. They are @hansikhouse and @voronoi - of @hitheryon - the team behind STEEM Park.
Its a collaboration initiative between curators of #teammalaysia and @sndbox to provide guidance and support to new steemians as they familiar themselves on steemit and also start making quality content.
---
How it works ?
---
How do I signup as a new member ?
---
Why should I participate as a member ?
---
Is there a fee ?
---
What are the fees going to be used for ? | link
50% of SBD received through memberships will be converted to STEEM power to help grow the account. The other 50% of these fees will go towards support costs of maintaining the incubator service including programming and projects throughout the year. This will include offline programs in New York City & Malaysia through our official Meetup Channel, Steemit workshops and community projects like STEEM Park.
---
What else would we expect from @myach
---
State of the TEAMMALAYSIA community
#teammalaysia has grown rapidly over the past 2 months from just 25 people to now over 300 strong content creators. these was made possible by a series of events held across Malaysia. Our goal is to introduce steemit to as many individuals, clubs, associations and schools in Malaysia to make this community into an extremely diverse and vibrant community.
How do I support the community ?
MYACH is a community driven platform which is set to replicate the robust online offering in the offline space and for that, we are working on ways that Steemians can be involved in supporting this work. We strive to have a massive presence in Malaysia.You can support this initiative by:-
---
You can support the community by voting on my witness at
http://steemit.com/~witnesses scroll all the way to the bottom


---

---
Feedback
Thank you for reading and following the incubation and development process of MYACH and I would be very appreciative of your feedback. So tell us what we can do better, add and or exclude, I'd love to hear from you.