SmartContract - ChainLink Connects Smart Contracts to Any/All External Systems & APIs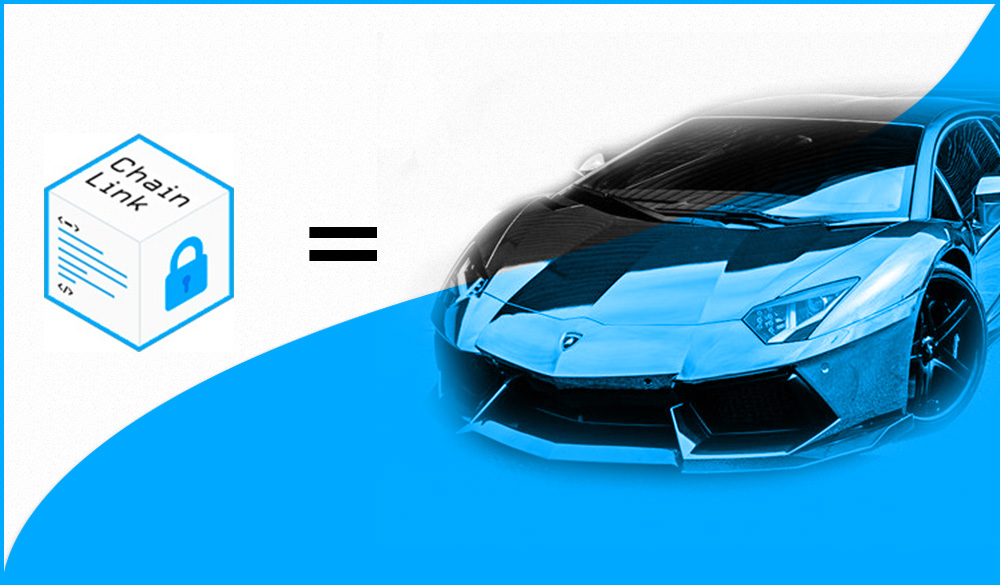 Over the last few months, I have been investing in ICOs. In amongst the dirt, there is always a diamond to be found. I always heavily research anything before I commit to investing. I came across smartcontract.com earlier this year and decided to look into the company further because of the important bridge they are trying to cross.
Below I will give you some details on what I found and why I think Chainlink will help mass adoption in this space.
---
The basics of a Smart Contract
A smart contract is essentially a way to execute (trigger) events that have been defined in the contract by way of an automated trustless damper proof transaction.
A smart contract will execute based on what was written. Once in the system, it is not controlled by outside parties but instead by a network of computers. People involved are kept anonymous, however, the transaction is stored on the public ledger thus creating security and immutability.
What is ChainLink?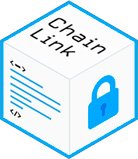 Chainlink is the bridge between the blockchain and off-chain resources.
This can include:
APIs
Market Data
Bank Payments
Retail Payments
Other Blockchains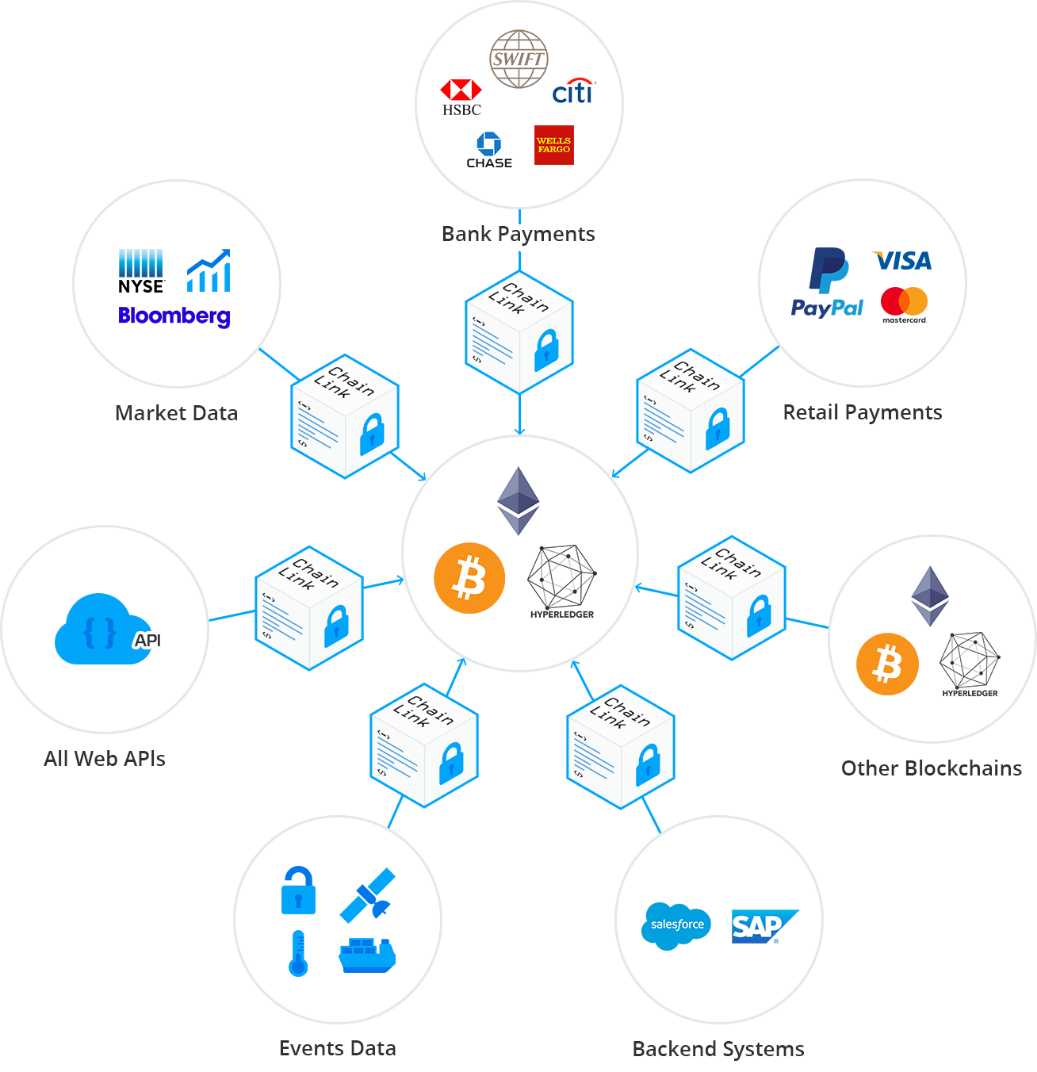 ChainLink Oracles
Oracles can be thought of a system that cuts out the middleman in a data transaction in a secure fashion.
BASIC ANALOGY: Oracles receive data from off chain data feeds and then securely inject the data into a smart contract, which can be on multiple networks. The smart contract then processes the data with the actions written within the smart contract. The smart contract then outputs the data to the Oracle which securely outputs the data to the original source.
Scenario: When I was living in Australia I worked on many Vineyards that produced and exported Table grapes to China. One of the major issues was conflicting quality control on the Grapes when they arrived in China.
Quite often only partial payments were made for the shipments. Many excuses were made for example the refrigeration wasn't sufficient on the journey, or some form of bacteria caused contamination etc.
Chainlink Oracle Solution
By creating data feeds that injected into smart contracts via Chainlink Oracles each step of the shipment from leaving the vineyard to arriving in China, payments could be made in stages to protect the seller as much as possible. This would also hold true for the buyer if certain data wasn't received at each checkpoint of the consignment.
Some might argue you would still need trusted inspectors to deliver the correct data, but what if imagery could be also be sent via data feeds through Oracles to smart contracts? I don't know if that's possible but it would solve not only this example but many other real-world cases. Anyway, fued for thought.
The above example is only one issue I thought of that was more on a personal experience in the real world I encountered in my years of work and travel. Probably not the best example but you can see the diversity of what could be achieved.
Chainlink Oracles literally have thousands of use cases, it really comes down to what APIs and data feeds will get thrown at it in the future.
Get Paid in Link running an Oracle
The team is still creating the backbone for this system but from what I understand you will be able to create an oracle by running an API or data feed through it and this can be monetized by way of the transactions that flow through the Oracle. If one creates a popular data feed I could imagine these Oracles could become very lucrative in the future.
---
So does Smartcontract.com have the credentials to bridge the gap between on and off chain resources?
Let's take a closer look at the history of smartcontract.com
Team:
Sergey Nazarov (CEO)
Steve Ellis (CTO)
smartcontract.com was actually registered in 2008 by Sergey (Vitalik was 13 years old)...hmm so I wonder where the name "Smart Contract" came from?... lol..anyway not really significant just wanted to throw that out there :) But what is important is that Sergey has been in the "Smart Contract" business for a very long time and involved with actual Blockchain tech since 2011.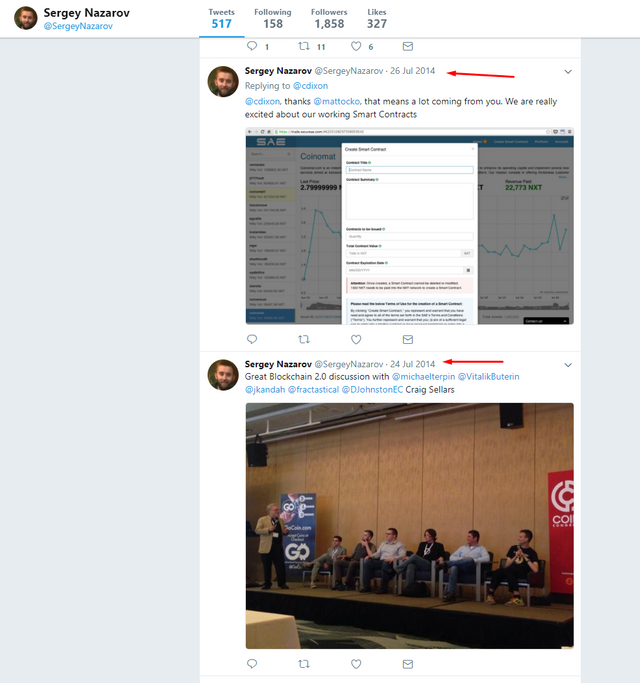 This video is actually very interesting, it shows Sergey's passion for smart contracts with this project prior to ChainLink.
---
ChainLink Working Product?
.....Well, this is part of the reason I think Chainlink will be successful. There has been a working smart-contract product since 2014
In the video below Sergey explains in lamens terms what an Oracle is and you will notice he mentions working with SWIFT. This was back in November 2016
http://tabbforum.com/videos/powering-smart-contracts-with-oracles-sergey-nazarov-smartcontract
OK so whats all this about working with SWIFT? and what is SWIFT?
Simply put SWIFT is a network that provides an environment for financial institutions to send and receive secure transactions.
What is significant about SWIFT is that over 11,000 institutions in more than 200 countries use SWIFT.
So how can Chainlink help SWIFT?. Chainlink is creating a SWIFT SMART ORACLE that will allow smart contracts on multiple networks to make payments as well as send governance instructions. The Oracles will be able to release funds with SWIFT'S 11,000 financial institutions. This in itself is a game changer.
Upcoming Events for Chainlink
October 5th
This will be a panel of experts in the investor and founder smart contract arena. Sergey will be speaking and showing his knowledge in the smart contract field. This is being held at SHEPPARD MULLIN Four Embarcadero Center, 17th floor, San Francisco, CA and will kick off at 6:30 pm on Thursday, October 5th.
October 16th
SIBOS is the big one. Sergey Nazarov will be present a live demo of a Chainlink Oracle. This will be monumental for Chainlink and SWIFT and also the industry. The demo will be presented between 10:15 - 10:45 am October 16th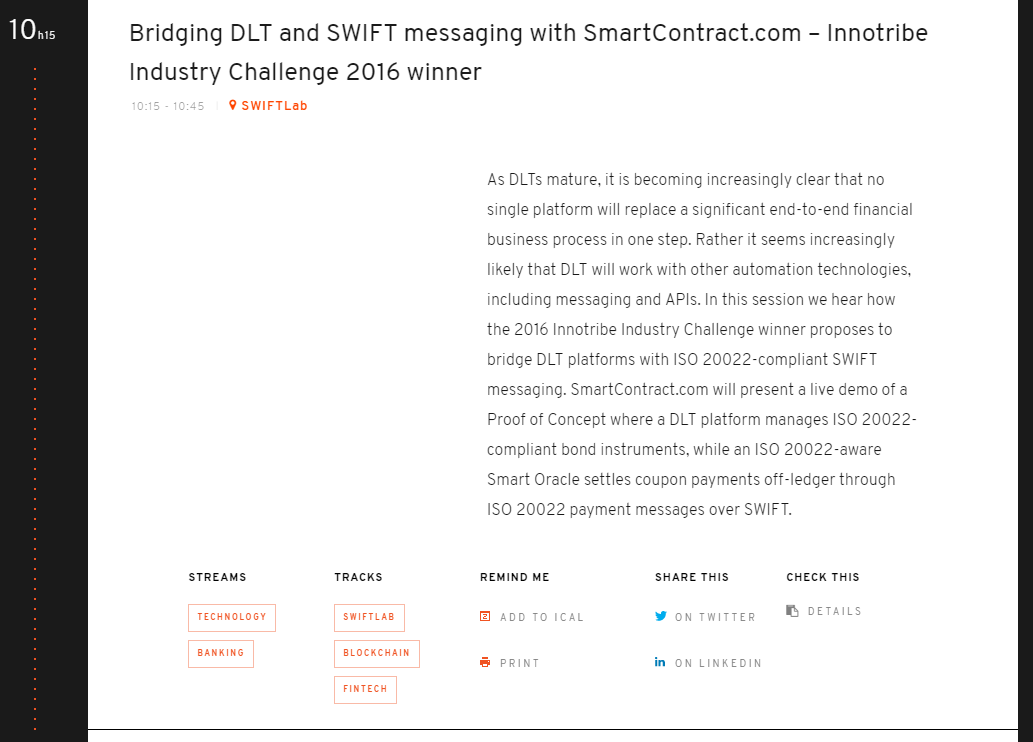 ---
Interesting videos
TABB FORUM (Sergey Nazarov Interview)
http://tabbforum.com/videos/powering-smart-contracts-with-oracles-sergey-nazarov-smartcontract
SF ETH DEV MEETUP (Sergey Nazarov )

TERRY BROCK (Sergey Nazarov Interview)

COINFUND Q&A (Sergey Nazarov Q&A )

CRUSHCRYPTO VIDEO review 1

CRUSHCRYPTO VIDEO review 2

TYLER SWOPE (General Chainlink info) I like this guy he is no bullshit.

SWIFT Business Forum Australia

Interesting Writeups
Collab with Factom (July 2016) - https://www.factom.com/blog/smartcontract-factom-announce-collaboration
Vitalik Buterin about Oracles (2014) - https://blog.ethereum.org/2014/07/22/ethereum-and-oracles/
American Banker ( August 2017) - https://www.americanbanker.com/news/the-race-to-connect-smart-contracts-to-the-real-world
Finextra (August 2017) - https://www.finextra.com/pressarticle/70428/smartcontractcom-unveils-chainlink-plans-adds-to-advisory-board/sibos
Venture Beat (September 20th, 2017) - https://venturebeat.com/2017/09/20/chainlink-raises-32-million-to-connect-blockchains-with-external-data/
Also check out this write-up by one of Chainlinks advisors Hudson Jameson - http://hudsonjameson.com/2017-08-06-advising-status-smartcontract/
Why a VC invested - https://blog.underscore.vc/beyond-the-chain-why-we-invested-in-smartcontract-3a984b912ba9
I enjoyed this summary mEthMan45 on Reddit - https://www.reddit.com/r/ethtrader/comments/739sbb/chainlink_will_get_you_a_lambo_and_heres_why/
---
Summary
BULLISH AS HELL!!!


Have I invested?..hell yes
At the time of this post 11:42 pm PST October 3rd, 2017 the price is :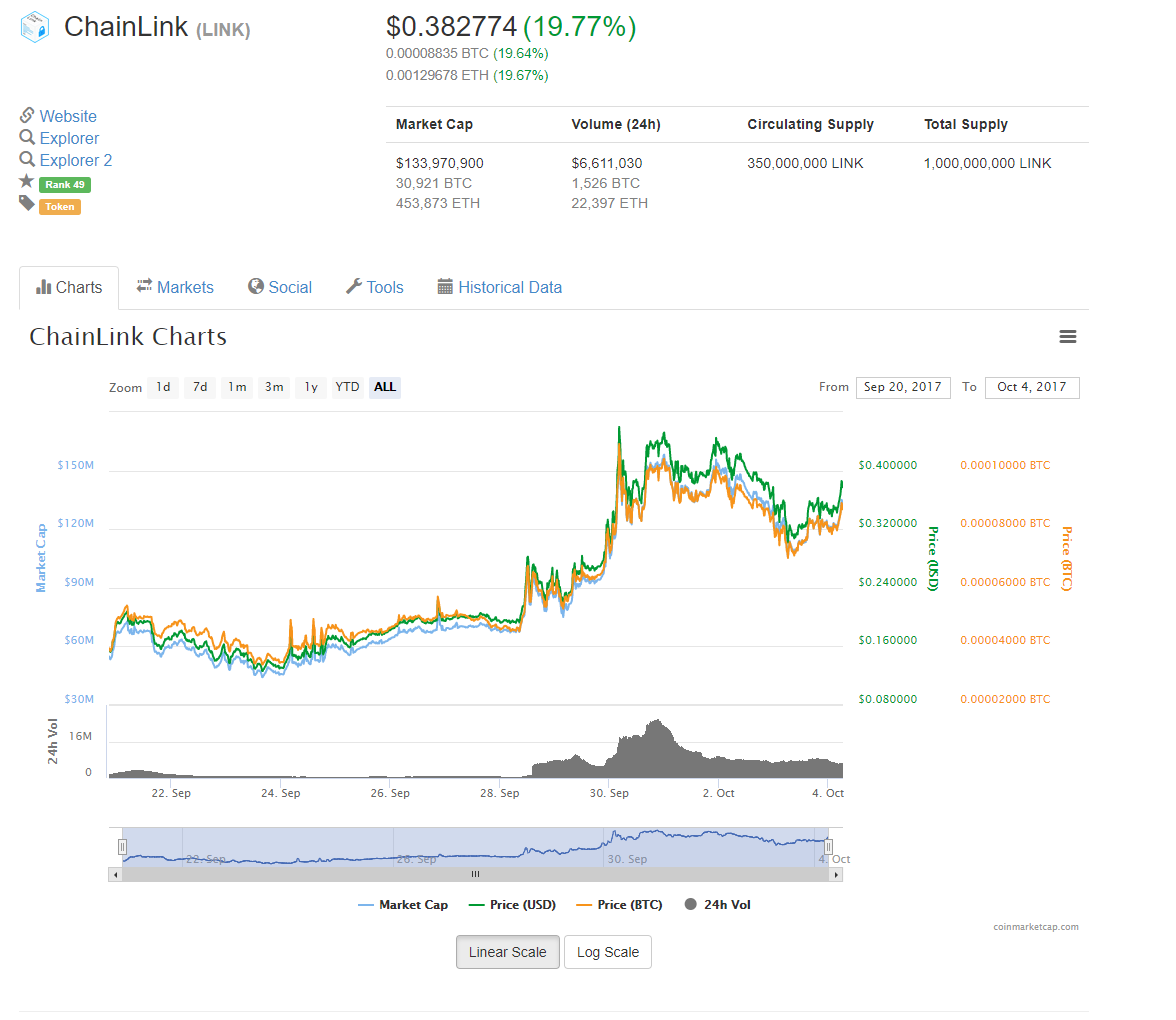 SMARTCONTRACTS.COM has built the bridge between on and off chain data, and that's all I have to say about that.
---