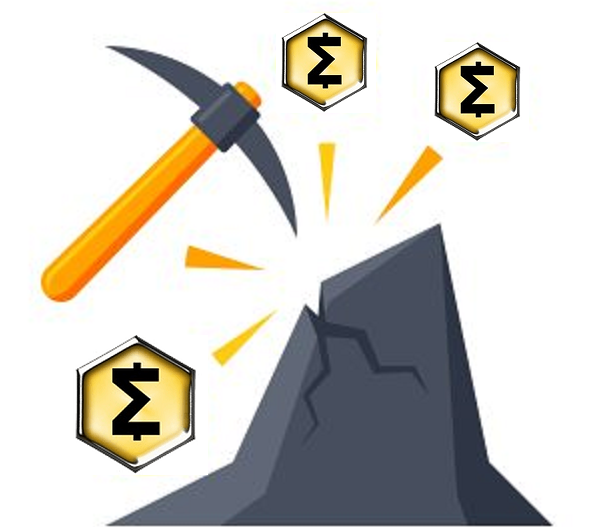 As described in my last SmartCash post I just recently discovered SmartCash. Once I looked into the coin at SmartCash.cc and all it has to offer, I was hooked. @doc-gonzo
I immediately went about redirecting the 2 GPU's in one of my PC's to start mining SmartCash so that I could accumulate SMART coins while I waited for my taxes to arrive and I could purchase enough to start earning SmartRewards, or get a SmartNode. The computer case that I chose to mine with, directing it to the SmartCash official USA pool, has both an AMD and a NVIDIA card in it. The process for setting up each of the cards is similar, but very different at the same time.
Following direction from a number of guides I found explaining these processes, I ran into a few minor roadblocks that did required further investigation to circumvent. I decided to create this step-by-step guide to help you start mining with each of the cards and to help get you around some of the obstacles you may run into.
This is meant to be a complete, one-stop-shop SmartCash mining guide. If I have missed something, made a mistake or overlooked anything, please let me know in the comments below.

Algorithm
I think, first and foremost, it should be noted that SmartCash uses the Zerocoin protocol, and the Keccak algorithm.
NVIDIA cards have proven to be the Keccak algorithm heavyweight. That's not to say you can't get it done with AMD, because you can, but any NVIDIA 1080 ti will crush whatever AMD card you're trying to use in terms of hashrate.
Here's the top 10 GPU's for mining SmartCash at the moment.

Want to see how your GPU stacks up? For a complete, comprehensive list of video cards and their SmartCash mining performance, click here.

My Video Cards, Overclock Settings and Hashrates
I will be the first to admit that the video cards in this PC are not the biggest and baddest of GPU's.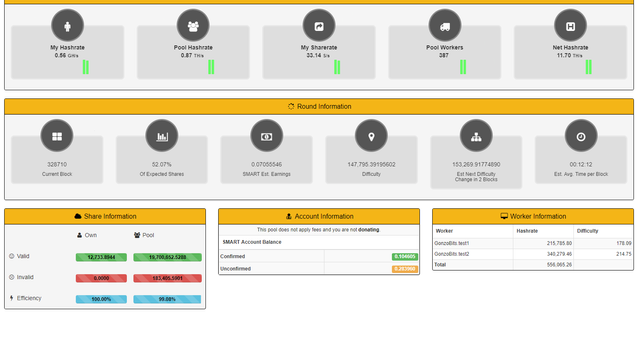 My AMD card is a Gigabyte AMD Radeon HD 7970 3GB.
Clock speeds (stock) = 1000 MHZ Core and 1375 MHZ Memory.
I reduce my power to 80% and overclock my Memory to 1535 MHZ, leaving Core at stock 1000 MHZ, to achieve a hashrate of 340,279.46 (as seen in picture as "test2") with temperatures at a stable 80 degrees Celsius.
---
My NVIDIA card is an MSI GTX 960 2GB
Clock speeds (stock) = 1303 MHZ Core and 3004 MHZ Memory.
Overclocking abilities on this card are limited. I am not able to overclock my Memory clock. When mining SmartCash with this card I set my Power Limit to 80%, I increase my Core clock +245 and my Temp Limit to 80 Degrees Celsius. Temperatures will fluctuate between 68 and 73 degrees Celsius in this configuration. With these settings I'm able to maintain a hashrate of 215,785.80 (as seen in picture as worker "test1").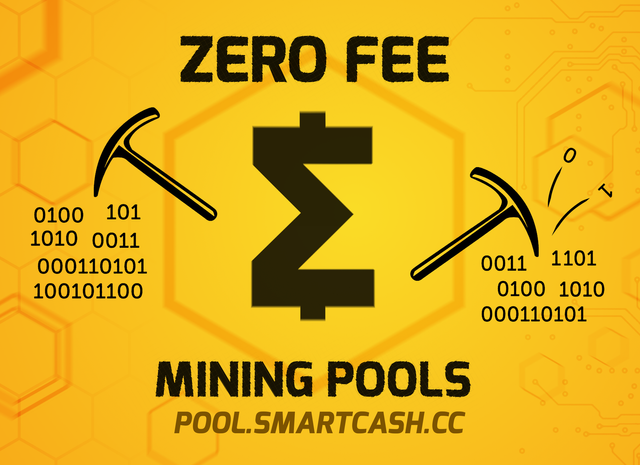 SmartCash Pool Selection and Registration
Once you decide you want to start mining SmartCash, the first thing you're going to want to do is head over to SmartCash.cc and hover your cursor over the 'Resources' tab. This should activate a drop-down menu.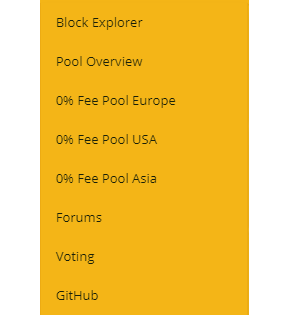 As you can see, there are 3 official SmartCash pools. The most appropriate pool would be whichever one you are closest to, depending on what part of the world you are mining from. For me, it is USA (so that will be the focus of this guide) but there is a Europe and Asia pool as well. All pool layouts and procedures are identical, only location of server is different.
---
Once you chose and enter your pool, you will be greeted by a Homepage that looks like this.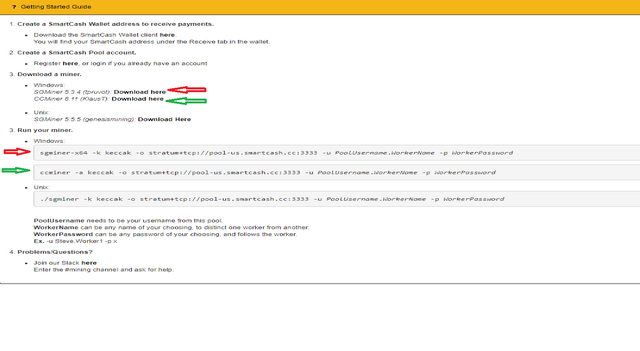 If you are using an AMD card you would want to download the sgminer, highlighted here in red, and save to a folder where you will find it.
If you are using NVIDIA, you want to download ccminer, highlighted in green.
We will be referring back to this Homepage later to get the information indicated by the second set of colored arrows. For now, we are only concerned with the first set pointing to the miner downloads.

In the upper right corner of the pool screen there is a tab that says 'Guest'. This is where you Sign Up and Login to your pool account. Hovering your cursor over the word 'Guest' will activate a drop-down that looks like this -
---
Click Sign Up and it will bring you to this form. Fill it out to complete registration.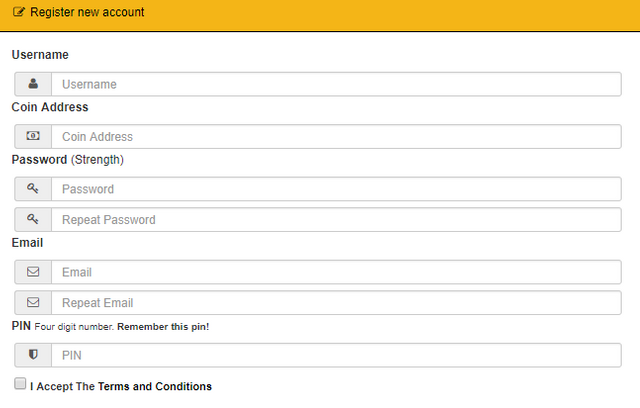 Once registration is complete we can click Login and enter the pools Dashboard.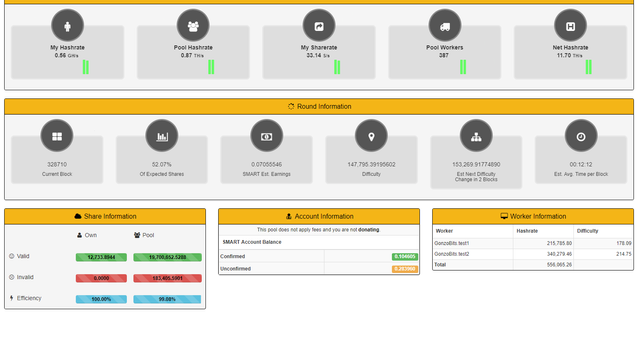 Workers
At this point, we need to create our workers so we can direct our corresponding mining software to the mining pool.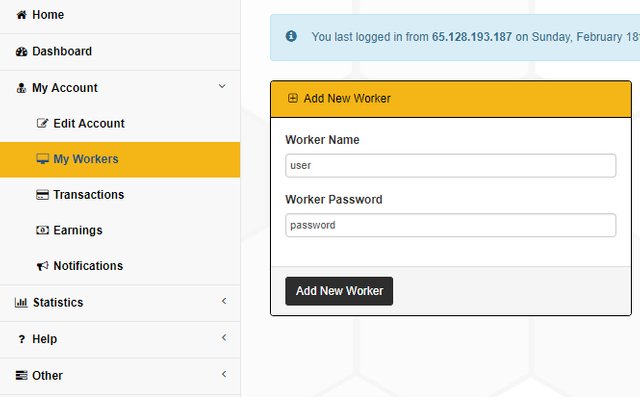 In the panel on the left side of your screen, click My Account and then click Workers. This will open a dialog box where you can create a new worker. Each card will require a separate worker.
Worker name does not need to be fancy. The password should be even simpler, I usually go with just 'x' for a worker password.
---
When you're done, you should have a dialog box with the workers you just created in it.


Making it all work
Now we have all the information we need to tell our software where the efforts from our hardware will be directed.
Go to the folder you extracted your corresponding miner to.
NVIDIA

This folder is my active program folder.
The Batch file you see in this folder titled SmartCash does not come with the download, you need to create that file.
---
To do this, we right click inside our folder and go down to 'New' then choose 'Text Document.'
This should open notepad to an empty text document, prompting you to name the file. Choose something relevant.
As you can see, I titled mine SmartCash. This is the file that will start your miner, it's your start button, so the file could just as easily be titled Start or SmartStart or something along those lines.
The document should still be empty.

Copy and paste the entire command line (ccminer, with the green arrow) into the empty text document.
From there you just replace the PoolUsername with the name you registered for the pool with. Replace workername and passward with your created worker name and password, and we're ready to save.
Make sure there's a period between your poolusername and worker name.
Here's what mine looks like.

Now go to 'Save as' and write a .bat at the end of the title, whatever you called it. In my case it would read SmartCash.bat then change 'Save as Type' to 'All Files' and click 'save'.
At this point, if we did everything correctly, you should be able to double-click that file we just created and the miner should start working.
You should see something like this open and begin to run.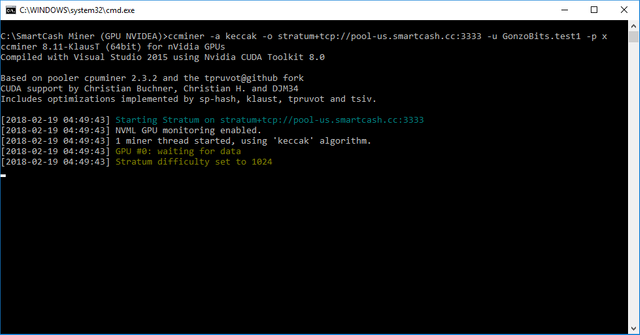 ---
---
AMD

---
---
When I originally downloaded this and tried to set it up, my Antivirus deleted half of the files in this folder. Needless to say it didn't work. I had to go into my Antivirus and put this file onto the Exceptions list, so that it didn't delete the files. I then ended up deleting the files and re-downloading them so that all necessary files were present. Because we already put the file into our Exception list with the Antivirus it didn't delete them when downloaded the second time.
This program file is currant as of 2/19/18. If you don't have all the files you see in the above image, check your Antivirus.
Here's the error I was receiving.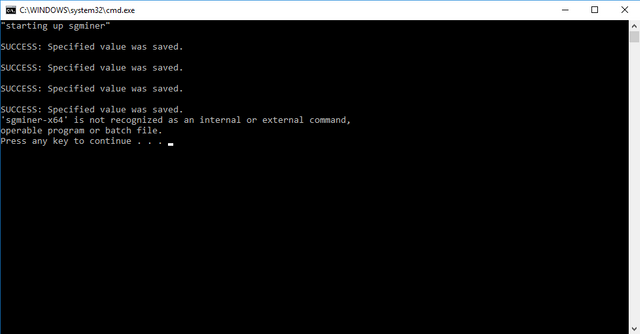 ---
---
OK, assuming we read the above disclaimer and have taken all necessary actions, we're moving on.
From here on out it's fairly simple. There's only one command line we need to edit in this file to make it work. That would be: "eth" Windows Command Script, highlighted here.

Referring back to the command lines (with the collored arrows) on our Homepage again.

We're going to copy the entire command line for sgminer (red arrow). Then we right-click "eth" Windows Command Script and chose edit.
This will open up a 'Notepad' that looks like this.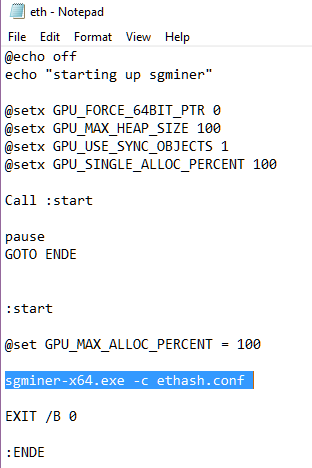 Towards the bottom of this Notepad command file, just above the word EXIT is a line that starts with sgminer. You're going to replace that with the sgminer command line from the Homepage (red arrow), making sure not to change anything else.
---
It should look something like this.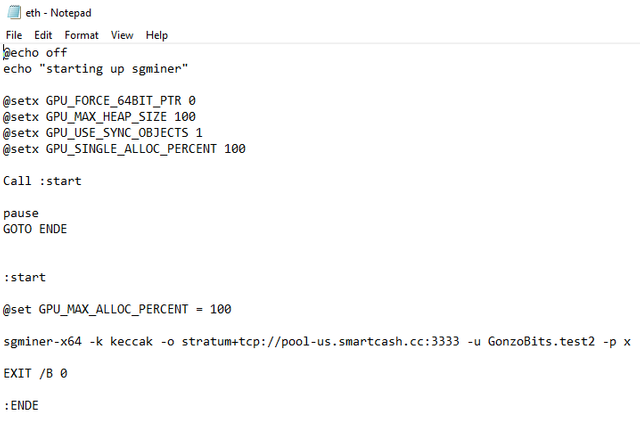 Then go to File and Save.
This file is now our start button.
We should be able to double-click this file to initiate the miner.
If you felt so inclined, you could rename this file as Start or SmartStart, or whatever you wanted to.
---
As long as our Antivirus is not prohibitting anything, all files are present and we've input the correct information, this miner should run and look something like this.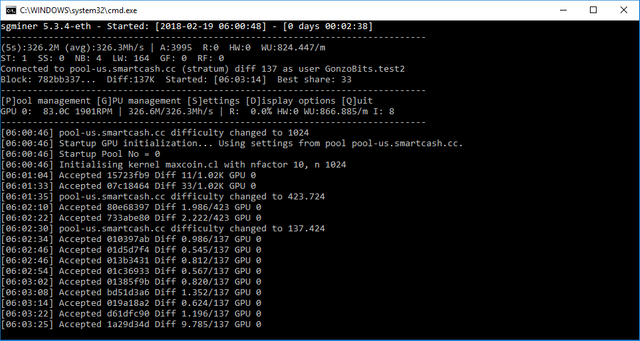 Wallets
Now you're going to need a wallet.
My personal favorite wallet is the Mobile wallet. You can find it at GooglePlay. It's a quick and easy download. Inside there are 3 wallet addresses. One is labeled Spending and the other 2 are labeled SmartRewards. This allows you to spend from one wallet and always have 2 wallets eligible for SmartRewards. Of, course you don't have to spend from any of them. If you didn't have any outgoing transactions and had sufficient funds in each of them, they would all be eligible because it's an official SmartCash wallet.
SmartCash also offers Paper Wallets , Brain Wallets, and Desktop Wallets.
If you choose Desktop wallet, once downloaded the wallet will need to sync with and download the entire blockchain. This takes a very, very long time! There is a bootstrap you can use to speed it up, but it still take quite some time and you would need the hard drive space to store it all.
I'm not trying to talk you out of the desktop wallet, there is added security to having and using one, I'm just letting you know what you'd be getting into when choosing that wallet.
I do, in fact, have and use this wallet. I consider my desktop wallet to be my main wallet, but it took the better part of a week to sync with the blockchain.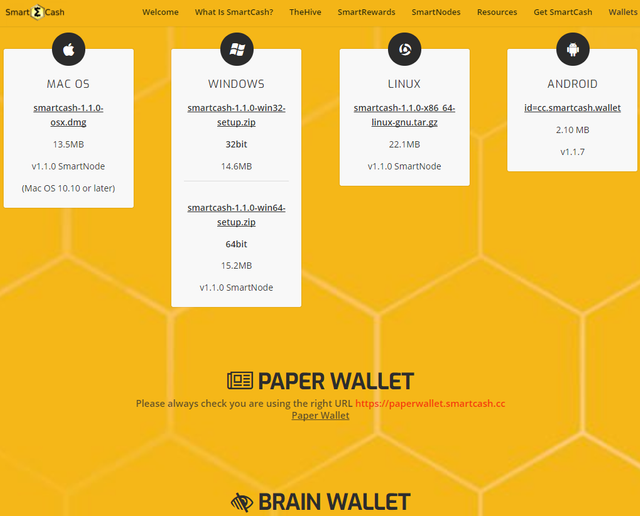 Once you have your wallet chosen and downloaded, you need to update your account with your wallet address so you can get paid.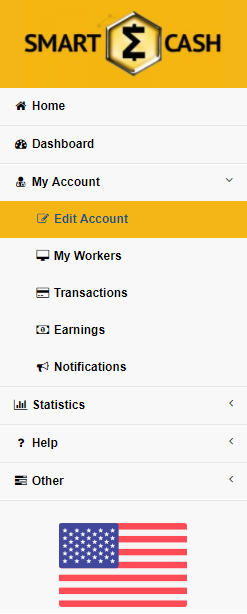 You can set the Automatic Payout threshold to any amount you want to be paid in, anywhere from 10-1000 SMART. Once you reach the amount you specified it will automatically payout to the wallet address that you link to the account.
To do this use the panel on your left to go to 'My Account' then 'Edit Account'.
Enter your wallet address where it says Payment Address.
Set your Automatic Payout Threshold amount. I just do 10, which is the minimum and I get a payout every day.
Add your 4 Digit PIN. The 4 digit PIN you chose when registering.
Double check that all information is correct and hit Update Account.

Hopefully this guide has helped someone out.
For additional help you can connect with the SmartCash team on their Discord #mining channel or in the Forum.
If anyone finds any of this information to be inaccurate or you have other tips and tricks, please leave it in the comments below.
If you enjoyed this guide, don't forget to Upvote and Resteem. Follow me @doc-gonzo for more SmartCash news and Information in the future.
Also, if you haven't already discovered it, you should check out SteemFollower. I plan to make this the topic of my next post, so stay tuned.
If you wish to tip a fellow contributor you can send coins here:
SMART = SXj6LWGxa9VLUbkFCajWV6jynaBeTLzrbK
BTC = 18Z7NmFS3QW8JqbousncdURaZs5rXP7DKT
LTC = LQEvg2ocXmPWcFzgSrVL9xrbu5XkvMAQfX
DASH = XumB3rWk6rPzEAFeEk6QiqGsXHB9o94D8R