Sktchy Portrait Process - Finished Art - PopSchools Founder's Blog
I have a goal of creating and posting artwork daily. For the past three days, I've used the iOS app Sktchy for references. The muses post their photos and allow artists to draw inspiration from them. Artist and muse are connected on each other's profile.
Today's drawing was done in Procreate on the 1st generation iPad Pro with Apple Pencil. I was attracted to this photo reference by my muse's reddish nose. You can see I started the drawing with a pink triangle for the nose. I used digital gouache as the medium for this painting. I was going for a more stylized, cartoonish, version of the muse. I wasn't trying for exact likeness which I sometimes like to attempt.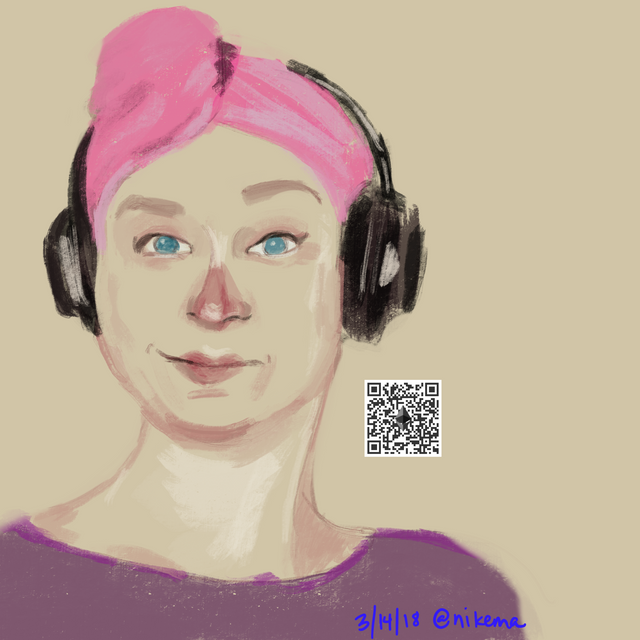 all rights reserved @nikema
---

PopSchools Founder's Blog
My focus on learning about Steem and creating content here has taken attention away from my PopSchools business. I am having fun here especially after discovering the creators I want to watch. I have hope that blogging here will lead to a source of income for me.
Today, I intended to write my bio and some proposals to work with a few different groups. I had a meeting with our homeschool teacher and another member of our support team to address some concerns I'd had about my son. I haven't been wanting to work on the PopSchools stuff the past few days. I think it's because of Steemit.
It's like a challenging game that has no end. It's fun figuring out how it all works. I have a somewhat addictive personality. I have to be mindful of investing too much time or money in activities I become interested in.
Also, I'm emotionally down. It's just been that way for the past couple of days. I haven't wanted to move much or do much. It's very hard to get up an get going. I've been tired, sleepy, taking long naps. If you're thinking depression....ding ding ding. I am diagnosed and I may need an adjustment in my medication.
I consider my drawing and building credibility here as business activities. A big part of my business is starting a community for young artists. I have to keep reminding myself that community building and artwork, is my work whether it's paid or not.