My First Shoutout Saturday!
This weekend, I couldn't wait to participate in @crazybgadventure's new project called Shoutout Saturdays. It's a chance for you to make a post that features Steemians that you enjoy following. Because there are SO many of us on the platform, it's easy for exceptional content creators to get lost in the shuffle.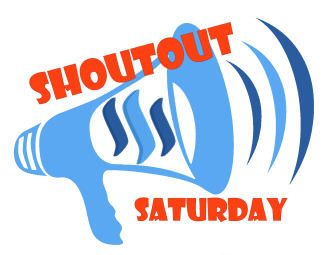 Image credit: @shadowpub
The purpose of Shoutout Saturday is to highlight the quality work of those that may not have been recognized before. Each week, you should take time to engage with new (to you) members so you can learn new things, make new connections, and improve your own Steemit performance.
Then, when Saturday rolls around, you can make mention of these new friendships, exposing them to all of your previous followers!
#ShoutoutSaturdays is in its second week here on Steemit and it seems to be picking up lots of 'steem'! I wanted to jump in to highlight three of the members that I've gotten to know within the last week...go check them out!


I came across Snook's profile earlier this week while deciding to try out the 5-minute freewrite hosted by @mariannewest. She is just one fun, down to earth lady! She writes in a way that makes me smile...and even laugh now and then! It's always refreshing to find a new post from her in my feed.
And, she co-hosts a Bad Karaoke contest every Thursday on Steemit - how could you NOT love that?!


I just discovered @phunke's blog, but I have been enjoying reading and commenting on her posts. She offers a lot of knowledge for parents here on Steemit. Some of her posts are a great fit for #steemeducation - a community truly believe in. The mom and teacher in me just cries out in excitement when I see one of her useful posts come up in my feed.


If you need a little more delicious in your life, you will enjoy @cooknbake's recipe posts. Most of her recipes are deemed quick and/or easy, and she has beautiful photos to along with each one! I have some new dishes to try since I've been following her blog.

Now, make sure you check out these members and give them a little Steem love. Also, let me know if you have any members you'd recommend I would check out...or better yet, make your own #shoutoutsaturdays post to feature them!








Animated Banner Created By @zord189