Hello workers, hello fellow steemians all the world.
How are you today? Good?
Your job done yet?
How was your day?
Great?
5 days ago, I read my #steemit friend post, and she make new photo contest, she's @melinda0101100
Who's make Shadow Photo contest every week with different theme each weeks, and this week the theme of contest is "Toy Shadow".
So I make it one, as my photo entry for this contest, check it out fellas :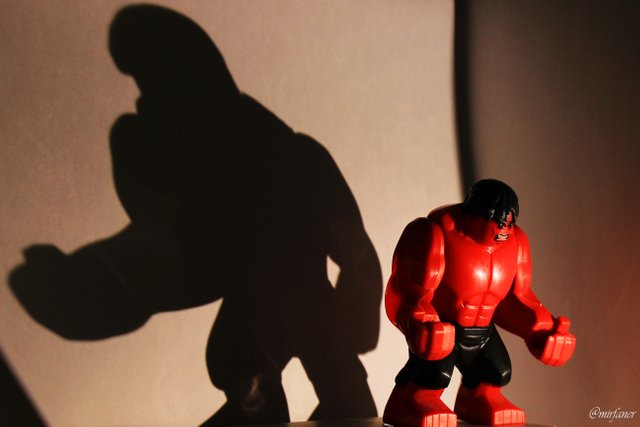 cam set = F. Stop : f/6.3 - Exposure Time : 1/10 sec - ISO : 200 - Focal Length : 35 mm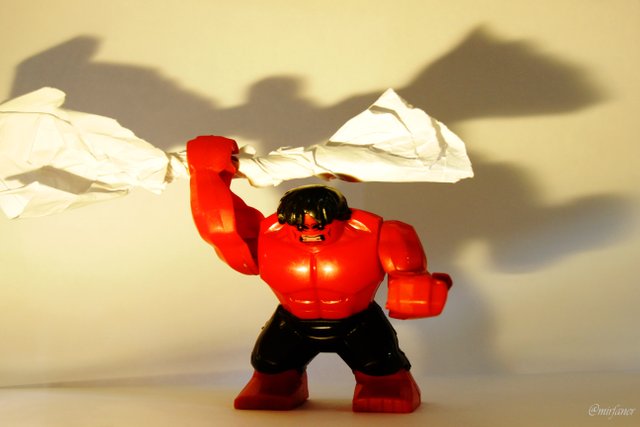 cam set = F. Stop : f/6.3 - Exposure Time : 0.8 sec - ISO : 800 - Focal Length : 35 mm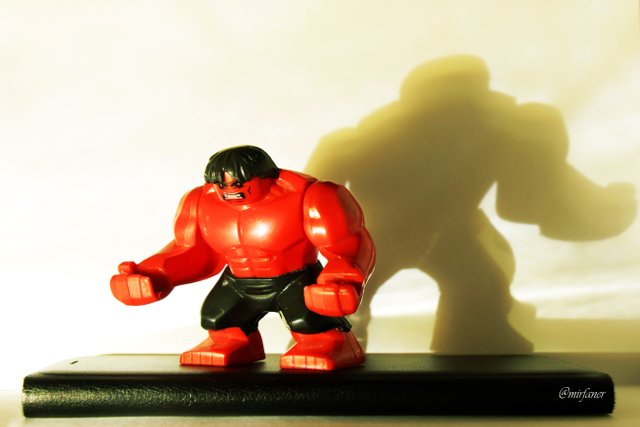 cam set = F. Stop : f/6.3 - Exposure Time : 0.8 sec - ISO : 400 - Focal Length : 35 mm
---
I buy this toys when I go to the market to buy what is written on a note sheet by my mother, the traditional market in our area is accompanied by various elements of the seller who sells various goods and services.
I love the Hulk character, since I first saw Hulk on tv, I became amazed, and imagine how someone easily threw his tank and captured the missile very easily, as if the tank was just as heavy as a pillow hahahaha
And one more interesting thing about this toy is the red-colored Hulk, usually we know the green-colored Hulk when he's enlarged and very angry, so this toy is for me a unique collection, and I love it so much.
This photo I took when I was having a lunch in my office today, since I was not working, so I took out my camera and made a mini studio out of two sheets of paper, and put my beloved Hulk as the model.
I forgot to tell you all, that this Hulk I display on my office desk, as a means of eliminating fatigue and tired when my work is very much hahaha
---
Photo Details :
| Taken by | : @mirfaner |
| --- | --- |
| Camera Model | : Canon EOS 600D |
| Lens Canon | : EF-S 18-135 mm |
| Location | : Lhokseumawe City |
---
If you fell interest to join this contest, you could join this contest, here is the rule link of it : https://steemit.com/photoshadow/@melinda010100/shadow-photo-contest-round-25-toy-shadows-a5dcc5795dde7
Please read the rules carefully to qualify this contest fellas, and follow @melinda010100 for more shadow photo contest update each weeks
Please upvote this post if you like my content,
resteem it to share with your friends,
and comment below if you have somethings to say or to ask about my photo or my content.
Thanks before my friend,
Have a good day for all of you :)
My Best Regards, @mirfaner