I'm back with another shadow photo entry for @melinda010100's Shadow Photo Contest-Round 59- Architectural Shadows.
This week's theme is architectural shadow. I wasn't sure what to post till yesterday. I had some photos that would have been qualified but some of them were posted before and I'm not reposting my photos.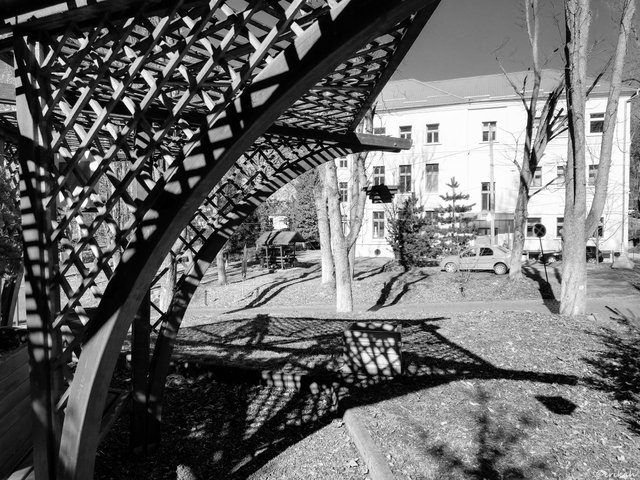 Lucky me, During my today's walk the sun was out (it rained in the morning) and was shining favorable, as I could take a photo of this gazebo. If I'd be there in the morning or at noon, I wouldn't have been able to take a photo as the shadow would have been different or non existent.
I tried to find an angle to catch the spider web form of the shadow, I hope you can see that. The gazebo is in fact a smoking place and has a nice form. I'm uploading another photo (off contest) to see it in full size.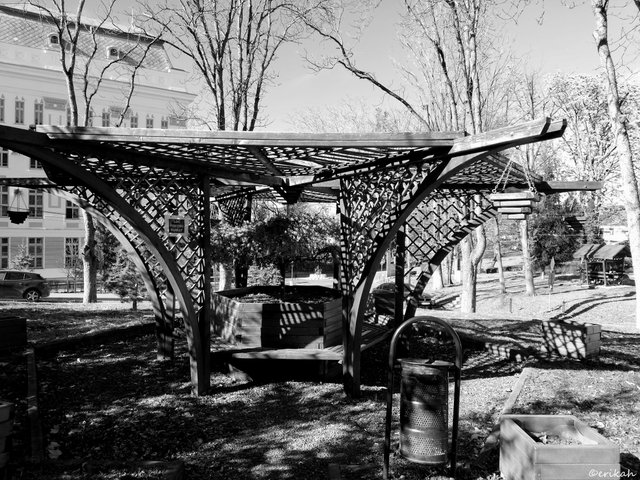 This is my entry to the #shadowphoto contest run by @melinda010100.

Check out my #SevenDaysOutside Challenge!

These are the days and the categories:
#WindowMonday – Windows
#DoorTuesday – Doors
#RustArtWednesday – Rust
#GateThursday – Gates
#StatueFriday – Statues
#BrickSaturday – Bricks (bricks only, no pavement elements or cobblestones please)
#StreetlampSunday – Street Lamps
Make sure you write a description of the photo you are posting. Share as much details as you can, like where that statue is placed (in a park, at a museum), what it represents etc. Make it enjoyable.
Use the #sevendaysoutside tag along with the daily tag and tag me, @erikah!
Goes without saying that you can only use your own photos. No paintings, no drawings, no digital art please! There is no prize here, this is just for fun.


Do you use eSteem?
eSteem is a Mobile📱& PC💻 app. for Steem with great features. Also, you get Incentives posting through eSteem apps.
eSteem Spotlight; eSteem provides rewards for it top users in Leader Board with most Posts, Comments and Highest Earners.
Download eSteem for your Mobile📱
Android devices Google Play Store
IOS devices Apple Store
Download eSteem Surfer for your PC💻
Available for all OS Github
---

Proud to be a member of The Steemians Directory