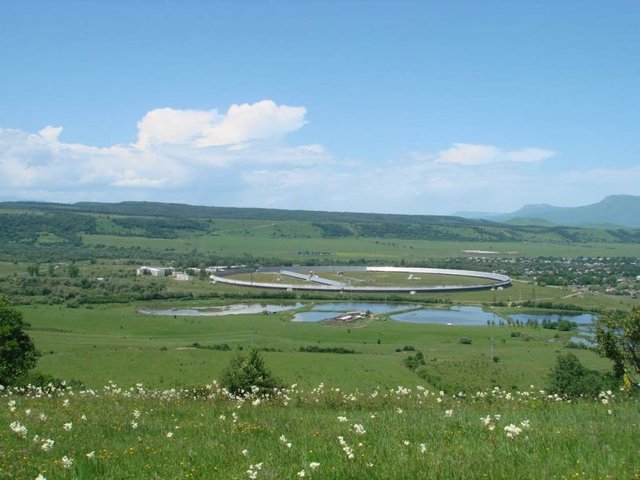 Ars Technica is reporting that scientists at SETI have detected a strong signal in the direction of HD164595 a star of 0.99 solar masses about 95 light years from Earth, about the same age as our solar system. Although the the system is known to have at least one planet, which is similar in size to Neptune and orbits its star in 40 days. Other planets may exist in the system as well.
The observation was made with the RATAN-600 radio telescope in Zelenchukskaya, in southern Russia, Gilster reports. The evidence is very preliminary.
The signal is 11GHZ and was powerful enough that it would have had to come from a Type 1 or Type 2 civilization if it turns out to not be of terrestrial origin. They have added this system to the permanent watch list.
The discovery will be discussed at a SETI committee meeting during the 67th International Astronautical Congress in Guadalajara, Mexico, on Tuesday, September 27.
100% of all funds raised from this post will be used to get me there.
I have a really strong hunch about this one. Plus I could use the vacation :D
I will wear a Steem T-Shirt and try to interview the SETI scientists who have made this discovery. I'll do what I can about getting a steemit exclusive scoop.
This post only needs to hit $1K for me to be able to do that because the $500 SBD would buy airfare and I can pay my own hotel since I have contacts in Mexico.
Oh and if you're interested in the truth of what SETI scientists are saying about this signal just click here.
Nevertheless, I would still like to go to this conference and this is a great excuse. You can help me get there https://www.iac2016.org/
update: While my posting is more about the upcoming conference, it turns out that @neylp did a fantastic analysis on this phenomenon already yesterday beating me to the punch by 24hrs. It's well worth a read! https://steemit.com/aliens/@nelyp/i-have-just-read-this-they-re-not-saying-it-s-aliens-but-signal-traced-to-sunlike-star-sparks-seti-interest