---
---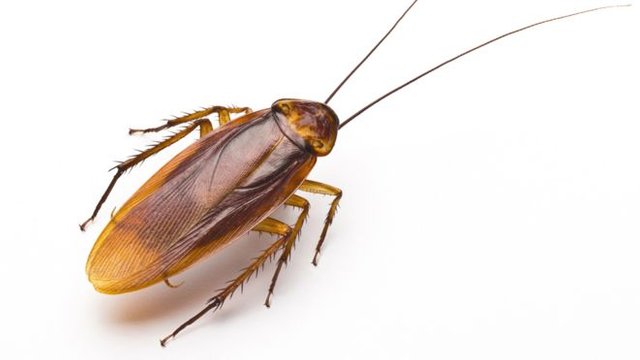 Image Source
---
In most parts of the world, Cockroaches are usually considered to be an indication of a dirty environment, filthy kitchen, and disgusting bathrooms.
However, articles I found online recently by Mary Colwell, which I share below, shows that these unique insects are now major interests in fields of robotics, mechanical limbs, and antibiotic research, asides from regularly fascinating pest controllers.
Species of Cockroaches
The Cuban cockroach which has a native bright green coloration in native Havana is considered a pet. It is even part of old Cuban folktales and holds special significance to the natives.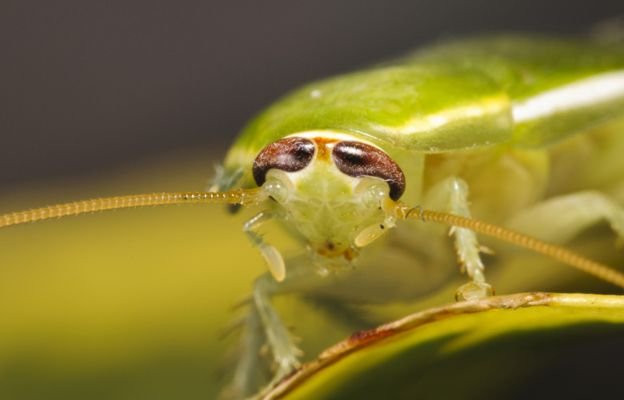 Image Source
---
Around the world, the known species of cockroaches are about 4,500 and out of this number, only 4 are considered pests.
Most species perform very vital ecological functions like eating decaying and putrefying matter, and they do not live near human habitations. Despite the ecological importance of roaches, they are not usually considered beautiful due to their bad reputation which is not justifiable most times.
---
---
The Subterranean Rhinoceros cockroach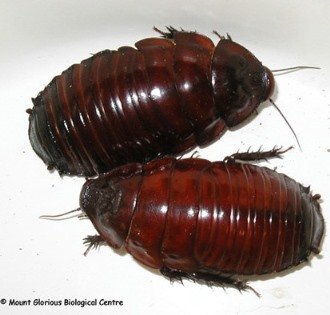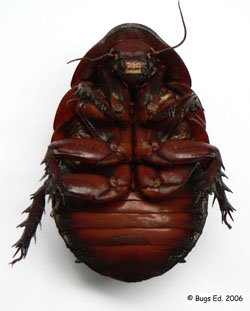 Image Source
---
This specie measures 8cm in length
It is the heaviest cockroach specie
It weighs about 35g
It is found in Australia
---
---
The German cockroach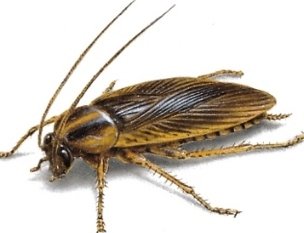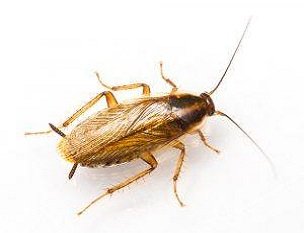 It is one of the smallest pests
It is found in North America and Europe
It is just about 1cm in length
They are easily trapped using grounded coffee as baits.
---
---
Characteristics of Cockroaches
They can sing
They can hiss
They can make drumming sounds to attract a mate
They can be very hardy
They can survive for months on meagre ration of food
Some are endowed with brilliant colours and patterns
Some 'roaches pair-up as mates and raise their young ones together
The Eublaberus posticus specie can survive on water alone, for a full year.
Some are social and pass on information about food and shelter.
Some can make collective decisions together.
---
---
Scientific significance and benefits
Cockroaches might be repulsive to so many of us but notable scientists have found them to be a source of inspiration for various scientific research and explorations.
In 1999, Prof Robert Full devised a six-legged robot that moved faster than any others, at the University of Berkley, after being inspired by the way cockroaches moved.
When explaining details of his work at the 2014 TED talk, Prof Full highlighted
cockcroaches springy legs
flexible exoskeletons consisting of plates and connected tubes
rounded body shape;
as factors which enable cockroaches to adapt to complex ecological terrains
Also, video footages of research done on cockroaches showed that when in an environment similar to a treadmill; and when exposed to assault environments the cockroaches display stability in negotiating their environment. It was also observed that their wings help them to right position themselves in the event that they do flip over.
---
---
Cockroaches to inspire robotic engineering
Technological advancements towards developing the next generation of prosthetic legs for humans, are beginning to source ideas through intense researches from the insects' legs.
Head of Harvards Biorobotics Laboratory, Robert D Howe, says the study of the legs of cockroaches is aimed at being able to produce prosthetic hands that "glide along objects until it wraps around them, just like a human hand lifting a coffee cup".
---
---
Advanced Tech Fusion for Robotic roach
Robotic roach is a surgically fused live cockroach and a mini-computer. The procedure involves surgically attaching a mini-computer to the back of the roaches.
The cockroach can then be controlled and directed, by sending messages to the computer, guiding it to places collapsed structures, broken sewer, or emergency disaster region, difficult for human access, in order to collect data from such sites for analysis and interpretation.
A lead researcher on a Texas A&M University project, Hong Liang said;
"When I first saw them, my hair stood up."
"But I went on to keep some in my office as pets for a while. They are actually beautiful creatures. They are constantly cleaning themselves."
---
---
Humans can control cockroaches with the mind
Students from Shanghai Jiao Tong University demonstrated back in June, how to control cockroaches using the mind.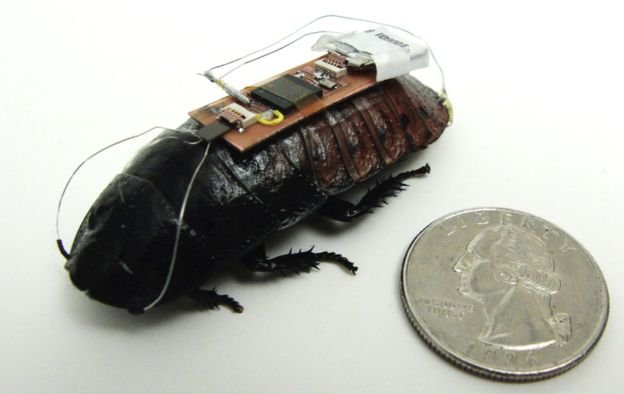 Image Source
---
Procedure of mind-controlling roaches
By attaching a receiver to a cockroach and translating human brain waves into measured electrical impulses, the students amazingly, were able to direct a cockroach down tunnels which were shaped differently just by thinking of it
---
---
Medicine and cockcroaches
In medicine, cockroach-related researches are on-going. It has been revealed that cockroaches produce their own powerful anti-biotics to shield their immune system from diseases.
Scientists made this amazing discovery after wondering how cockroaches could inhabit dirty and disgusting environments without experiencing ill effects. Studies on the phenomenon revealed that roaches produce their own anti-biotics.
---
---
Science, Technology, Cockroaches and the future
Cockroaches are now thought to hold the key to drugs which can be developed to fight the various virulent bacterial infections such as MRSA, E. coli, that make human sick.
Also, further studies could enable scientists create super drugs which can combat superbugs that are currently resistant to present day treatments
---
---
Cockroach cures currently exist, and are not new
A journalist and writer, Lafcadio Hearn who travelled extensively in the 19th century through the southern states of America observed that;
"For tetanus, cockroach tea is given. I do not know how many cockroaches go to make up the cup; but I find faith in this remedy is strong among many of the American population of New Orleans."
---
---
Present day treatment using cockroaches
In parts of China today, hospitals use a cream produced from powdered cockroaches to treat burns. Also, patients who suffer symptoms of gastroenteritis are sometime given cockroach syrup, to alleviate the problem.
---
---
Cockroaches: A money spinning business
Demands for cockroaches have been growing rapidly in China. A business man, Wang Fuming, observed the high demands and delved into the cockroach business.
Wang Fuming created a cockroach farm in the Shandong province of Eastern China, where he rears 22 million roaches at a time.
Fuming also stated that the price of dried cockroaches had risen to a staggering ten-fold since 2010. He rears them in an underground bunker in his cockroach farm.
---
---
Yummy Cockroaches as food
In China, cockroaches are also eaten, although the America cockroach in the popular and preferred delicacy.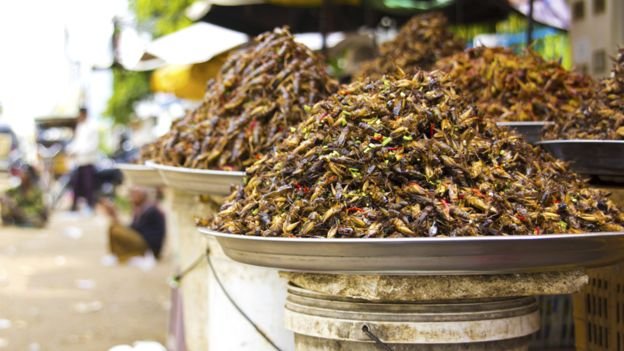 Image Source
---
The roaches are double-fried in hot oil to give them a succulent inner part which is consistent with the feel of a cottage cheese; and a crispy and crunchy outer part which gives a yummy protein mouthful. Adding a sprinkling of chilli on the fried crispy insects also gives an additional flavor.
---
---
In Summary
Despite the fact that tech-wise, major advancement is currently being made in robotics, brain function and control, and other scientific fields, through thorough research and studies of cockroaches, one question still lingers;
Will cockroaches one day feed the world?
The world could do with an extra source of protein, as the global population and its need for mass produced protein gradually increases. Protein as food, could become commercially abundant in the nearest future, in the form of the very unpleasant cockroach insect.
Well, if people can grow to become a little less squeamish about our reviled earth co-habitants, then perhaps cockroaches could one day feed the world indeed.
---
Well, what are your thoughts? Kindly share them in the comments section below.
---
---
Source/Reference: 1, 2, 3, 4, 5
---
---
Thank you for your time and for reading my post.
If you found this post interesting, then kindly UPVOTE, RESTEEM and FOLLOW @rickie, for more quality posts.
---
---

---