Hello everyone, today we are going to briefly discuss the major finding of an article recently published in PLoS One titled "Dose of physical activity, physical functioning and disability risk in mobility-limited older adults: Results from the LIFE study randomized trial.".
In this article the authors were studying the effects that physical activity had on keeping elderly people able to move around. What they were interested in for this study was trying to identify the minimum amount of activity that was necessary to still result in positive mobility and general health outcomes for the elderly.
Many of us have elderly grandparents, parents, and some of us probably plan on getting old at some point in our own lives as well. So studies like this that can better influence public health information and can lead to better doctors recommendations for activity levels as we age can end up having a profound effect on the quality of life that we and our loved ones will have as we inevitably feel the effects of time on our bodies.
Let us not belabor this article with a huge amount of background, but rather jump as quickly as we can into discussing the results and conclusions of the study.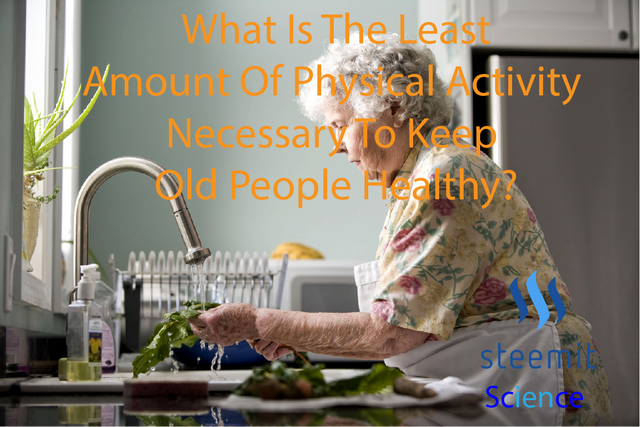 ---
---
Physical Inactivity In Health
Many of you may be surprised to find out that one of the biggest risk factors to our elderly loved ones becoming disabled (aka having some limitations in their ability to move around) is actually a lack physical activity. [2]
Perhaps though, if I phrase it in a different way it isn't as surprising. Exercise has been found to be linked to a drastic reduction in health issues in older people. Studies have shown that the chances of common ailments of the elderly which effect mobility including falling, broken hips, and heart disease are all improved by exercise.[3], [4], [5]
What Did The Authors Study Here
This was a 2.6 year study involving over 1600 people between the ages of 70 and 89 years. Each of the participants had some difficulties getting around, and as a part of the study they were put on to an exercise plan involving walking, flexibility and some strength training.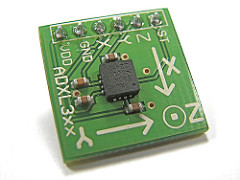 An Accelerometer (well the inside of one)
The participants were also told to wear an accelerometer (not a pedometer to measure steps, rather something that can measure all of their motion, like what is in your smartphone) to measure how much they were moving about. The amount of movement a participant had (in activity counts per minute from the accelerometer, more counts = more activity) was quantified and the participants were binned into groups: Q1 (less than 695 counts per minute per week), Q2(between 695 and 752 counts/min), Q3(between 752 and 803 counts/min) and Q4 (greater than 803 counts/min).
The mobility of the participants was then assessed throughout the study based on the amount of time it took for them to walk 400 meters. The faster they were able to move an complete the walk, the better.
What Did They Find?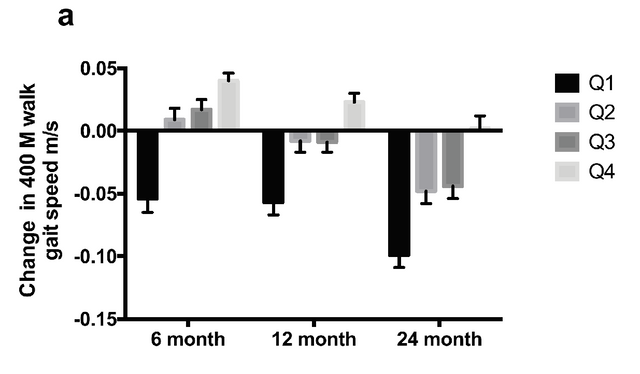 Reproduced from Figure 2
What we are looking at to the left is some of the data generated by the study. Here on the X-axis we see the different duration times that the study went on, and the Y axis is the change in how fast the participants were able to complete the 400 m walk from when they began the study. We can see a few things from this, the first is that as people age (as the duration in time the study went on) everyone has a harder time walking (they all slowed down, the bars became more and more negative).
However remember the Q1 - Q4 represent the general activity level of the participants based on the accelerometer data, here you can see a clear trend that increased activity results in the parcipants being able to first walk the distance faster, and then as time goes on, see less of a decrease. Those who were less active saw the greatest decrease in their walking speeds (Q1, the black bars). This data is not surprising, we already know that exercise helps people with their mobility.
However maybe you might be interested in the difference in activity levels between those different groups based upon the accelerometry data. The authors report that the difference between Q1 (the least active people) and Q4 (the most active people) amounted to a whopping 43 minutes over the course of a week! So now take a look at the data above again, and realize that with the addition of as little as 43 minutes of exercise per week, participants in this study (Q4) showed no loss in mobility over a period of 2 years, from where they started.
Forty Three Minutes Per Week! That is so very little! For such an improvement in the ability of people to move around as they age!
Conclusions
Through use of accelerometers to measure actual activity levels of participants, the authors have identified that increasing physical activity levels by as little as 43 minutes per week can result in drastic improvements in long term abilities for elderly people to move around. This looks like very compelling evidence that for those stubborn family members who say they don't want to exercise because it's too much effort for too little gain... it might not even be that much effort required (just 43 minutes). The gain could be years more being able to walk around, and a drastically improved quality of life.
Sources
Text Sources
Image Sources
All Non Cited Images Are From Pixabay.com, Flickr.com, Pexels.com, or Wikipedia.com And Are Available For Reuse Under Creative Commons Licenses
Any Gifs Are From Giphy.com and Are Also Available for Use Under Creative Commons Licences
If you like this work, please consider giving me a follow: @justtryme90. I am here to help spread scientific knowledge and break down primary publications in such a way so as to cut through the jargon and provide you the main conclusions in short (well compared to the original articles at least!) and easy to read posts.
SteemSTEM
Secondly, please consider supporting the @steemstem project. SteemSTEM is a community driven project which seeks to promote well written/informative Science Technology Engineering and Mathematics postings on Steemit. The project not only curates STEM posts on the platform through both voting and resteeming, but also re-distributes curation rewards as STEEM Power, to members of Steemit's growing scientific/tech community.
To learn more about the project please join us on steemit.chat (https://steemit.chat/channel/steemSTEM), we are always looking for people who want to help in our quest to increase the quality of STEM (and health) posts on our growing platform, and would love to hear from you!