Every Tuesday I am going to address one specific myth, urban legend, conspiracy theory or piece of pseudo-science. This time we dive into the shady business of water "revitalization".
---
How is this even, wait, what?
Ah. Water. The essence of life. And for making tons of money with useless junk.
Wait, what?
Yeah, you read correctly. There is a whole industry dedicated to the sole purpose of relieving you of your hard-earned money by selling you worthless garbage as miracle technology. I'm speaking of the pseudoscientific claims of revitalizing or energising water, most notoriously the so-called Grander water (1). As Abraham Lincoln once said: "This is an amazing example, that you shouldn't believe everything you read on the internet."
According to their statements, the Grander-family's company is selling Grander Water (how original, duh). So, what is it, exactly?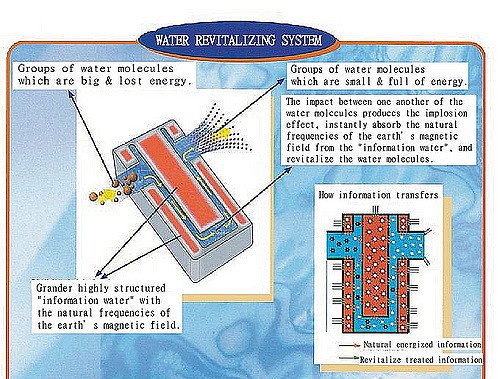 Source
I have added a picture, so you can have a basic understanding of what you are dealing with.
The "normal" water is poured into a machine with a metal cylinder which contains the so-called Information Water. The normal and "unstructured" water flows past the cylinder and while this is happening, the Information Water passes on information (I have no idea which kind of information and I doubt, they have one either) to the normal water. According to Grander Water Technology this process changes the waters' inner structure (because fuck chemistry), revitalizes and energises the former normal water into Grander Water. Claimed benefits are for example detoxification (doesn't this remind me of something…?), killing bacteria, reducing surface tension, absorbing less UV light and promoting plant growth.
As you may already have guessed, none of the claims are backed by scientific studies. Quite the contrary.
---
Nothing but fraud
If you are a dedicated follower of this blog, you will already know that the idea of detoxification of your body is utter nonsense. Although sometimes it might be important to detoxify other things than your body. Contaminated water, for example. There are, of course, ways to purify water of toxins and waste – but Grander Water is not one of them. According to the Austrian Federal Institute of Water Quality (2), the promises made by the distributing company are simply wrong.
The same holds true for the other claims. Hammer (2014) (3) wrote in his thesis, that there is no evidence for any improvement of water hygiene on a microbiological level. I could go on with this, but you get the point.
The market for junk science associated to water products is quite extensive. To give you some idea, you could check this list (4) for example. Although I just focused a bit on the Grander Water there are many other companies trying to lure unsuspecting customers into their arms. Famous claims of water companies trying to sell garbage technology are (5):
---
Keep on fighting
But why is it so successful, then?
Because many people lack a basic understanding of science, yet alone physics and chemistry. Granders' family business makes about 12 million euros in sales – just because people don't understand, what they are actually buying.
I have to admit, I kind of acknowledge their ability to sell their product so well, despite all the existing evidence which brands it as fraud. In fact, in 2006 a High Court in Vienna stated, that "Grander technology and/or the Grander water are nothing but pseudoscientific humbug." (6)
Ouch.
Another one? Sure. The responsible retailer for Grander Water in New Zealand had to pay $136,000 as compensation. Grander Water Technology's marketing department was even able to fool the Austrian Government and the Russian Academy of Natural Science, which both awarded Johann Grander, the inventor of this "revolutionary technology", with scientific honours. Well played, indeed (8).
Again, people don't seem to bother that much. Honestly, I can't really understand why. I tried to, I really did, but even my ability of understanding has its limits.
In the end, for me it serves as a constant reminder, that I cannot give up. That I will keep on fighting for more logic, reason and science. As long as these companies exist selling worthless junk, I will call them out – and you should too.
---
Feel always free to discuss my ideas and share your own thoughts about the things I'm writing about. Nobody is omniscient and if we all walk away a bit smarter than before, we'll have achieved a lot.
Thanks for reading and stay smart.
Ego
---

Make sure, to check out
#steemstem
for more science related content.
---
References
(1) https://medium.com/@GranderWater/how-does-grander-water-work-b89077f807d0
(2) Gutachten über die Wirkung des Geräts "Wasserbelebung 380" der Umwelt-Vertriebs-Organisation auf Testwässer. Bundesanstalt für Wassergüte, Österreich, 25. Juni 1993
(3) Rudolf Hammer: Untersuchung von Effekten in energetisiertem Wasser unter Berücksichtigung ausgewählter mikrobiologischer, physikalischer und pflanzenphysiologischer Aspekte. In: Diplomarbeit am Institut für Hygiene und Medizinische Mikrobiologie, Abteilung für Wasserhygiene, Universität für Bodenkultur Wien.
(4) http://www.chem1.com/CQ/gallery.html
(5) http://www.aktuelle-wochenschau.de/main-navi/archiv/wasserchemie-2014/kw10-das-wasser-zwischen-wissenschaft-und-esoterik.html
(6) Urteil des Oberlandesgerichts Wien Az. 4 R 1/06f vom 17. August 2006
(7) Living Water quackery results in $136,000 payout. Neuseeländische Commerce Commission, 26. Juli 2005
(8) https://en.wikipedia.org/wiki/John_Grander
---
Previous posts
Random Science
---
Your Weight is not Your Destiny
---
Random Thoughts
---
Psychology of Morality
---
Debunk-Tuesday
---
Fiction