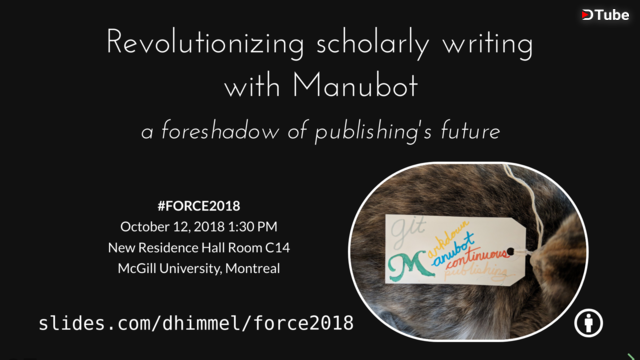 ---
Last month, I traveled to Montreal for the FORCE2018 conference on advancing scholarly communication. This is a fantastic conference that focuses on innovations and practices to improve scientific publishing through greater openness and adoption of technology.
I presented on Manubot, which is a tool I help develop to enable writing scholarly manuscripts using git and GitHub. Manubot is an open source tool that aims to make writing more transparent, open, automated, and decentralized. Learn more at https://manubot.org.
Without further ado, here's the presentation recording on YouTube recorded and posted by the conference:
I'd like to thank the conference for recording my talk and releasing it under a Creative Commons Attribution license, such that I can share or remix it (and so can you) on sites like @dtube. I downloaded the video from YouTube using a great Python utility called youtube-dl. I'm released this DTube upload and my encapsulated presentation under a CC BY 4.0 License.
For a bit more info, here is the abstract for the presentation:
Manubot is a system for writing scholarly documents on GitHub. It aims to transform publishing to be transparent & reproducible, immediate & permissionless, versioned & automated, collaborative & open, linked & provenanced, decentralized & hackable, interactive & annotated, and free of charge. Manubot accomplishes these goals by applying the workflow from open source software to academic writing. This talk will introduce Manubot and its features. Compared to other methods for writing scholarly documents, Manubot is designed for more technical users as well as infrastructure providers. However, we hope many of Manubot's innovations — such as citation-by-identifier and end-to-end reproducibility — will be adopted more broadly. Hence, this talk should engage all conference participants by foreshadowing a future of publishing towards which we strive!
Finally, the slides are online here and archived at Zenodo. P.S. if you've read this far, you might also be interested in my previous post: How I used the Manubot to reproduce the Bitcoin Whitepaper.
---
▶️ DTube
▶️ IPFS