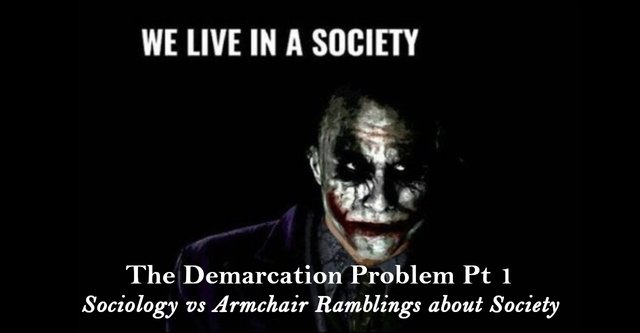 We all occasionally find ourselves making claims about society – diagnosing problems, prognosticating on the course of social change, and prescribing solutions and policies. When we think about and speak to each other about these problems we unconsciously assume many things about the nature of societies. When an angry man in a tie proclaims that, "feminism and the welfare state are eroding away the American family," for example, he is invoking an idea developed in the 19th Century that institutions such as the family serve important functions to society akin to what organs do for the organism, and we can gauge the health of our societies by looking at how their institutions function.
When the green-haired girl barks back at him that, "men have played a dominant role in society for centuries and they leverage their position to suppress women," she is internalizing a similar view of the world that can be found in the writings of Karl Marx.
Neither one of them needs to be conscious that their ideas are products of a long history of debate. Neither needs to be explicitly aware of the assumptions they are making at all; they aren't paid to think carefully about where their ideas come from. They are also not paid to come up with solutions to the problems they raise. Their interests in the problems of society only occur along side their living and acting in society. It would take away too much from their everyday lives if they stopped and critically examined their every thought and action. That's no way to go about ordinary business. That kind of luxury is only available to those who are removed from the daily struggle for existence that ordinary people face.
According to French sociologist Pierre Bourdieu, academics have this special privilege of being divorced from necessity. He has a special term for the condition of the academic—skhole. Whereas primitive man had to use his intellect for hunting and solving the problems most pertinent to his survival, Homo academicus is "outside the urgency of a practical situation" and so uses his intellect to solve problems he is disconnected from, "for the sole pleasure of resolving them." The truths he discovers are highly abstract, context-free, and eternal.
This has been the case for the kind of thinking that goes on in universities until recently. For a long time, universities were for nobles and elites. The aristocratic classes, like academics, are removed from necessity, making them the perfect students for this kind of program. Today, universities have evolved into vocational training programs for masses of ordinary people entering into the new working poor class. Most of their professors, however, are still entrenched in the old tradition of skhole, and ill prepared to answer their students' all-important questions why am I paying for this shit, and since when am I going to use this in the Real World™?
This is the first in a series of study guides for college students and lifelong learners which aims to answer those questions. It follows the same outline as a standard sociology curriculum and will eventually cover every topic, thinker, and method that you would come across in college sociology courses.
This unit's topic is on the demarcation problem, which is split into 4 guides. Each answers the questions (1) where is the line between sociology and armchair ramblings about society; (2) what distinguishes sociology from other sciences; (2) how do sociology and biology stack up against each other in explaining human behavior; and, (4) do credentialed scientists do better work than citizen scientists?
Now, the first question. Where is the line between sociology and armchair ramblings about society? Recall our conversation with the angry man and the green-haired girl. Each of them has strong passions about social life and what they believe is the ideal political arrangement. When they each articulate their passions, they call upon what looks like sociological jargon and make claims that are in principle empirically testable—subject to controlled scientific investigation.
A more seasoned, perhaps mature, sociological thinker exercises a dispassionate position to social issues. This affords him the ability to remain cool and objective—to be able to propose to the angry man and green-haired girl, "what sorts of data would we need to find out if either of you are right, and how should we go about finding it?"
His question illustrates the other side of the coin of dispassion: epistemic humility. Mature sociological thinkers are always critically asking themselves 'do I really know what I think I know?'
Armchair intellectuals don't ask themselves this question—at least not seriously. Their way of reaching the truth on some matter comes via their sophisticated verbal acumen. They take it for granted that they must be correct about the cause of some social issue if others are unable to persuade him otherwise. And that's just the thing about intellectuals: in a certain respect (i.e. their high IQ), they really are smarter than everybody else (often smarter than mature sociological thinkers)—they are much better at manipulating words and symbols, and successfully arguing for their position. In instances when they are wrong about something, they are wrong in such sophisticated and complex ways that it is too difficult to untangle.
Discussion Question: Have you ever found yourself changing your opinions on a social issue after years of feeling certain the opposite was true? What was this process like for you and how long did it take?
Disciplined sociologists take great precautions not to get tangled up in this way. Or, if they have, they spend years undoing the knots they made in their sophomore years. They get themselves into the habit of questioning why they think they know what they think they know, and continually design investigations to find out.
To recap: dispassion and epistemic humility separate disciplined sociology from armchair ramblings about society.
Discussion Question: If you are or were a college student, what compelled you to go? What was your major and do you still think your decision to go was necessary? Why?
Annotated Bibliography
[1] If you would like to learn more about what Bourdieu thought about the position of academics, you can read about that in chapter 6 of his Theory of Practical Reason here: https://monoskop.org/images/a/aa/Bourdieu_Pierre_Practical_Reason_On_the_Theory_1998.pdf