Garden Journal 2018 (June) - Welcome To My Greenhouse! This Will Soon Be Tomato Heaven
I promised to take you on a walk through my greenhouse. It has taken longer than expected, but my tomato jungle simply wouldn't cooperate...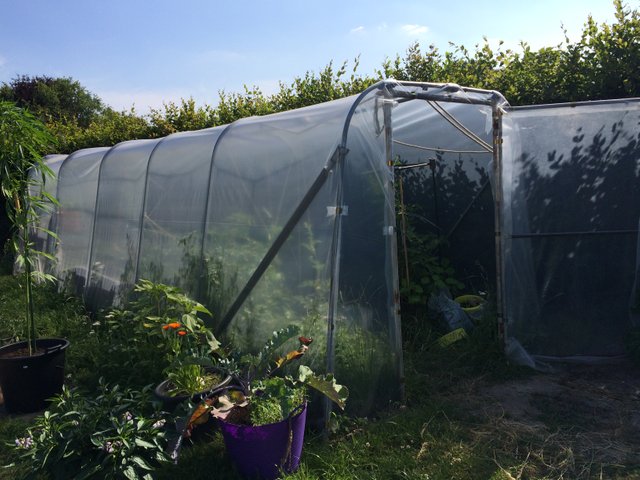 The Greenhouse
After working with some small, cheap greenhouses last year, I decided I wanted to level up. I was about to purchase a beautiful, but very expensive greenhouse in glass, when a friend of mine offered me something I couldn't refuse.
Her dad had died, and they needed to sell the house and the land. As a result, they were about to throw away his professional tunnel greenhouse. I could have it, if I wanted... for free. All it needed was a new cover.
You can imagine I was over the moon :0)
So now I have this huge, 8 meters long greenhouse in my backyard.
Because I've not recovered from surgery completely, I haven't been able to fill it up properly - many plants are still in containers - but still it's like a dream come true.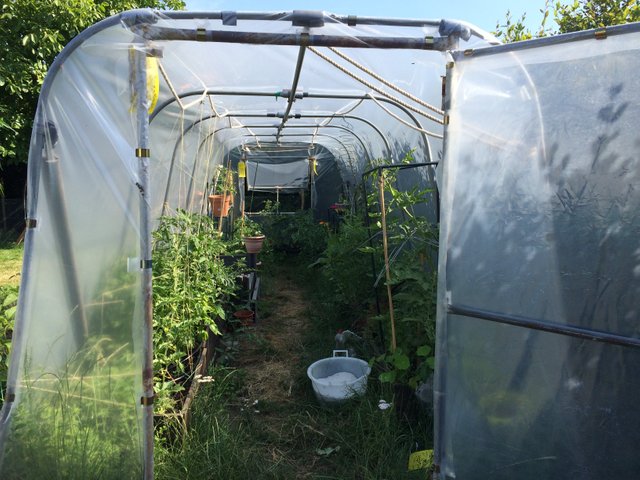 Click to enlarge picture
Next to the big greenhouse, I also have a smaller one left - one of the cheap ones that managed to survive winter. I'll show you that one tomorrow.
Let me start the tour...
Tomatoes
Up until two years ago, I wasn't aware that there were more kinds of tomatoes than the simple red ones and the cherry tomatoes you can buy in the supermarket.
A little silly, of course, but in my defense: I'm a real city girl, lol.
This winter, I freaked out and bought myself seeds of like 20 tomato varieties. Fortunately, I realized it's just the two of us here, so I held back and didn't sow them all. Nevertheless, I still have 12 plants growing. Better make some room in the freezer to store all the tomatoes we won't be able to eat immediately. We'll be making fresh spaghetti sauce all winter long. :0)
My girlfriend did all the planting, since I was not able to. She is a gardening newbie, and planted 5 tomato plants too close to each other. Once the first tomatoes appear, I'll have to do some serious trimming, lol.
Right now, it's hard to make a beautiful picture to show you those: it's just one big mess of tomato plants.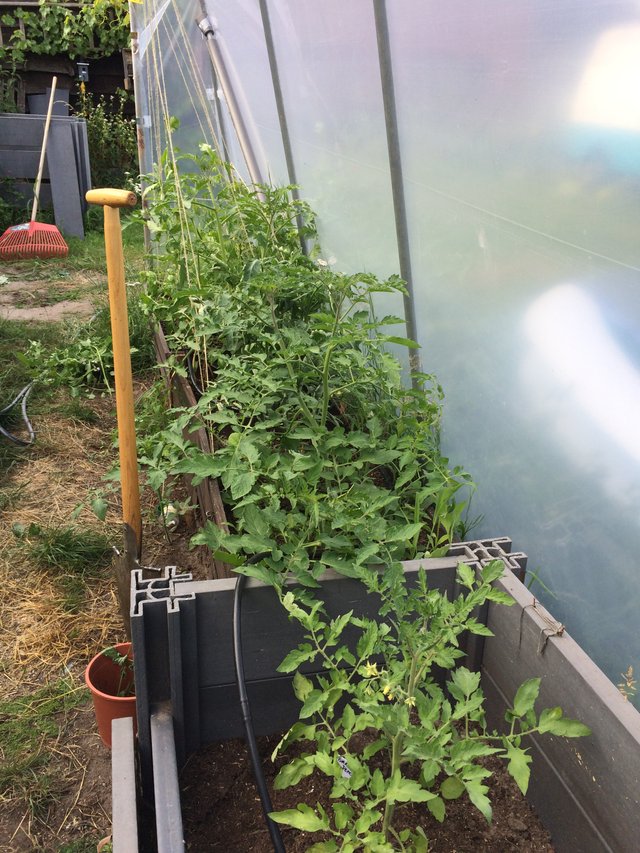 Click to enlarge picture
The varieties you see here are:
Banana Leg
Heidi
Indigo Rose (2x)
Garden Peach
In the front of the picture, there's a beautiful Chocolate Pear tomato. I honestly can't wait to find out how these will look like... and taste.
On the other side is the only plant I purchased in the store. Ironically, the label just said 'Tomato' (Can you imagine??), so I guess I'll have to wait and see how this one will turn out.
The good thing is that it is the only one that's already growing tomatoes instead of only flowers. They're growing at warp speed. I definitely need to start trimming the plant so they will be exposed to the sun a little more.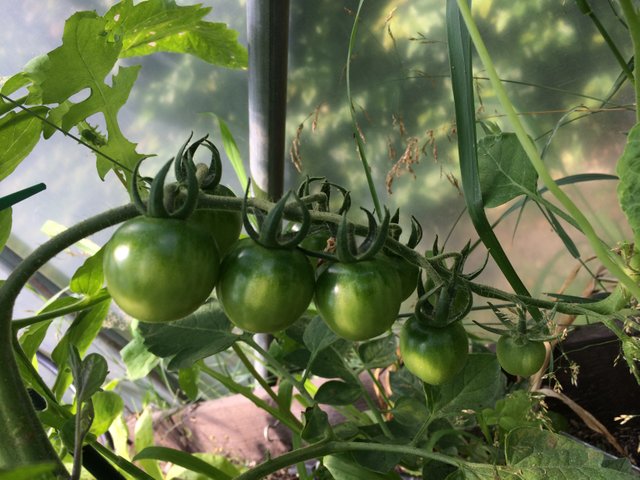 Click to enlarge picture
In the back of the greenhouse, There are more tomato plants. They are still in containers that are actually too small, but we have enough growing like it is. Most of them are varieties we already have in the ground.
I just can't bring myself to kill healthy plants, so we keep them there and we'll see what happens. Most of them - even the small ones - are growing flowers, so maybe it'll work out in the end.
So in the back we have these varieties:
Another Banana Leg
Another Indigo Rose
Another Garden Peach
Gardeners Delight
Sweet Baby
Pomodori Tigerella
And 2 that are simply called 'Balcony Tomato'
Here you can see them, next to the sweet peppers and some more plants I'l tell you about below.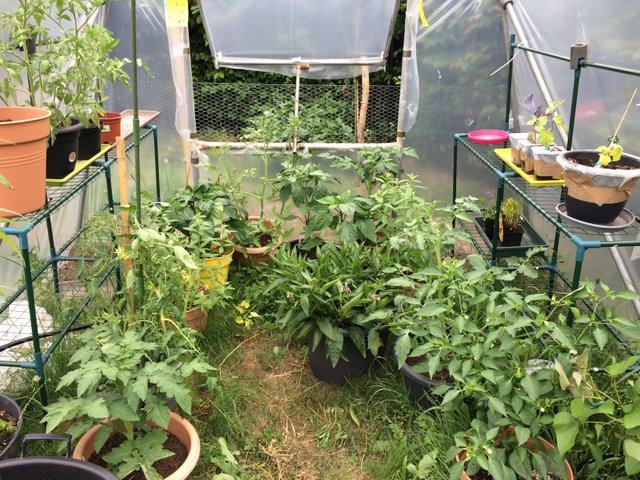 Click to enlarge picture
There is another Gardeners Delight plant growing in the small greenhouse.
If nothing bad happens (tomato plants are such spoiled drama queens), we'll be able to open a restaurant with only tomato-based dishes by the end of the summer, lol.
The Sweet Peppers
Just like with the tomatoes, I only found out recently that there are a lot more sweet pepper varieties than the simple green, yellow, red and orange ones you can find in the store.
So I decided not to plant those regular ones. Instead, I went for a couple of varieties that were unknown to me.
Up until now, the Mini Bell Chocolate has already been a great success. It's the cutest, very small sweet pepper that starts out green, but then gets this beautiful, chocolate brown color. I'm completely in love with this variety.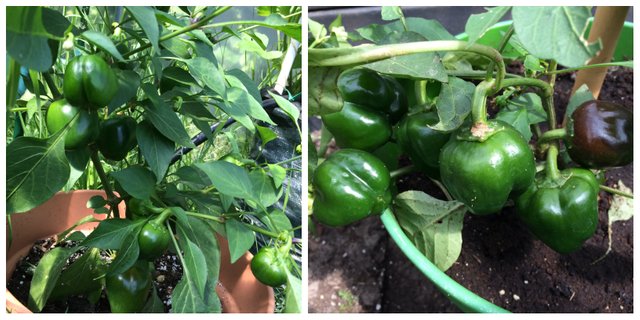 Click to enlarge picture
The plant itself doesn't get very big: I harvested the first pepper when the plant was only like 30cm in height. As you can see, it's also a very productive plant: I had never seen such a truckload of peppers on one plant (last year we had exactly 3 during the entire season).
Still, the plants are not higher than 50cm. Poor thingies, having to carry all that weight.
The other variety I have growing is Purple Beauty. So far, only 2 tiny sweet peppers, but I'm keeping my hopes up.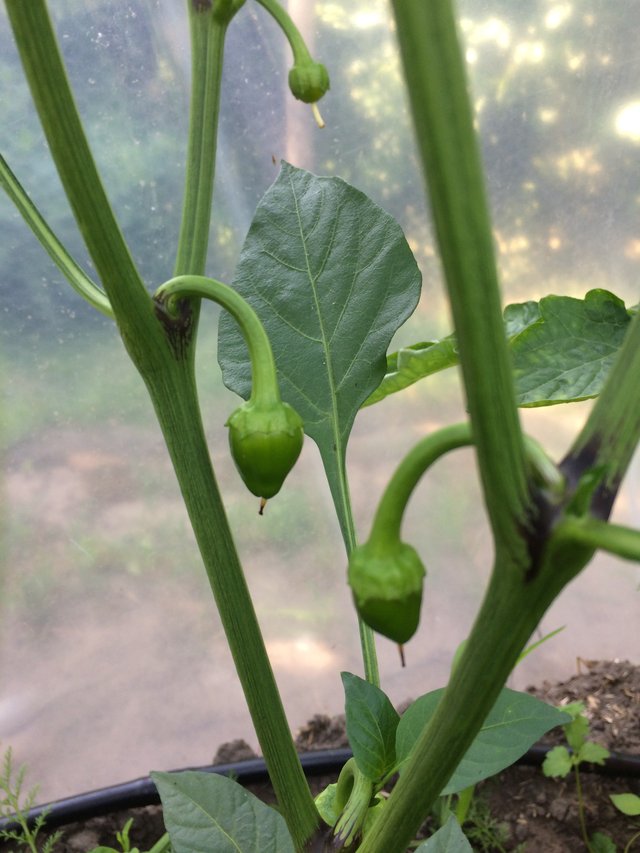 Click to enlarge picture
Water Melons
Last year was the first year I tried to grow watermelons. The plants didn't grow that big, and we could harvest only 2 very small melons. But they were tastier than any other I ever had.
So I simply had to try it again. One of two plants is growing so quickly I can hardly keep up helping it climb up its spiral.
So far, it has one fruit growing that is already three times bigger then the ones we harvested last year.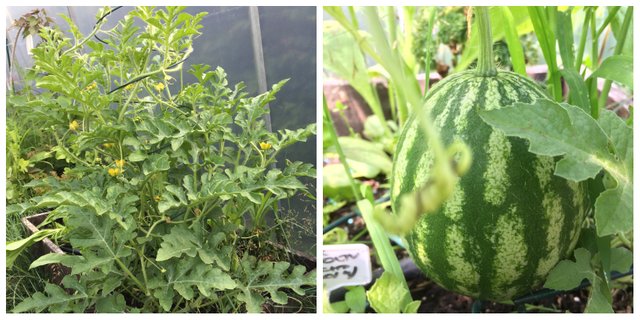 Click to enlarge picture
I didn't sow the second one myself, just saw it being ignored in the garden center, so I saved it from a horrible death and brought it home. It is not growing as fast as the other one, but it's only June... the little guy will have plenty of time to catch up.
Cherimoya
I don't have too many out-of-the-ordinary plants growing in the greenhouse, but I do have the cherimoya (Annona cherimola), also known as 'Custard Apple'.
This plant is native to South-America, and chances are small that it will ever grow fruit in our Western-Europe climate. Still, after reading that the fruit tastes a bit like pineapple, banana and strawberries with whipped cream, I simply had to give it a try.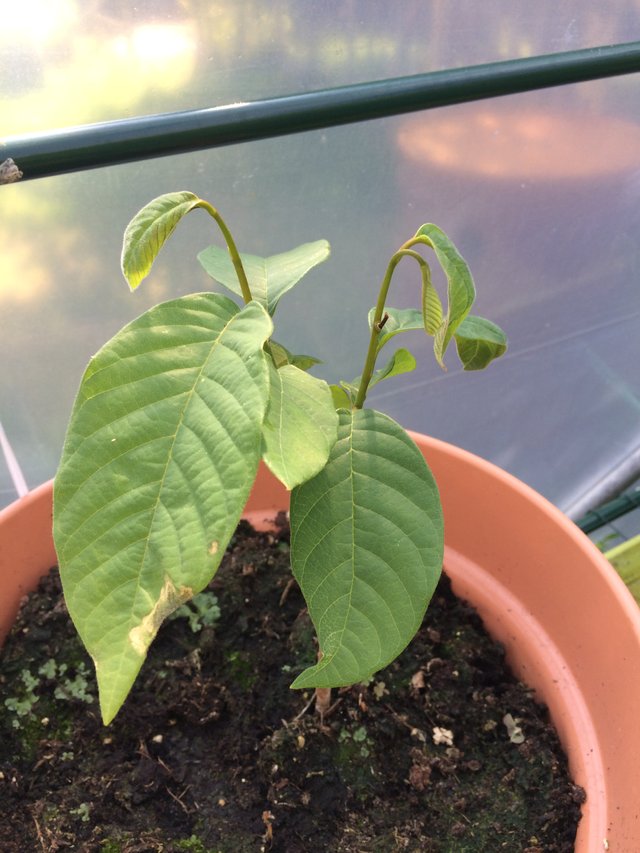 Click to enlarge picture
According to Wikipedia, Mark Twain called the cherimoya "the most delicious fruit known to men". Who can resist that??
Just like the melon pear, I have to take it outside of the greenhouse when it is too hot, and bring it back inside when the temperature drops. So another spoiled brad :0)
It really needs to be replanted in a bigger container, ánd I just found out I had to bring him a little friend. Apparently you need two of them for pollination. I should have done my homework better.
Paw Paw And Strawberry Tree.
Paw Paws are closely related to the cherimoya, and they have a better chance to succeed here in Belgium.
Unfortunately, the two plants I bought this winter appear to be dead - not a single leaf is growing, so I gave up on those.
A Strawberry Tree was also completely new to me. The fruits are edible, but are not like strawberries at all. From what I've read, they're not even that delicious.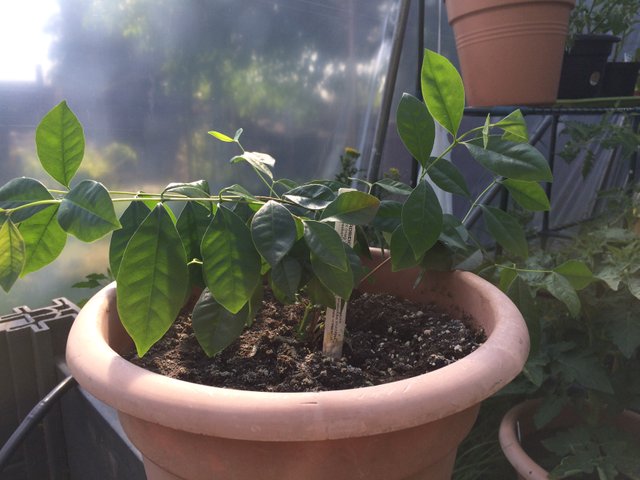 Click to enlarge picture
But the plant blooms in the fall, so I hope it will being a little life and color while every other plant will be dying on me. :0)
Lemon Verbena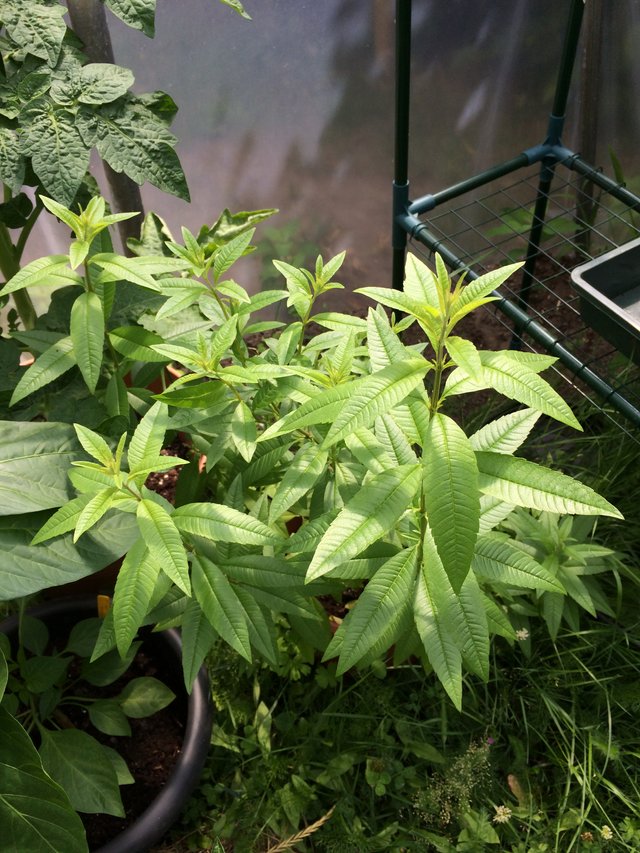 My absolute favorite herb (with pineapple sage as a close second).
This is the first year I keep both plants inside the greenhouse, and they are obviously very happy with that.
The leaves are so delicious. Tea, salads, soup,.., they give everything such a wonderful acidic taste. I really love Lemon Verbena.
Sweet Potatoes
Up until last year, I had never really been a big fan of sweet potatoes. But then I discovered they are actually very delicious when prepared by someone who knows what he's doing, lol.
So last year I planted some, and I was pleasantly surprised to see they grow gorgeous plants. IMO, it is one of the most beautiful plants around.
Let me show you: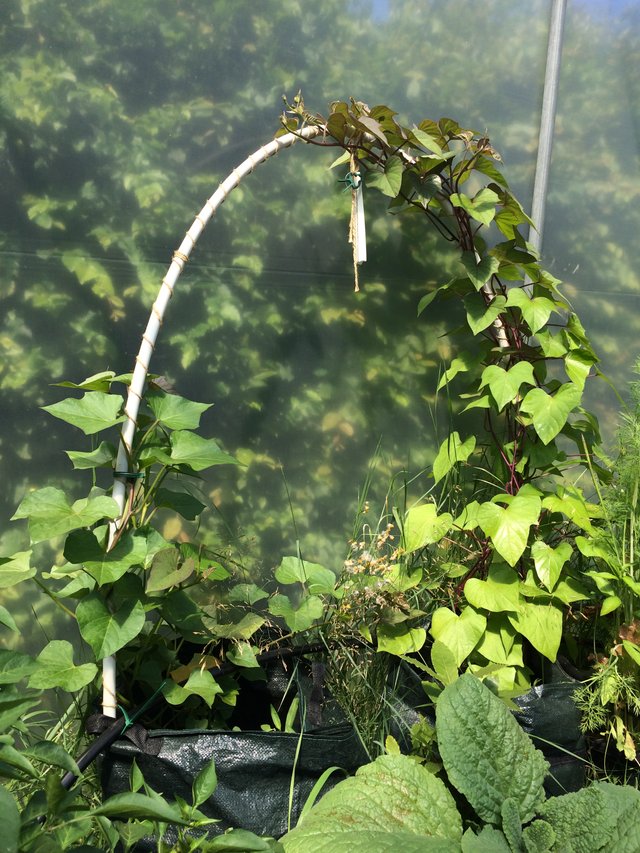 Click to enlarge picture
Isn't that beautiful??
Carambola
During the week between Christmas and New Year's eve, the shops here traditionally sell all kinds of tropical fruits. I saved the seeds of all thevones I ate, and tried to sow them later on.
The Carambola (or Starfruit) seeds were the only ones that germinated.
It's a tropical plant, so I'm not putting my hopes up. It wasn't looking really good last week, but it looks like it has recovered a bit.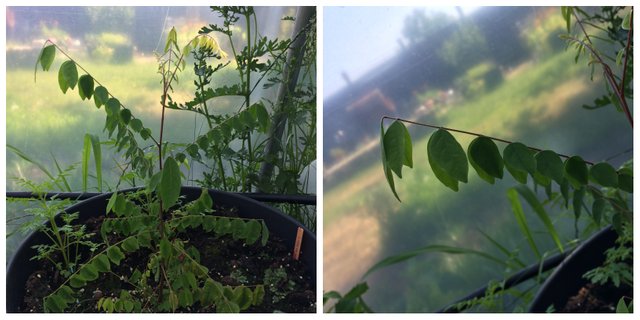 Click to enlarge picture
It will probably take 4 to 5 years before it will grow fruit, and I'm not sure whether it will survive winter here - even if I take it inside.
Meanwhile, I'm enjoying the plant's beauty and the feeling of satisfaction of another successful experiment.
Tomorrow, we'll head over to the small greenhouse, so I can introduce you to one of my other favorites.
Schoolof minnows post
If this post is older than 7 days, please support
by upvoting my latest post

latest post

latest post


Subscribe Ro RSS Feed | Subscribe To Newsletter

CREATE YOUR OWN @REVIEWME PROFILE TO START EARNING CREDIBILITY STARS FROM THE COMMUNITY!
CREATING YOUR PROFILE IS EASY! JUST FOLLOW THE STEPS HERE ☜(ˆ▿ˆc)

DISCLAIMER: This is an affiliate link

@steemitbloggers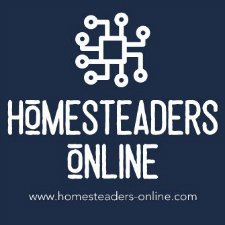 Join Link:
https://discord.gg/VKCrWsS
Community Link: http://homesteaders-online.com


Image sources:
Divider image from AllFreeDownload.com
All pictures are my own.