20 000 FREE DENTACOIN Airdrop SCAM - 1 April 2018
Cryptocurrency is still the wild wild west and will remain this way for a while. If you're getting involved in this space it's important to do your research and make sure you're not conned are part of a scam. Never take one sources word for it and be aware of potential scammers!
A new Scam doing the rounds over the last 3 days is the 20 000 free dentacoin airdrop on Telegram. There is no airdrop organized by Dentacoin Foundation on Telegram and this has been confirmed by a blog on their official site and their official facebook page too.
https://blog.dentacoin.com/warning-no-airdrop-organized-dentacoin-foundation-telegram/
Please be careful when trusting any information which is not published on our official website www.dentacoin.com (always verify the URL and the SSL certificate) or on their official Facebook page (with over 33K likes). Remember that no team member will ever send you personal messages with questionable offers.
Dentacoin believes that a strong community can be more powerful than any scam attempt. Help them out and protect other people from falling victims to fraud by spreading this message! So if you can, please resteem this post to get the word out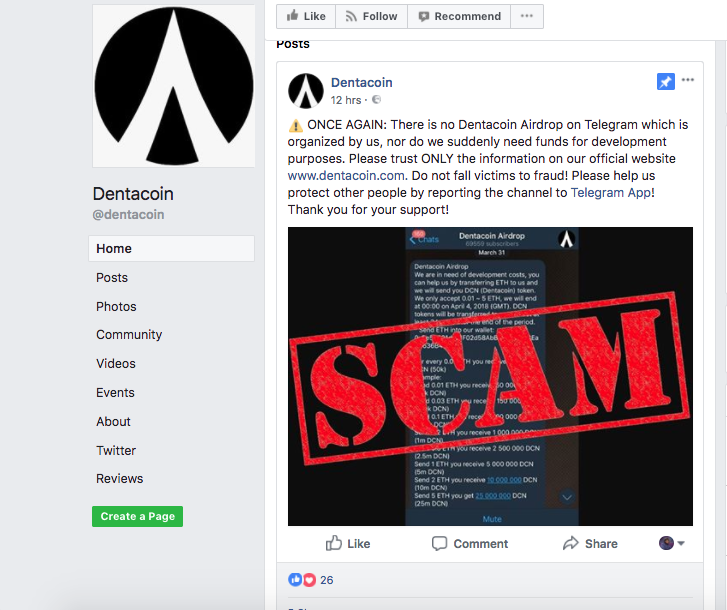 Found on their official Facebook page - https://www.facebook.com/dentacoin/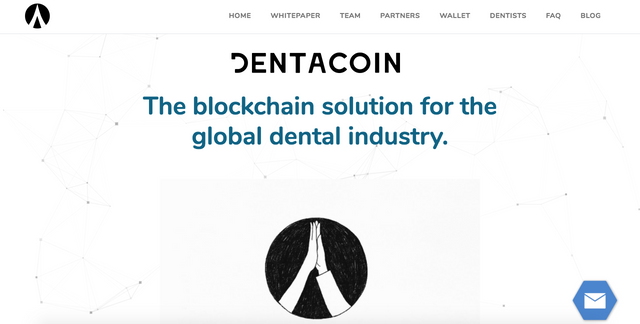 What is Dentacoin (DCN)?
Dentacoin is the first Blockchain concept designed for the Global Dental Industry. The Dentacoin ERC20 token is configured to be used globally by all individuals. Dentacoin aims at improving dental care worldwide and making it affordable through crowd power. Numerous Blockchain-based tools will be developed and implemented.
For more information visit - http://www.dentacoin.com/
Dentacoin is also listed on Coinmarketcap - https://coinmarketcap.com/currencies/dentacoin/
Confirmed airdrops
For confirmed airdrops check out the recommended posts at the bottom of this article
What is an Airdrop?
An Airdrop is when a blockchain project gives away free cryptocurrency to early adopters and those who sign up for initial interest in the project
How to store your airdrop coins
Make sure you have an Ethereum ER20 token compatible wallet. You can create one with Metamask or MyEtherWallet. Once you've set up the wallet simply provide the new hexadecimal ID to claim your tokens. Do not use any hot wallet or cryptocurrency exchange wallet to try and store your airdrop token
Get FREE Dentacoin
Sign up for your FREE Dentacoin coins here
Stay in the loop with the latest airdrops
For more airdrop news follow me @chekohler
More Airdrops available