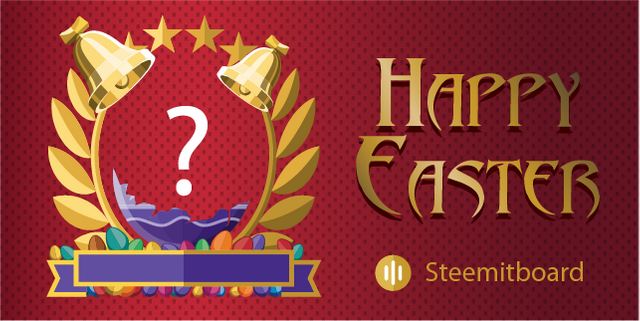 Easter is so close … Since Thursday, @steemitboard is celebrating the Holy Week with you, bringing a new surprise every day!
Did you take a look at your Board of Honor recently? You may noticed that there were some changes.
A few words about Easter Eggs
Easter eggs, also called Paschal eggs, are decorated eggs that are usually used as gifts on the occasion of Easter. The oldest tradition is to use dyed and painted chicken eggs, but a modern custom is to substitute chocolate eggs wrapped in colourful foil, hand-carved wooden eggs, or plastic eggs filled with confectionery such as chocolate.
Although eggs, in general, were a traditional symbol of fertility and rebirth, in Christianity, for the celebration of Eastertide, Christians say Easter eggs symbolize the empty tomb of Jesus, from which Jesus resurrected.
In the Orthodox churches, Easter eggs are blessed by the priest at the end of the Paschal Vigil (which is equivalent to Holy Saturday), and distributed to the faithful. The egg is seen by followers of Christianity as a symbol of resurrection: while being dormant it contains a new life sealed within it.
Similarly, in the Roman Catholic Church in Poland, the so-called święconka, i.e. blessing of decorative baskets with a sampling of Easter eggs and other symbolic foods, is one of the most enduring and beloved Polish traditions on Holy Saturday.
In Greece, women traditionally dye the eggs with onion skins and vinegar on Thursday (also the day of Communion). These ceremonial eggs are known as kokkina avga. They also bake tsoureki for the Easter Sunday feast.
In Egypt, it's a tradition to decorate boiled eggs during Sham el-Nessim holiday, which falls every year after the Eastern Christian Easter.
source: wikipedia
Looks like the Easter bells brought a special one to you
On Thursday, @steemitboard started Holy Week with the announcement of a multi-day fun campaign.
Yesterday, the Easter Bells have sown eggs everywhere. Among them, one started to grow.

Do you believe it will continue to grow? Do you think something will come out?
The eggs grow, and with them the suspense …
Check your board on SteemitBoard, on April 1st starting 00:00 UTC time! You may see something surprising! Do not miss this magical moment!
@steemitboard wish you an Happy Easter!
Spread the fun! Upvote and resteem this post!
---
Support the SteemitBoard Project and all Steemit users. Vote for its witness!
Steemitboard is a project created by @arcange