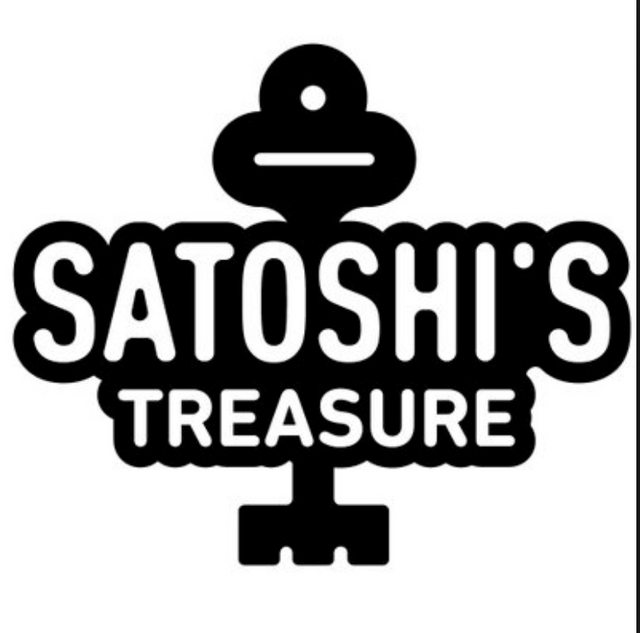 The Story So Far
As you know by now the Steem community has its very own Satoshi's treasure hunt clan. We have over 70 clan members on Discord. If you are an active Steemian over 40 rep you are very welcome to join our hunt. We are currently on the 6th and 7th Key. We have obtained key 1 and 2 and 3 were all found swiftly and made public. Key 4 we obtained quite quick as well. It was an Easter egg hunt. Key 5 was called The Hunted Key which had us look for 3 agents. We found one of them and obtained the key. The other 2 agents were never found.
So all in all we are actually doing really well. We reward our contributors with Satoshi Hunt Tokens. We have issued 1 million tokens on @steem-engine. The more our clan contribute then the more tokens they will receive. If we do end up unlocking the 1 million dollars in bitcoin then we will buy back the tokens for steem and clan members can do as they please with their proportion of the prize. The Earth key is still not solved and now the Audubon key has hit down so the clues are getting extremely difficult to solve.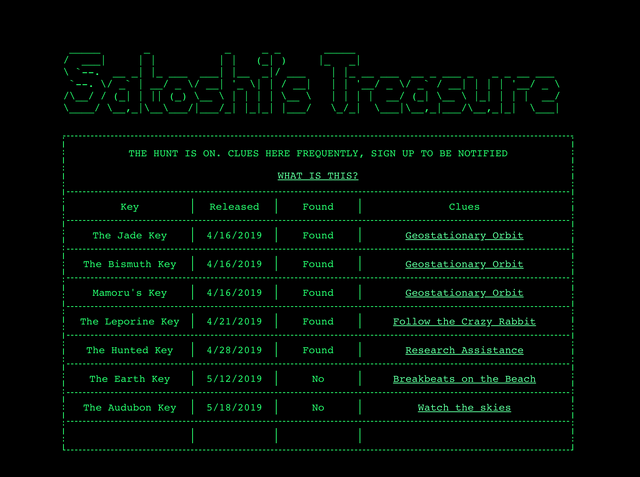 The Audubon Key.
The Audubon key hit down last Sunday while we were still stuck on the Earth Key. Check out the search for the Earth Key here.
This created a fork so to speak. Some of our clan members switched to the new search and some led by @torrey.blog and @anarchist69 stayed behind solving key 6 which was very helpful. I think the Earth Key did not suit some people so they were happy to move on to this one. Lets have a look at the clue.
Solving The Puzzle
This one was an interesting one. So many possibilities but we always look at the titles and the Audubon society is famous for ornithology and the protection of wildlife so this is where we searched first. The blue bird in the puzzle was interesting and it wasn't long before we were on the famous social media site that has a bird as a logo. Yep Twitter.
We searched the codes on Twitter and we found interesting results. See below.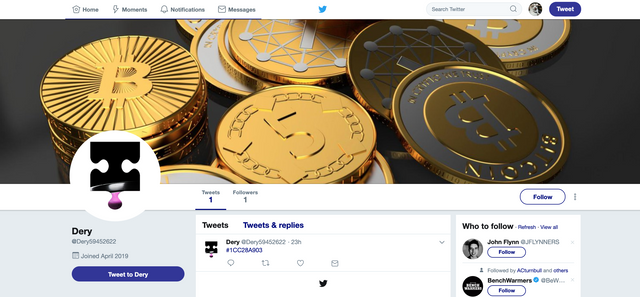 It was a great find and we knew we were on the right track. We matched up the 5 pieces of jigsaw.Here's what we got.

Then we hit a wall. We knew that the first code in the riddle meant something. It was the bitcoin nonce from the genesis block. We started searching the genesis block nonces from all the major currencies but came up short. We hit a wall.
Then yesterday some genius figured it out and we started to hear info about the first 50 bitcoin nonce addresses. A formula called Hofstadter Figure-Figure Sequence was used to figure out the other addresses. This is way past my level of expertise but all of a sudden we had the full jigsaw puzzle. Here are the Twitter links
https://twitter.com/Devin04654939/status/1129452623218843649
https://twitter.com/Dery59452622/status/1129453322849665024
https://twitter.com/Michell70287905/status/1129453755760619522
https://twitter.com/Sandra63596155/status/1129454025873739776
https://twitter.com/Aaron53437252/status/1129454566263664642
https://twitter.com/Carlos37002270/status/1129454893234892806
https://twitter.com/Kachilla10/status/1129455276665561089
https://twitter.com/Donna59853196/status/1129468504300806144
https://twitter.com/Marquit14553100/status/1129468882996142082
https://twitter.com/Heidi41984971/status/1129469148902416385
https://twitter.com/Gloria55443286/status/1129609908943503361
https://twitter.com/Alicia79852057/status/1129610115169083392
https://twitter.com/Jennife46961225/status/1129610336246599680
https://twitter.com/Vice47190114/status/1129610549044621315
https://twitter.com/Tamika91754145/status/1129610793744576517
https://twitter.com/Melissa53184802/status/1129622582976761857
https://twitter.com/Christi21564075/status/1129622829501177856
https://twitter.com/Tony17686012/status/1129623116332883969
https://twitter.com/Sean59295388/status/1129623309946109953
https://twitter.com/Sarah60397113/status/1129623706362417152
https://twitter.com/Calvin29814461/status/1129623980363669504
https://twitter.com/Donna90165162/status/1129704857420668928
https://twitter.com/Mark87646040/status/1129636595768995840
https://twitter.com/Christi84597458/status/1129636956965675009
https://twitter.com/Michael47755384/status/1129637312273559552
https://twitter.com/Julie19290331/status/1129637606050947077
https://twitter.com/Candi45515006/status/1129650584905232384
https://twitter.com/John12157549/status/1129650849247092736
https://twitter.com/Lindsey11638844/status/1129651048702971904
https://twitter.com/Jennife92156542/status/1129651603563261952
https://twitter.com/Juanita05599178/status/1129651823785185280
https://twitter.com/Debbie39663738/status/1129658090826149888
https://twitter.com/Joe91230735/status/1129658342509633536
https://twitter.com/Paul15326321/status/1129658619581095937
https://twitter.com/Ron27859586/status/1129659067457298433
https://twitter.com/Roberto32729242/status/1129659371301081088
https://twitter.com/Michell00434692/status/1129666716412338176
https://twitter.com/George80920765/status/1129666946402799616
https://twitter.com/Brittan66594178/status/1129667199478706177
https://twitter.com/Jason00618291/status/1129667391980494850
https://twitter.com/Valerie40599094/status/1129705128976703489
https://twitter.com/Ronnie31111929/status/1129683402922311680
https://twitter.com/Larry45506155/status/1129683721014128640
https://twitter.com/Troy46081490/status/1129684008575672320
https://twitter.com/Erica69549783/status/1129684564941713408
https://twitter.com/Colby17729798/status/1129684803220070400
https://twitter.com/Sarah11652916/status/1129694455081111552
https://twitter.com/Samanth74909304/status/1129694638019960835
https://twitter.com/Christo70023294/status/1129694863535038464
The Big Reveal
The Puzzle In Full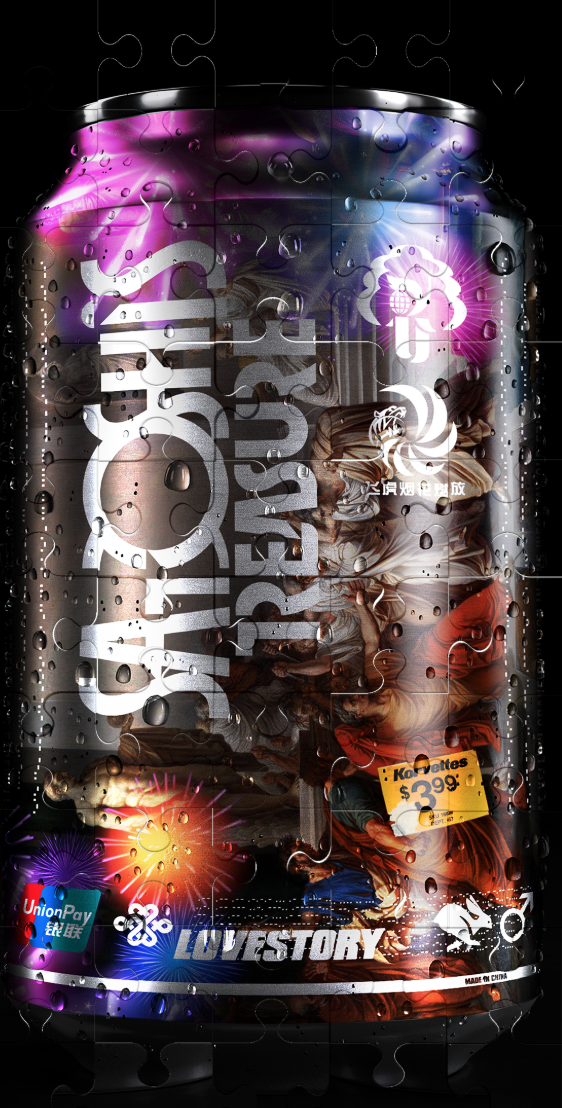 Can you spot the morse code?? Yep it's there alright and once we decoded it , it gives us FWOF81XGTSOQGWWZVVD6 . We put this in the link [https://satoshistreasure.xyz/FWOF81XGTSOQGWWZVVD6] and we get the passphrase page. The final code to obtain the key. This is where you come in. We are stuck!! Everyone is stuck! The keys is NOT solved yet. There is alot of info on the can.
The two logos on the top right are Yangzhou University and Liuyang Flying Tiger Pyrotechnics Co Ltd. The chinese knot represents a Chinese telecommunications company. The painting is The assasination of Julius Caesar by Vincenzo Camuccin. Then there is a union pay sign and chinese writing that means misty flower. So many potential passcodes. This is why we may need your help. Try a few passcodes that you think may work from the puzzle or from the can itself.
Would you like to join the hunt?
Thanks to the new members for joining up and contributing. It is very hard to come in half way into a clue so the next time a clue hits down I will send around an @everyone message so you all know when the clue starts. If you join some clues may not be your field of expertises which is fine. The tokens are distributed for those who take part in each key so if you want to sit a keys out and come and go as you please then this is fine. What we want is to have a wide range of people in all locations around the globe that like a treasure hunt. We have grown rapidly and we are now actually onboarding people who want to reach a level 40 to join our clan. I never believed it at first but we have become an onboarding tool for Steem. Who would of thought!!
Not on the Steem Blockchain.
In order to issue our tokens for people who contribute to our hunt we have tokenized the hunt with our very own Satoshi Treasure Token (SST) which is currently issued on Steem Engine. In order to have access to the token you need to be on the Steem Platform. So if ......I mean WHEN we win the 1 million bucks we will buy the tokens that we have issued back off the token holders. The more that you contribute the more you gain in tokens. Makes sense right.
Anyone who is not on the steem platform will have to join steem follow the following steps.
Create a Steem account.
Write an introduce Yourself Post. Ensure you use the tags new_to_steem and introduceyourself for a higher upvote.
This will build up your reputation.
Once you reach a level 40 then you can get in touch.
Being a member of another clan may affect your entry. We are ahead of the game in this clan so we do not want our inforamtion leaking to other groups. If you are with us then there will be no need to be in other clans.
If you are interesting in very very hard puzzles then this one is for you. IT skills are desirable but not essential. You can join our discord here
Thanks to all our clan members who have contributed so far in the hunt. So we have two keys unsolved at the moment. Can you be the one who cracks the code??