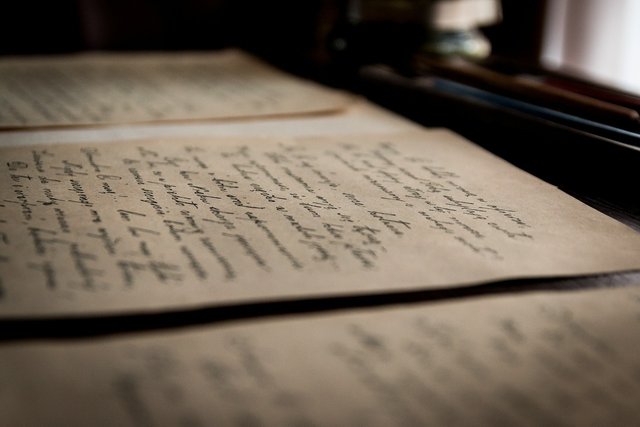 Image from: pixabay.com - Under Pixabay license

It was late at night, almost midnight. She had been carrying the envelope in her pocket all day but dreaded to open it before the time was right. She would not make any scenarios in her head as she was afraid to even imagine what might happen after reading it.
The woman who passed it on to her told her she had to be very careful,
"You wish to vanish from this Earth? You wish to set yourself free from the shackles of a flesh that keeps you a prisoner to a world you loathe with all the strength of your heart? Do it. Read it. Out loud when you'll be all alone. Make sure no one hears you, or you'll claim another soul from this world and it will be a new burden on your back to the life you're gonna enter. Alone and at night, in front of an open door go through the lines written in the darkest wisdom of the Occult."
Ten minutes before the clock would strike the beginning of a new day and she was already dressed and had her shoes on. She didn't want a jacket because the weather had started to warm up and at nights you could easily sit on the porch with just a light sweater on. As she was about to walk out of the house, she took her shoes off and when her feet touched the wooden floor, she removed her socks right away. Barefoot felt better.
A cold sting pierced her whole body the moment her right foot fell on a splinter from the old wooden floor boards. Instantly it rushed through her veins, it ran up her spine and made her blink hard.
Flashes from the past seemed to pass right before her eyes, moments of joy at first, moments of her with her sister playing happily together. Then puberty and shades of grey. Adulthood and the images were getting darker than grey. Black. Heavy storms and dark clouds until the loud mess in her head blasted into a tranquil black hole. A magnet of negativity that would turn all light around her into shadows. Living with such a hell inside you is worse than not living at all.
She had learnt about this woman, the Intermediate as they called her, from one of her online shelters. Forums where she'd find more people like her. One day, as she was typing and typing how blank she felt a reply made her eyes flash:
"Somewhere, in another world, another dimension, our bodies carry our souls in delight and we don't feel hollow. I have been in that place, I have tasted it for a while but I was too scared to stay there 'cause I had people here waiting for me and I didn't want to hurt them. But the Intermediate told me, if the test ride felt so good, imagine how the whole package would be like..."
She didn't need more than that to get curious and she didn't take more than two meetings with the Intermediate to decide she wanted it, the whole package.
The exchanges she asked for such a liberation? None. Only the pleasure of curing the unhappiness.
And now here she is, with all her life passing in fast forward before her eyes until it stops to the moment when she got that letter, her invaluable passport to freedom.
She looked around her to make sure no one was out on the street, she already knew her parents were sleeping upstairs, and she reached for the envelope inside her pocket. With both her hands she examined the hard paper, opened it and sniffed it lightly as she had always liked to do with books and mail. With her delicate fingers she helped the folded piece of paper slide inside her palms. She left the envelope slip on the floor, one edge scratched her toe, but she didn't even notice.
Her eyes were already scanning the handwritten text, her brain was decoding the letters into words without sane meaning to her, her vocal chords were turning this words into sounds and right before the last full stop she breathes in hard and exhales in a whoosh, while a thin cloud of white air seems to be leaving her mouth and starts flying to the starry skies. There it crashes onto a peculiar layer of transparent, pulsating glass and then... it vanishes.
Her body is lying at the doorstep, the piece of paper she was reading a moment ago is still among her unmoving fingers and on her face... you can swear you see a smile.
---
Word count: 772

My piece for the @apostrophe's weekly prompt is here, I wrote it yesterday and edited it today. The piece is a little bit inspired by the Netflix series "The OA", in case you've watched it, you'll be able to find some faint similarities...
What do you think?

Thank you so much for your time!
Until my next post,
Steem on and keep smiling, people!

---
---
Original content by @ruth-girl - 2019 - All rights reserved
Also shared on my Whaleshares blog