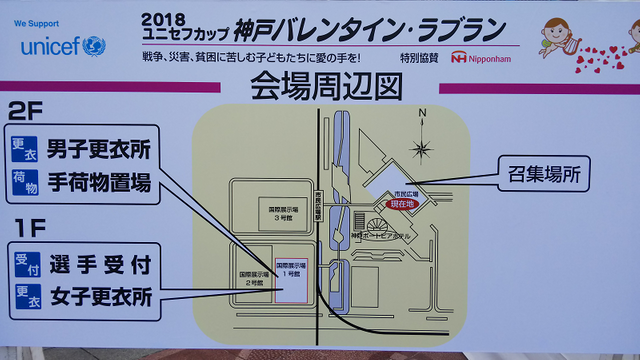 今日はユニセフカップ神戸バレンタイン・ラブランです。「ユニセフカップ」という名前のとおり、ユニセフ(国連児童基金)の活動をサポートすることをテーマに掲げ、参加料の一部がユニセフに寄付されます。開催場所は僕の住んでいるポートアイランドです。自宅からスタート地点まで徒歩5分もかからない超地元大会なので、去年と同様、今年もエントリーしていました。ところが、直前になってひどい風邪を引いてしまい、2週間まったく走れず、かなり体力が衰えてしまったため、まともに走れない可能性が高く、棄権することも考えました。しかし、この悪いコンディションでどれだけ走れるのか試してみたい気持ちもあり、出走することにしました。参加するのはハーフマラソンの部で、島内の西岸のコースを2周します。
Today is the day of "UNICEF Cup Kobe Valentine Love Run". As its name "UNICEF Cup" suggests, this race is held for supporting activities of UNICEF(United Nations Children's Fund). A part of our entry fee is contributed to UNICEF. The race is held in Port Island, which I live in, and it takes less than 5 minutes to go from my home to the starting point. So I entered this race as well as the last year. But I caught a bad cold right before this race, I had not done any running workout at all for two weeks. So my running ability has broken down and I thought I can't run properly. I considered canceling my participation in the race, but I decided to run the race to challenge my running ability in this bad condition. I participated the section of half marathon. We circle the course on the west side of the island twice.

受付は8:30開始ですが、早めに8時に会場へ行ってみるとすでに長蛇の列でした。寒風の中、列に並んで待つこと30分、受付が始まり、会場内へ入ります。
The reception is starting at 8:30, but when I reached the reception site, there was already a huge line. 30 minutes later, the reception started and we entered the reception room.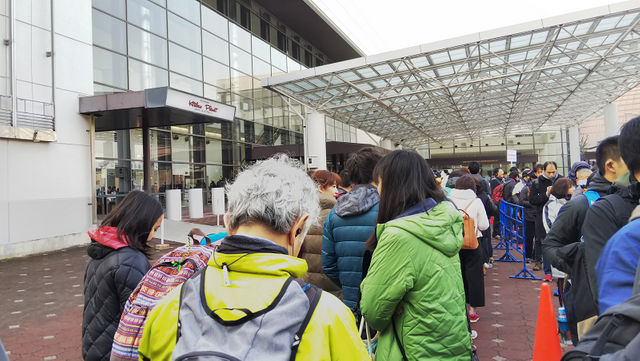 受付を済ませ、ゼッケンや計測チップ、参加賞を受け取りました(参加賞はオリジナルTシャツに加えて男性は蘭の花、女性はチョコ。男もチョコにしてほしい)。受付会場には、大会に協賛しているマツダの車が展示されていました。
I received my number bib and measuring chip, participation prize at the reception desk.(The participation prize is an original T-shirt and a flower of orchid for male, chocolates for female) In the reception room, a car made by Mazda Motar Coorporation, which co-sponsor the race, was on exhibit.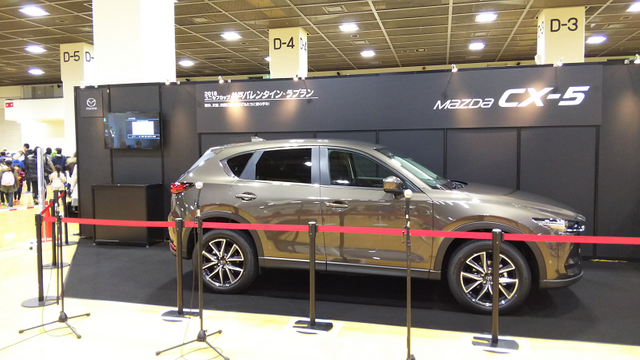 普通の参加者は受付が済むと更衣室へ行って準備をするのですが、僕はいったん自宅へ帰ります。すぐそこですから。
After that, while the other runners made preparations for the race in the locker room, I once returned my home, because my home is very near.
自宅に帰ってまず、ゼッケンや参加賞の内容を確認。そして、まずシューズに計測用チップをとりつけます。
After I returned my home, I checked my number bib and participation prize. And I placed my measuring chip on my shoes.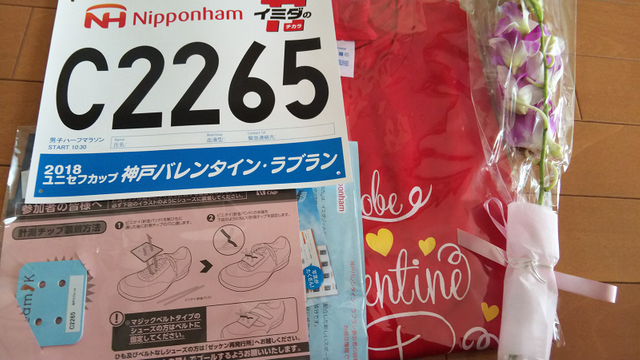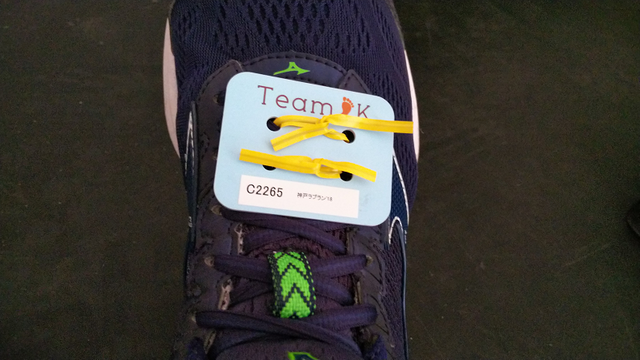 次に、今回参加賞としてもらったTシャツにゼッケンを付けました。今日のレースを早速このTシャツで走ります。
And I pined my number bib on the T-shirt which I got as the participation prize today. I run with wearing this T-shirt.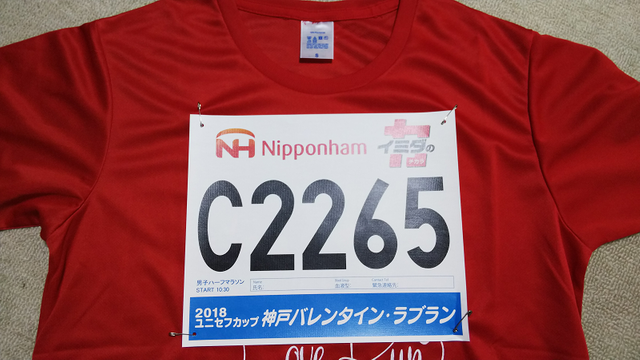 9時30分に再び家を出て会場へ。ゆっくり体を動かしてウォーミングアップし、9時55分にハーフマラソン参加者招集。去年もそうでしたが、この状態で待つのがとにかく寒い。
I left my home again at 9:30 and went to the site. I warmed up before gathering time for half marathon, 9:55.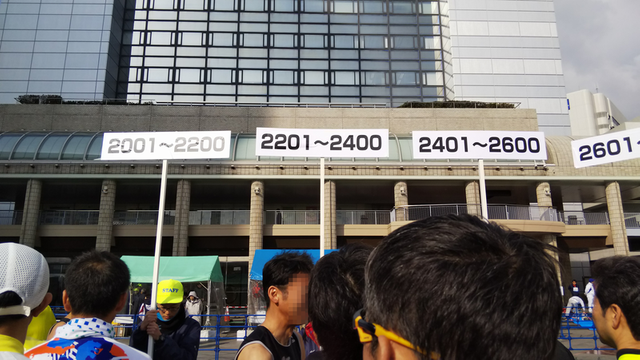 参加者が揃った後、スタート地点へ移動。ここでまたスタートまで待ちます。
After gathering, we moved to the starting spot. We had to wait the starting time.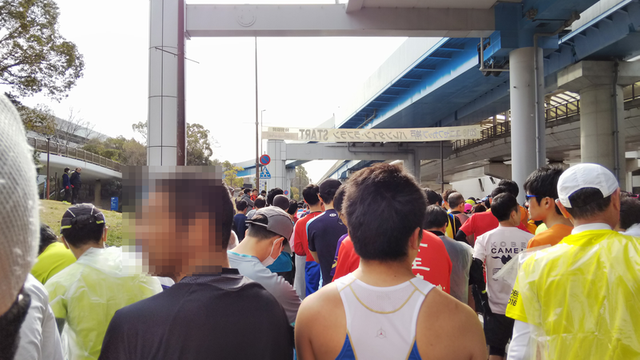 10時30分、号砲が鳴ってスタート。この大会ではグロスタイム(号砲が鳴って時点から各人がゴールラインを踏んだ時点までのタイム)とネットタイム(各人がスタートラインを踏んだ時点からゴールラインを踏んだ時点までのタイム)の両方が計測されますが、順位のもとになる正式記録はグロスタイムになります。
At 10:30, the race started. In this race, both of gross time and net time are measured, but the formal record is gross time.
スタート直後はキロ4分10秒を切る好ペースで走っていましたが、病み上がりの悲しさ、5kmあたりで早くもばててしまい、失速します。そのあとはなんとかもう一度ペースアップしようと試みますが、足がついてきません。なんとかキロ4分30秒前後を維持するのがやっとで、後ろから来るランナーに次から次へとぬかれる一方でした。最後にはなんとか根性でラストスパートをかけて何人か抜き返してゴール。
I ran at the pace faster than 4'10"/km right after starting, but I already lost speed after running about 5 km, because I'm still recovering from my cold. I tried to increase my pace again, but I couldn't. I barely keep the pace about 4'30"/km. I continuously got passed by many runners. At the end of the race, I managed to put out a last spurt to overtake some runners before crossing the finish line.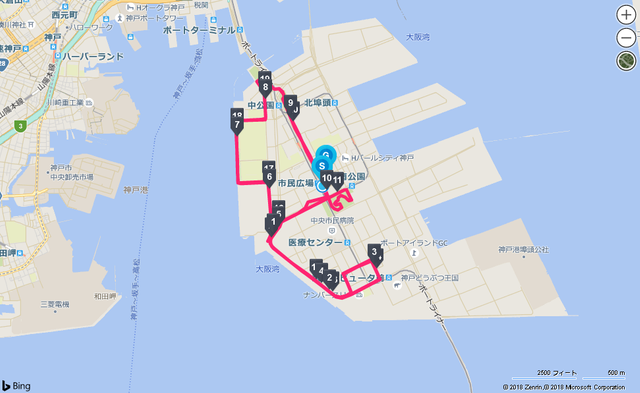 この大会では完走証はその場では発行されず、後日郵送されます。そのかわり、各人の順位とタイムがすぐに掲示されるので、自分のタイムを知ることができます。僕の順位は、男子ハーフマラソンの部166位(エントリー総数2150名)、タイム(グロスタイム)は1時間32分09秒でした。昨年のタイムは1時間32分26秒だったので、それよりはいいタイムでしたが、今年の1月7日のHAT神戸ドリームランで出した1時間28分09秒と比べると、やはりだいぶ遅いタイムです。とはいえ、予想していたよりはずっといいタイムでした。ひどいコンディションでも、本番になれば意外と走れるものだということがわかりました。
In this race, the certification is not published on the moment. It will go to our home in the mail later. As altermated, the ranking table is posted up, so we can know our time. This time, I was the 166th finisher (the number of runners who enter this race was 2150), and my time ( gross time ) was 1:32'09". In this race of the last year, my time was 1:32'26". Today's time was better than one of the last year, but was worse than 1:28'09", the time of "HAT Kobe Dream Run" (on 7th January). Be that as it may, today's time was much better than expected. I found that we can run better than expected under even bad conditions.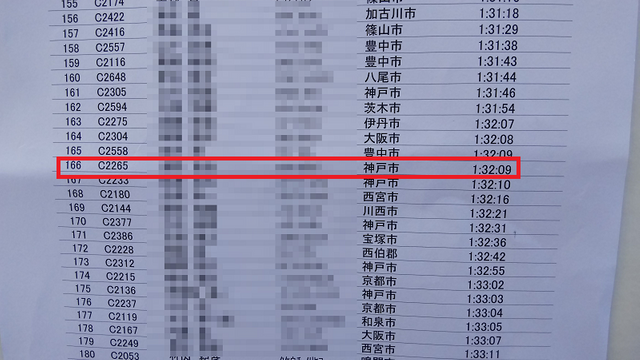 According to my GPS watch, the running profile of this race is as follows.
GPSウォッチによる、このレースのランニング記録は以下のとおりです。
Average Pace(平均ペース) : 4'25" /km
Speed(スピード) : 13.6 km/h
Calories-out(消費カロリー) : 1,106 kcal
Lap time(ラップタイム) :
1km 4'10" /km
2km 4'09" /km
3km 4'06" /km
4km 4'19" /km
5km 4'28" /km
6km 4'26" /km
7km 4'35" /km
8km 4'21" /km
9km 4'32" /km
10km 4'32" /km
11km 4'27" /km
12km 4'38" /km
13km 4'23" /km
14km 4'23" /km
15km 4'42" /km
16km 4'38" /km
17km 4'28" /km
18km 4'34" /km
19km 4'19" /km
20km 4'22" /km
21km 4'12" /km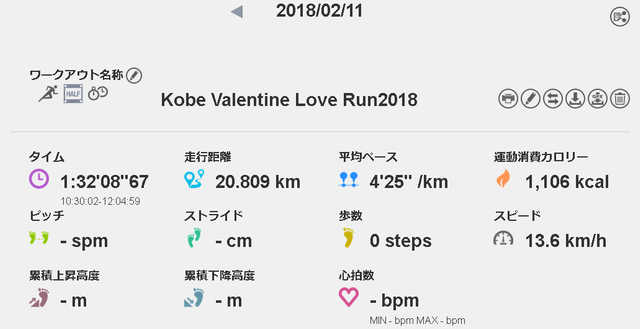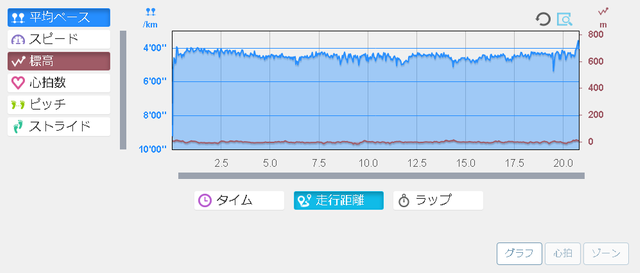 この大会は、レースを完走した後に楽しみがあります。後援の日本ユニセフ協会や特別協賛の日本ハムが「チャリティーフードショップ」を設けていて、売上の一部がユニセフに寄付されるようになっています。美味しい食べ物を安い値段でいただいた上に寄付もできるわけです。
In this race, we have fun after finishing the running. Japan Committe for UNICEF and Nippon Meat Packers, Inc. ( Nippon Ham) set up the charity food shops, the part of the sales is contributed to UNICEF. It is so happy that we can contribute in addition to eating delicious foods.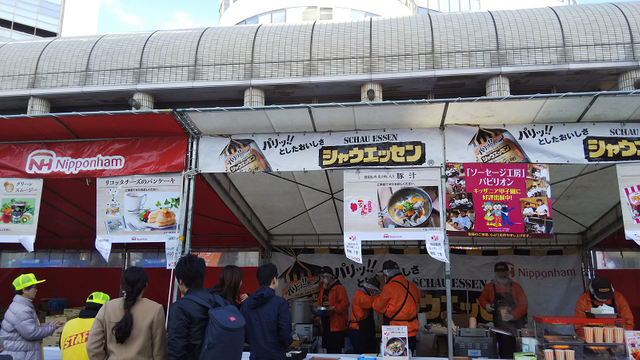 これは日本ユニセフ協会のお店で買ったいちご&クランベリーパン。
This is a bread with strawberry & Cranberry, which was bought at the shop by Japan Committe for UNICEF.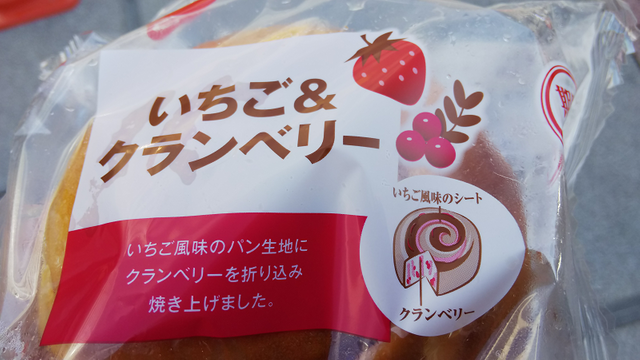 これは日本ハムが提供する国産豚肉ブランド「麦小町」入りの豚汁。
This is Ton-jiru ( miso soup with pork and vegetables ) including "Mugi-Komachi" pork, which is the brand of Japanese pork by Nippon Ham.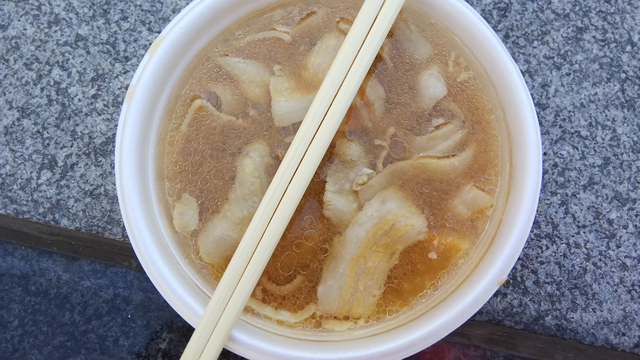 これは日本ハムが扱うアンガスビーフの焼肉。
This is grilled meat of ANGUS beef, which is sold by Nippon Ham.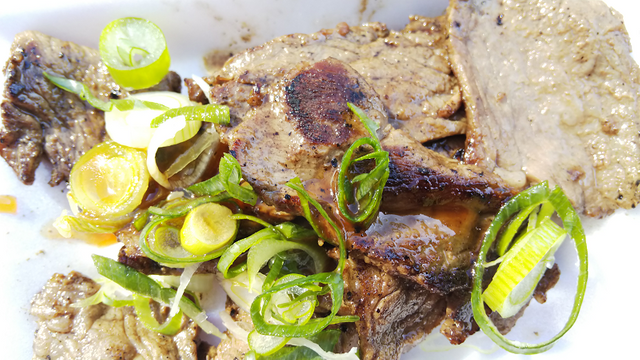 これは日本ハムの人気商品シャウエッセンが入ったミネストローネ。
This is minestrone soup including "SCHAU ESSEN"(a kind of sausage), which is a popular product of Nippon Ham.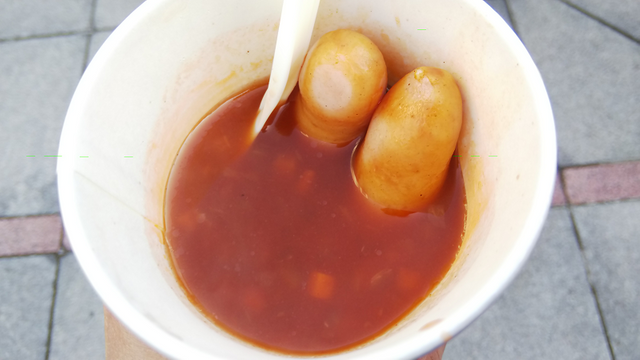 どれもとても美味しかったです。さすが日本ハムですね。来年以降も特別協賛よろしくお願いします。
All of these foods were very delicious. That's Nippon Ham ! Please keep on sponsoring this race after the next year.
今回は病み上がりにしてはいいタイムで走ることができました。しかし、今のままでは3月4日のフルマラソンは厳しいでしょう。ワークアウトを充実させて、出来る限り走力を回復させないといけません。
In today's race, I ran in a goodish time considering that I'm still recovering from my cold. But I can't properly run the full marathon on 4th March, if I would be what I am now. I have to enhance my workout to recover my running ability.