42 Experts Share their Favorite UK Brands and Shops - Roundup
Quality.
Reliability.
Prestige.
Innovation.
With so many brands available in the UK, it's not surprising to know there are favorites that have been established for generations and others that have sprung into popularity virtually overnight.
A brand name can tell you a lot about a product, and with hundreds of years of history, the United Kingdom has developed brands that have truly endured a test of time. From protecting yourself from notoriously bad weather to enjoying the day to day routines of life in the big city, specialty shops and brands in the UK offer countless ways to invest in your comfort.
Of course, there is also a booming marketing in new product development and interesting brands are appearing all of the time across the UK. These new brands add a bit of excitement and innovation to the steadfast offerings that can stretch back decades or even centuries. The best brands are always looking for ways to improve and to fill needs you didn't even realize you had.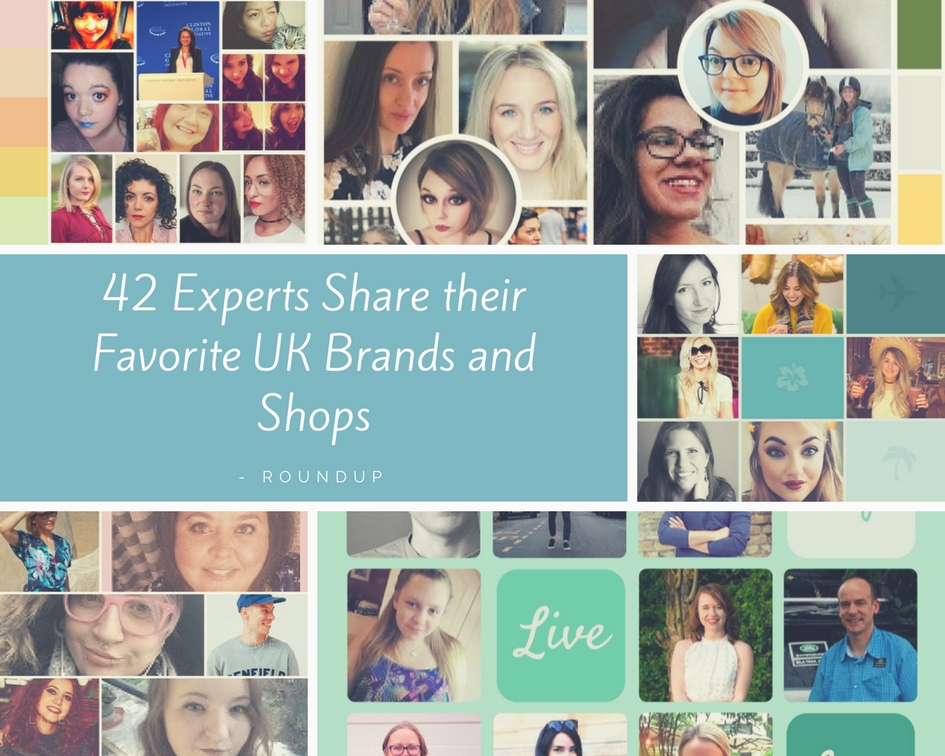 With so many options, how do you determine what is best when it's time to make your own purchases? Perhaps by relying on the wisdom and experience of those who have tried and enjoyed products across a wide range of brands and niches. You can easily use a UK Forwarding service to have your package delivered anywhere in the world. Consider the suggestions from the many experts below.
1 - Craig Landale



Site | Twitter | Facebook | Pinterest | Instagram | Bloglovin | Google Plus
For male grooming products I really like the Beast store in London's Seven Dials area. They stock all the best beauty brands for me, as well as up-and-coming labels. The store is merchandised according to how you should conduct your grooming regime - walking clockwise - with the sections 'body', 'hair', 'shave', 'face' and 'fragrance'. They often have skincare experts at hand to offer advice and remedies to modern men in need.
2 - Chris Beastall



Site | Twitter | Facebook | Instagram
Our favourite brands are; Sunspel, John Smedley, Drake's
Stores; Trunk Clothiers, Whistles, MR PORTER
They all have excellent customer service, quick delivery and great brands.
3 - David Airey


Site | Twitter | Facebook
Daft Eddys restaurant, on Sketrick Island, Killinchy, Northern Ireland. Good food, good service, picturesque views looking out over Strangford Lough. Recommended for a nice afternoon out.
4 - Jo Middleton



Site | Twitter | Facebook | Pinterest | Instagram | Bloglovin
My favourite UK store is probably John Lewis. It's one of those department stores that you can wander around for ages and know that everything is going to be gorgeous! It's super tasteful with loads of different things all under one roof. I always go there for Christmas shopping and I have a good friend who I meet there once every few months for a day full of browsing. They even have a restaurant for when you need a well earned break from shopping.
5 - Victoria Sully



Site | Twitter | Pinterest | Instagram
One of my favourite UK stores is Accessorize. I can't help but be drawn in every time I walk past as they're filled to the brim with the latest must-have fashion accessories for all styles and budgets. If I need finishing touches for an outfit, a new affordable but good quality handbag or seasonal wear such as hats, scarves, sandals and sarongs, then Accessorize is my go to British shop.
6 - Natalie Ann Redman


Site | Twitter | Facebook | Pinterest | Instagram
My favourite UK stores are John Lewis, New Look, H&M and Debenhams.
The reason I love these stores is that I'm never really disappointed with what they have both in-store and online. They always please the aesthetic and fashion style I love and I can always rely on them to be of high quality, no matter what the product is.
7 - Mumma Vicki



Site | Twitter | Facebook | Pinterest | Instagram
My favourite UK store has to be 'The Raven', the toys and paraphernalia there is really great and my kids love it! Also Primark - The Home-wear is lovely and they always have nice service too!
8 - Matthew Pike



Site | Twitter | Facebook | Pinterest | Instagram | Bloglovin | Google Plus
I don't shop on the regular highstreet much as I don't enjoy the experience, but here are a few stores I shop at and enjoy how they run things:
Arket on Regent Street London
COS in Leeds
Paul Smith in Nottingham
Universal Works Nottingham
Aesop
9 - Kelsey Kate



Site | Twitter | | Pinterest | Google Plus
I live in the UK and shopping online is my favorite past time. The store I head to every time is Asos. They have such a good range of clothes and sizes. They use models of all sizes as well, which I love. They have recently teamed up with Klana to offer shoppers a try before you buy service. I have written about my experience in a recent blog post - https://lifeandthegreatoutdoors.co.uk/try-before-you-buy-with-asos. The other store I head to if I'm out and about is Primark. I am always looking for a bargain and Primark is a great way of saving money on everyday clothing
10 - Megan



Site | Twitter | Facebook | Instagram | Bloglovin
In terms of UK beauty, my favourite store is Superdrug - they have all the best drugstore make-up and beauty products for the best prices on the high street. They also have a really good rewards card system which lets you build up "points" to get money off. There are also exclusive deals and discounts for Beauty Card holders.
My favourite UK beauty brand is Revolution Beauty as their products are amazing quality for a very low price. They sell a lot of dupes for high-end make-up which are just as good, if not better, quality.
Fashion-wise my favourite UK brand and store is Pull and Bear. They keep up with all the latest fashion trends while still being super affordable.
11 - Shauna Claire



Site | Twitter | Pinterest | Instagram | Bloglovin | YouTube
That sounds really cool! Personally I absolutely love Fortnum and Mason as a British store, it's so timeless and classic and it's just so up my street. It's definitely one of my favourite places to shop in the UK!
12 - Amelia Goodhead



Site | Twitter | Facebook | Pinterest | Instagram | Bloglovin | Google Plus | YouTube
Primark
Benefit Cosmetics
John Lewis
Costa
13 - Em Griffiths



Site | Twitter | Pinterest | Instagram
One of my favourite shops is Primark as most teens and 20 somethings would say. I love how affordable everything is and it's amazing at the variety. You can go in and get yourself some clothes, shoes, bags, luggage, bedding and homeware things under one roof which is just really useful. Another of my favourite UK brands is Lindy Bop, I just adore their style of dresses and I have a few already, I'm excited to get a couple more in the summer!
I always buy from the UK because that's where I'm from and honestly, I can't ever remember having a negative shopping experience. Yes, there have maybe been a few cashiers who didn't have the best attitude but as long as I get what I want to buy, I don't really mind as long as the staffs in the shops aren't completely horrid.
14 - Sarah Jenna-Jayne



Site | Twitter | Facebook | Pinterest | Instagram
When I need a good quality pair of shoes or boots which will last, I always head to Clarks, as a little girl my grandmother and my mother would always take me there for my school shoes. I always loved the atmosphere there and I know that buying footwear from Clarks will last a long time. When it comes to clothing I have a habit of getting bored of my clothes quickly or I end up just ruining them from my daily activities, because of those reasons I don't like to spend too much money on each item. My favourite clothes shops are, New Look, TK Maxx and Choice. You can grab a good bargain from any of those shops and for the price, the quality of the clothes is brilliant. Choice tends to have the best quality items I have found so far, more than likely because it's discounted Next clothing. I've never been to fussy about where I buy my clothing from but I have found a few places where the quality and the material isn't very good, so if you are looking for a bargain I'd always recommend those three places!
15 - Sophia Whitham



Site | Twitter | Facebook | Instagram
Shopping is right up my street.
I think that supermarket clothing labels can be highly underrated. Sainsbury's TU range never disappoints and easily matches up to other high-street brands at a fraction of the cost and as a bonus you get Nectar points on your shop too.
In terms of online delivery you can't beat ASOS. With their unlimited one day delivery costing just £9.95 a year and also their free returns service they're the only online shop for me.
16 - Chantelle Wright



Site | Twitter | Instagram
So my favourite shops are probs like all the makeup shops so Boots and NYX mainly. Then clothes wise like New Look and Urban Outfitters. I love shops like NYX where the staff are always super nice and helpful and always there to help you if you need them.
17 - Kim Brockington



Site | Twitter | Facebook | Instagram
My favourite UK stores includes Peacocks and, bizarrely Mountain Warehouse and Snow&Rock
I love the latter two as I always think in the winter some of the more regular shops don't cater for the really bad weather. I am a bit of shoe fanatic (my daughter use to say'' I should be the one wearing the stilettoes and you should be wearing the flats!') When I visit Peacocks I have to be careful as I'd walk out with bagful's of shoes!
As I live in Cardiff I love wandering around the Arcades as you never know what delights nestle there plus there's Cardiff Central Market (Mon-Sat ) which is made up of two floors and a mixture of food, paraphernalia and vintage clothes.
18 - Sarah



Site | Twitter | Facebook | Pinterest | Instagram
Here are my top 5 shops, stores and brands:
The Works
Home Bargains
Netflix
Aldi
Amazon
My favourite item I have bought recently, from Amazon UK, is my Aerogarden. The Aerogarden enables me to grow herbs in my kitchen super fast. Trying to grow herbs in the UK can be tricky because we don't have much sunshine particularly in the winter.
19 - Victoria Brewood



Site | Twitter | Facebook | Pinterest
I live in London so I usually go shopping on Oxford Street, although it's sometimes a nightmare getting through the crowds. I'm very petite so I almost always buy everything from Topshop Petite, although I get my coats from Zara and knitwear from The White Company. Carvela Kurt Geiger are fantastic if you have Size 3 feet like me and their shoes are always of high quality. As I've grown older though I love buying homeware and stuff for the house, so I like to go to Anthropolgie and the shops on Marylebone High Street where I live.
20 - Louise Flynn



Site | Twitter | Instagram
My favourite UK Store is Fortnum & Mason, it is quintessentially British and steeped in history, plus even after the suffragettes broke their windows they sent hampers to them in prison! They were in my mind ahead of their game supporting women's rights! They are top of their game providing first class customer service to all their customers. It houses a magical array of Teas, Food hall, Homeware and Beauty, as well as housing a vibrant ice cream parlour, Diamond Jubilee Afternoon Tea Salon, Wine Bar and Restaurant. You can spend a whole day in here, and just wait till you see the Window display installations! I have bought a variety of teas, their Earl Grey is divine and their new spring tea Pistachio & clotted cream its bliss in a cup! Their delicious violet biscuits and refreshing Cassis Gin. I love it that much I actually did a blog post on it!
21 - Becky Moore



Site | Twitter | Facebook | Pinterest | Instagram | Bloglovin
I've never been a huge fan of main-street shopping so when I head into London I avoid Oxford Street and get the train to Liverpool Street and then walk to Spitalfield's market instead. Located in the Brick Lane area of London, the bustling market - which has been there since Victorian times - is home to a huge and eclectic collection of stalls selling vintage, trendy and creative fashion and accessories (many with original designs) as well as tasty artisan food. I love this place for vintage finds, jewellery and always seem to end up buying lots of gluten-free vegan cakes (very niche I know)! The rest of the area is very hip too - filled with street art, quirky shops and cool bars and so when I have the whole day I also explore the rest of the Shoreditch area of London which is where all the UK capital's hipsters scour the vintage boutiques for vintage clothing, retro homeware and bric-a-brac. Sometime I even make a weekend of it too and book a stay in one of these very cool London hotels!
22 - Chanelle Bradshaw



Site | Twitter | Facebook | Instagram | YouTube
My favourite clothing UK shops have to be New Look, Primark and Topshop. I love that in these places (especially Primark and New Look) you can buy nice quality clothes for a decent price. It doesn't matter if it will be out of fashion next season because you never have to spend a bomb! I am not one for spending a lot of money on just one piece of item - usually because I go through clothes so quickly and it depends what mood I am in as to what I decide to purchase.
Primark is also fab for home decor. Again they don't cost a shed load of money but still manage to look cute and quirky. I definitely go to Primark first when browsing for things because I know they will be the cheapest, if I can't find it in there then that's when I'll start browsing around other places.
I do love internet shopping but nothing can beat the experience of actually trying clothes on before you buy!
23 - Jennifer Anderson



Site | Twitter | Facebook | Instagram
My favourite UK store has to be Lush. The whole vibe in the shop is amazing, the staffs are so friendly and chatty without being too pushy and I love going in there to smell everything and have a little demo of the products to see if it's something I want to buy.
24 - Lauren Sourbutts



Site | Twitter | Pinterest | Instagram
My favourite UK brands/stores to shop at are Zara and Mango for well-designed, trend-led, affordable everyday pieces and eye-catching accessories. For finer pieces and wardrobe essentials, I always turn to COS. For something a little bit special, Whistles are always reliable.
25 - Elizabeth Allcock



Site | Twitter | Facebook | Pinterest | Instagram | Bloglovin | Google Plus
Being a shopaholic I have many favourite UK shops and brands that I either visit in store or online from the comfort of my own home. For affordable fashion I tend to visit Primark the most because you can pick up clothes and shoes for under £10 and also Matalan who send me offers quite a bit. If I am looking for an outfit for a special occasion I like to shop at Zara or H&M because the quality is great and everything is on trend. Now were heading into Spring/Summer, the UK supermarkets such as Tesco, ASDA and Sainsburys have some fab, wearable and affordable pieces.
26 - Kelly Allen



Site | Twitter | Facebook | Pinterest | Instagram | Google Plus | YouTube
My favourite purchases have to come from Lush. They stock mostly vegan products, everything is cruelty free and they are committed to becoming full recyclable. Not only that but their staff are amazing! Another go to for me would be Amazon Prime. Items arrive the very next day and their customer service is amazing, they get back to you immediately with any issues raised. I also used Ocado and Morrisons for the first time this year, and both companies use recyclable plastic and their delivery staff are attentive and helpful.
27 - Kumba Dauda



Site | Twitter | Facebook | Pinterest | Instagram | Bloglovin | Google Plus
My favourite fashion shops within the UK include Topshop, Zara and Urban Outfitters. As a Scottish Fashion Blogger I find they always have the latest trends in store and have a huge selection of choices - you just can't go wrong!
28 - Dr. Paul Johnson



Site | Twitter | Facebook | Pinterest | Google Plus
I travel around the UK for sailing events a lot, and would recommend the Helly Hansen brand. It's originally a Norwegian brand, but also popular in the UK and US. They make great jackets, underlayers and other gear - useful not just for sailing-related activities but they also have a great range of ski and outdoor gear. Some of their jackets even come with RECCO® Avalanche Rescue Technology - an electronic method of finding people buried in an avalanche or lost in the outdoors.
29 - Vicky O'Brien



Site | Twitter | Facebook | Instagram
Mother care is my number 1 store at the moment after having another baby. I recently purchased a all in one snowsuit, but when I put in on my daughter back at home I notice there was a error in the stitching leaving a hole.
I went back to mother care to see if I could change it as I had missed placed the receipt, the customer service was very helpful and understanding and allowed me to change it without a problem as it was in its original packaging and unused. There are very reasonable too.
30 - Julie Cheung



Site | Twitter | Instagram
My favourite sites online for shopping are Amazon for gadgets and books, ASOS for clothing and accessories, and eBay for miscellaneous goods and bargains. I'm an Amazon Prime customer as I simply love the next day, and sometimes even same day delivery which I think is great value if you shop frequently on Amazon and a last minute shopper like myself! Similarly with ASOS, I use their premier delivery service which at £9.99 a year means any purchases I make are sent as next day delivery. Coupled with free returns, and regular offers I feel ASOS is a great one-stop shop for quality clothes at a reasonable price. Even though I consider myself frugal I do enjoy a good shop sometimes, so I make sure I go through Topcashback.com, a cashback site which pays you to shop if I ever purchase anything on Amazon or eBay - because every bit of saving counts!
31 - Emma Oxley



Site | Twitter | Facebook | Pinterest | Instagram
I love the variety of shops on the High Street in the UK. Shops like Hobbs and LK Bennett make clothes that are affordable yet designer quality. I like to buy well made pieces and then accessorise them with cheaper options from places like New Look and Primark. This means I can easily update classic outfits to be more on trend without spending lots of money on things that will go out of fashion. I love browsing in Selfridges and Harvey Nichols too. The layout of the shops make the experience feel luxurious and decadent but the high prices definitely reflect this!
32 - Melanie Fraser



Site | Twitter | Facebook | Instagram | Bloglovin
My favourite place to shop this month has to be Lush UK. The experience I recieve when shopping their stores is always top notch. Their staffs are super friendly, keen to assist and so knowledgeable about all of the products they produce and sell.
I popped in to query if a gift card had any credit left and when I found it did and was unsure what to choose the staff helped, giving fantastic suggestions to help me get the best value for my budget. I was also given the opportunity to test a number of products and offered some small samples of products I liked. If you're looking to treat yourself or someone you love I highly recommend the Lush experience!
33 - Emma Louise Layla



Site | Twitter | Facebook | Pinterest | Instagram | Bloglovin | Google Plus
I have an & Other Stories addiction. The Swedish lifestyle fashion brand - COS and H&M's cooler sister - has a broad product offering with a laidback Scandi aesthetic, designed for creative, grown-up millennials, from girly romantic dresses to masculine tailored workwear, retro print tees, statement knitwear and everything in between, and I'm hooked season after season. The 1,000 square metre flagship on London's Regent Street has a cool lifestyle concept vibe - exposed lighting, concrete floors, rails of clothes and minimalist wooden fixtures showcasing own-branded, beautifully-packaged body and beauty products, fashion magazines, unusual jewellery, and scattered with photos from the relaxed street style shoots, and plants for a boutique feel. It's a pleasure to visit, and visit I often do!
34 - Maria Kelly



Site | Twitter | Facebook | Linkedin | Pinterest | Instagram | Google Plus
I have a huge crush on L.K.Bennett shoes and bags. The quality is undeniable! I have never had a problem with any bag and they have lasted for years and years. I do find their clothes are styled toward taller ladies though. I am 5'3", not quite a hobbit so this is disappointing. Saying that, my husbands favourite dress on me was an L.K.Bennett silk handkerchief dress. But generally I stick to their shoes and bags. They always deliver when expected and sending back is hassle free.
A new discovery for me last year is Closet London. They offer dresses mainly. I find them to be really flattering. Currently they are only online but I prefer to shop that way so no problem for me. The fabrics they use are often very pretty and rarely crease. They are cut with a women in mind, with curves and all that go with it. I like that the cut flatters arms and necklines. I also love that the price is great and you always get a cute bag made of one of their lovely fabrics with every order!!
Recently I purchased from Jennifer-Anne The Petite Collection. Jennifer's clothing range is high quality and very elegant. They are cut to fit the petite frame precisely. Her clothes are classic pieces you can wear over many years. Jennifer herself is happy to guide you to items she thinks will suit you so I made a trip to Islington to have a good try on, even though you can purchase online. I would recommend her clothes if quality pieces are required!
Hush Homewear is where I love to buy my many of my casual clothes. I find they have a certain cool, comfortable elegance. They are my go to for lounge wear. I've also bought jewellery and some gifts from them. I've never had a problem, with everything turning up through the post as expected. Returning is straightforward which is always a bonus!
If I buy for my son or husband I often shop at Selfridges. I can be sure of the latest high end brands ensuring I get praise when I buy them a pair of shoes, for example. Selfridges is my secret - they make me look like I know all the latest stylish trends for men! I also love to add a few treats for me from their beauty or food halls. You know, while I'm there... They turn up in a thicker than average box with beautifully folded tissue paper inside. It's a bit of a thrill, I can't lie!!
35 - Navaz Batliwalla



Site | Twitter | Facebook | Pinterest | Instagram
I love British heritage brands and there is nothing nicer than buying those from their flagship outposts in London. Go to the Burberry store in Regent Street to admire the magnificent store and buy your classic trench coat, but also to enjoy breakfast or cake in 'Thomas's cafe', where all the produce is from local suppliers and even the plates that the teacakes are served on are from local craftspeople. From there, you can walk to Fortnum & Mason for foodie gifts and gorgeous men's and women's grooming products. Fortnum's also has a very lovely ice cream parlour where even the cappuccinos come accessorised with their own micro-sized cone of ice cream. Dover Street Market is also nearby, a mecca to cult international brands, from Buly beauty potions, to Comme des Garcons menswear, to Palace skatewear. DSM is known for collaborations, so you will very often find capsule collections here that you can't find anywhere else. (Fun fact: The building used to be a Burberry store and so Dover Street Market often sells capsule collections of deconstructed Burberry pieces.) For another coffee pit stop, the Rose Bakery is a great meeting place on the top floor where you'll often spot fashion bigwigs having a chitchat during fashion week.
I love shopping for fashion books and although the area is changing, London's Charing Cross Road is still a bit of a gem. It has some great second hand bookshops and there is a huge Foyles, which has a good selection of art, photography and fashion books (including mine - The New Garconne!). You will always discover something new in there and it's where I often go for gift shopping if there is someone tricky to buy for. If you like independent bookshops then I recommend Donlon books and Claire de Rouen, both in East London. These are favourite haunts of fashion designers where they can source rare or obscure books for you.
If you are interested in fragrance, London has some very innovative stores where you can make bespoke perfumes or customise existing ones. I like Perfumer H in Marylebone, which specialises in natural notes and is a beautifully calm environment for shopping. It offers a completely bespoke fragrance service or you can buy from its existing collection. All its perfumes and candles come in jewel-coloured hand-blown, reusable bottles and jars that can be stamped with initials. Perfumer H also has an outpost at Blue Mountain School, which is a new multi-functioning retail space in East London. If you like avant-garde craftsmanship, this is a great place to visit. Ormonde Jayne in Royal Arcade, off New Bond Street offers a service where you can semi-personalise the perfumes with different concentrations of ingredients to deliver your preferred strength of scent. In this way, you might well end up with a perfume nobody else has. I also like the new fragrance concept called Floral Street in Covent Garden. (Confusingly, the shop isn't actually in Floral Street, but nearby in King Street, WC2.) It's based around making fine floral fragrances more accessible to a younger market. The bottles and visual merchandising are very vibrant and cool and the packaging is made from pulped paper held together with a chic elastic band to cut down on waste. It's a very different and immersive shopping experience.
Finally, I'm obsessed with stationery and it's having a bit of a boom in London. Liberty always has a great selection and sells the best wrapping papers and cool cards for absolutely any occasion you can think of. Marby & Elm in Exmouth Market sells super-fun, graphic letterpress cards that have a bit of a nostalgic feel to them. They're very witty and you will probably find yourself buying two of everything so you can keep one for yourself. I also love Paperplain, in Marylebone for letterpress stationery. You really get the personal touch and a much nicer experience than buying online. For the classics, you can't beat Smythson, which is where I get my business cards made. I also love their diaries with their signature Nile blue paper. I have been to the factory to see them being made and they do everything the old fashioned way. It's another British company that has a strong heritage of craftsmanship, yet its products are also modern and innovative.
36 - Tajinder Sandhu



Site | Twitter | Facebook | Pinterest | Instagram | Bloglovin | YouTube
There are so many brands to pick from when it comes to shopping in the UK but I have a few go-to places. My high-street picks would include New Look especially as they cater for wide feet and River Island as their items give off instant blogger style. Shopping for my shape can get troublesome but I tend to go with popular online retailer PrettyLittleThing as their clothing (especially trousers) fits me perfectly. More recently I've been shopping with LOTD, they offer great value for money and all current trends.
37 - Lorna Burford



Site | Twitter | Facebook | Pinterest | Instagram | Google Plus | YouTube
As I've lived in the UK all my life, I have quite a few favourite shops here that I recommend to people when they visit! The first one is definitely Topshop, obviously they have gone worldwide now, but you can't beat their flagship store in Oxford Circus in London! River Island is also fantastic for fashion forward trends at a more affordable price too, I do a lot of shopping there! If I was to shop online though, I always head straight to ASOS for cheaper, stylish basics, as well as branded items, but my all time favourite for both in store and online is Allsaints! They have such a classic look to them and make some of the best leather jackets! I can't recommend them enough.
38 - Shannon Clark



Site | Twitter | Facebook | Pinterest | Instagram | Bloglovin
I'm not a big spender but when it comes to items that I wear every single day I like to invest in pieces that are as well made as they are beautiful. As a horse owner, something that I wear every day is a pair of wellies. So it is really important that I have a pair that won't fall to pieces a few months down the line and that is why I always get my wellies from Hunters. Their wellies come in a huge variety of styles and colours, so I can treat myself to a new design whenever I buy a new pair. And, typically each pair lasts me a couple of years which, if you ask me, is pretty good going seeing as I really put them through their paces.
I've been buying my wellies from Hunters for the past ten years and I really cannot see that changing anytime soon. For me Hunters wellies tick all of the boxes – they are pretty, practical and price wise, I think they are reasonable considering how long they last.
39 - Amy



Site | Twitter | Facebook | Pinterest | Instagram
One of my favourite shops is Dunelm. They sell an amazing range of quality homewares at really fantastic prices. I can lose a whole day in that store! I'm also a fan of Argos as they stock pretty much anything you can think of and you can order online to collect in store saving loads of time.
40 - Alice Monk



Site | Twitter | Facebook | Pinterest | Instagram
One of my favourite UK stores is Joe Brown's. https://www.joebrowns.co.uk/ I love to stand out from the crowd and Joe Browns have some really beautiful clothes with lots of character. As a mum, I often find myself in the "jeans and t-shirt" uniform because its easy and functional, but Joe Brown's can put a quirky twist on even the simplest outfit and make you feel more individual. They're good quality too and have lots of sales which is when I usually buy!
41 - Soffy



Site | Twitter | Pinterest | Instagram | Bloglovin | Google Plus
Before Motherhood, I use to prefer in store shopping but now I mostly shop online, retail stores that are online, such as mothercare, or Argos for big nursery items and toys. I also quite dominantly shop on Amazon UK as it's quick and efficient and right to your door. Moreover, I love shopping at Asda George, their clothing are not only reasonable (for children) but also good quality material as well. For example, I have always found the same quality George same as a particular big clothing store, which has shocked me at times considering it would be half the price!
42 - Kristine Archaia



Site | Twitter | Facebook | Pinterest | Instagram | Bloglovin
So I am from London and most of my shopping is done of course in the UK. I am mother of two daughters and mostly I shop for my kids.
The shops I mostly hit lately (meaning the last 3 years) have been Mothercare, TK Maxx, Primark, Debenhams, The little White Company. So basically hight street to hight end shops, we do love shops in all ranges. We also shop at Disney stores a lot for our favourite cartoon characters.
For myself, I love shopping at London Westfields Karen Millen, Dior, All Saints, etc…
That is all for today! Will be back again with another such roundup!
Thank you for all your support, comments and shares!