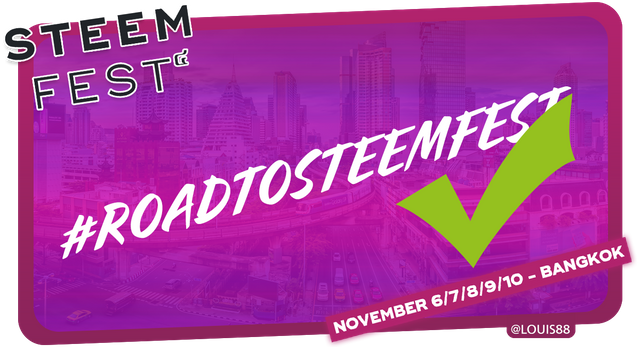 And with this contribution I would like to complete the series. Through the #roadtosteemfest initiative, we Steemians have the opportunity to present ourselves with various topics about the journey to the Steemfest. For example we talk about our fears, who we would like to get to know or about the budgeting for the trip to Bangkok. @blocktrades has created this contest in cooperation with @ocdb. Many thanks for that! A really great action, which was also a lot of fun last year. Well, 2 posts from me are still missing to work through all 10 topics. I still have to write something about "Budgeting" and "Funding". These I write now here in this contribution:

Und mit diesem Beitrag möchte ich dann nun auch die Serie vollenden. Durch die #roadtosteemfest Initiative haben wir Steemians die Möglichkeit, uns über die Reise zum Steemfest mit verschiedenen Themen zu präsentieren. Dabei sprechen wir z.B. über unsere Ängste, wen wir gerne kennenlernen möchten oder eben über das Budgeting für den Trip nach Bangkok. @blocktrades hat diesen Contest in Zusammenarbeit mit @ocd-witness ins Leben gerufen. Vielen Dank dafür! Eine echt super Aktion, die auch im vorherigen Jahr sehr viel Spaß gemacht hat. Nun, 2 Beiträge von mir fehlen noch um alle 10 Themen abzuarbeiten. Ich muss noch etwas schreiben zu den Themen "Budgeting" und "Funding". Diese schreibe ich nun hier in diesem Beitrag:

Budgeting
My way to Bangkok for the Steemfest costs of course also a bit of money. First of all, I saved a lot of money, because I got the SteemFest ticket and the hotel accommodation for a special price, because I bought it from the winner of the SteemMonsters tournament in the end. For this we suggest 200 Euro. Then, when I had the ticket and hotel safe, I took care of the flight. Incl. Rail&Fly and seats the flight costs me about 900 Euro. Just a few hours ago I booked the hotel accommodation on the island Koh Chang - 6 days for 115 Euro. Then I booked a travel health insurance. This cost 10 Euro. Then the flight from Malaysia to Bangkok on 06.11. is still missing - for this I charge about 100 Euro. So the total costs are about 1325 Euro - without pocket money and travel money =)
So considerably more expensive than the trip to Krakow last year... but still fully in the frame.
Finanzen
Mein Weg nach Bangkok zum Steemfest kostet natürlich auch ein bisschen Geld. Als erstes, habe ich aber schon mal ganz gut gespart, da ich das SteemFest Ticket und die Hotelunterkunft zu einem Sonderpreis bekommen habe, da ich dieses über einen Umweg vom Gewinner des veranstalteten SteemMonsters Turnier abgekauft habe. Hierfür schlagen wir mal 200 Euro an. Dann, als ich das Ticket und Hotel sicher hatte, habe ich mich um den Flug gekümmert. Inkl. Rail&Fly und Sitzeplätzen kostet mich der Flug rund 900 Euro. Jetzt gerade eben vor ein paar Stunden habe noch die Hotelunterkunft auf der Insel Koh Chang gebucht - 6 Tage für 115 Euro. Dann hab ich mir noch eine Auslandsreise-Krankenversicherung gebucht. Diese hat 10 Euro gekostet. Dann fehlt nun noch der Flug von Malaysia nach Bangkok am 06.11. - Hierfür rechne ich ungefähr 100 Euro an. Das sind also im Gesamten ungefähre Kosten von etwa 1325 Euro - Ohne Taschen und Reisegeld =)
Also erheblich Teurer als die Reise nach Krakow im letzten Jahr... aber noch voll im Rahmen.

Funding
Well... I already paid all the costs and take the train to Frankfurt to bring my sweet little butt to Dubai and then to Malaysia in a few hours. ;) By translating the contributions for the #roadtosteemfest Posts into German I donated the liquid Steem that came in, so that a SteemFest ticket can be booked for a lucky winner. Since I have recently invested in Steem anyway, this contribution lands on 100% Power Up like some others and that's actually enough for me as a funding. Well, the SteemPrize can be raised again - but that's another topic ;) So - for funding? Just vote. Thanks for that and I return the favor with great travel contributions from the SteemFest :)
Finanzierung
Naja... hab die Kosten ja schon alle bezahlt und setz mich gleich in den Zug nach Frankfurt um meinen kleinen süßen Popo ab nach Dubai und dann nach Malaysia zu bringen ;) Durch das Übersetzen der Beiträge für die #roadtosteemfest Posts in's deutsche hab ich die Liquiden Steem die reingekommen sind versendet, damit dafür ein SteemFest Ticket gebucht werden kann für einen glücklichen Gewinner. Da ich vor kurzem eh in Steem investiert habe, landet dieser Beitrag wie manche andere auch auf 100% Power Up und das reicht mir eigentlich als Funding aus. Naja, der SteemPreis darf gern wieder hoch - aber das is nen anderes Thema ;) Also - zum Funding? Vote einfach. Danke dafür und ich revanchier mich mit tollen Travel Beiträgen vom SteemFest :)

Und hier dann die Übersicht meiner Beiträge für die #RoadtoSteemFest
And here is the overview of my contributions for the #RoadtoSteemFest
✅ A Trip down memory lane - For previous attendees only
https://steemit.com/roadtosteemfest/@louis88/a-trip-down-memory-lane-steem-fest-3-krakow
✅ Planning, wanting, doubting
https://steemit.com/steemfest/@louis88/bangkok-steemfest4-ok-i-m-in-bangkok-steemfest4-ok-ich-bin-dabei
✅ Who would you like to meet in Thailand?
https://steemit.com/roadtosteemfest/@louis88/the-road-to-steemfest-who-i-would-like-to-meet-in-thailand-wen-ich-in-thailand-treffen-moechte
✅ Budgeting
See above
✅ Funding
See above
✅ The Thai life
https://steemit.com/roadtosteemfest/@louis88/the-road-to-steem-fest-or-the-thai-life-and-what-to-expect-das-thailaendische-leben-und-was-ich-erwarte
✅ Business or Pleasure?
https://steemit.com/roadtosteemfest/@louis88/my-road-to-steemfest-or-business-or-leisure-we-will-see
✅ The actual road
https://steemit.com/steemfest/@louis88/the-road-to-steem-fest-my-road-to-bangkok-the-road-to-steem-fest-mein-weg-nach-bangkok
✅ Three truths and one lie
https://steemit.com/roadtosteemfest/@louis88/roadtosteemfest-3-truths-and-1-lie-about-louis88-3-wahrheiten-und-1-luege-ueber-louis88
✅ Fears
https://steemit.com/steemfest/@louis88/my-road-to-steemfest-or-fears-befuerchtungen

Now I've finished everything and I'm really looking forward to my trip to Malaysia and Thailand. Altogether I will be on the road for about 18 days and try to keep you up to date here on Steemit as good as I can.
Many thanks to @blocktrades / @ocd-witness and @anomadsoul who made this contest possible. See you in Bangkok! See you soon ;)
Until then and many greetings
@louis88
Jetzt hab ich alles abgeschlossen und freue mich Riesig auf meine Reise nach Malaysia und Thailand. Insgesamt werd ich ca. 18 Tage unterwegs sein und versuche euch hier auf Steemit so gut wie mir Möglich ist, auf dem laufenden halten.
Vielen Dank an @blocktrades / @ocd-witness und @anomadsoul die diesen Contest möglich gemacht haben. Wir sehen uns in Bangkok! Bis gleich ;)
Bis dahin und viele Grüße
@louis88