The Road to Steem Fest - My Road to Bangkok / The Road to Steem Fest - Mein Weg nach Bangkok

Not even 1 month - exactly 27 days it still takes until I travel to Bangkok. Stop, but not directly to Bangkok... first to Malaysia to visit a friend. Not only a friend - also a great Steemian. With him I will then spend some nice days in Malaysia and fly together with the team Malaysia to Bangkok. At the end of October I will start my long journey to Malaysia and Thailand. My journey starts in Paderborn in Germany. From here I will take a train to Frankfurt airport. Thank God I booked Rail&Fly when I made my booking, so I can take any train to the airport in a very relaxed way. I don't feel like arriving at the airport too late. Since it is an international flight, I also have to be at the airport a few hours before departure and check in. That means... I have to leave my home early in the morning and then be at Frankfurt Airport around 11 am. From there my plane leaves for Dubai at 2:30 pm. And then I sit there first of all... 6 hours 15 minutes in an Airbus A380-800. By the way, I fly with Emirates - they are supposed to be very comfortable and very friendly.

Nicht mal mehr 1 Monat - genau 27 Tage dauert es noch, bis ich nach Bangkok reise. Halt, aber nicht direkt nach Bangkok... sondern erst nach Malaysia um einen Freund zu besuchen. Nicht nur ein Freund - auch ein großartiger Steemian. Mit ihm werde ich dann einige schöne Tage in Malaysia verbringen und gemeinsam mit dem Team Malaysia nach Bangkok fliegen. Ende Oktober werde ich meine lange Reise in das Ferne Malaysia und Thailand starten. Dabei beginnt meine Reise in dem ostwestfälischem Paderborn in Deutschland. Von hier aus werde ich einen Zug zum Frankfurter Flughafen nehmen. Gott sei dank, habe ich bei meiner Buchung Rail&Fly mitgebucht, sodass ich ganz entspannt jeden Zug zum Flughafen nehmen kann. Ich habe nämlich keine Lust, zu spät am Airport anzukommen. Da es ein Internationaler Flug ist, muss ich auch einige Stunden vor dem Abflug am Flughafen sein und einchecken. Das heißt... morgens früh hier von Zuhause aus los und dann so gegen 11 Uhr am Flughafen Frankfurt zu sein. Von dort aus geht mein Flieger nach Dubai um 14:30 Uhr. Und dann sitz ich da erstmal... 6 Stunden 15 Minuten in einem Airbus A380-800. Ich fliege übrigens mit Emirates - die sollen sehr bequem sein und sehr freundlich.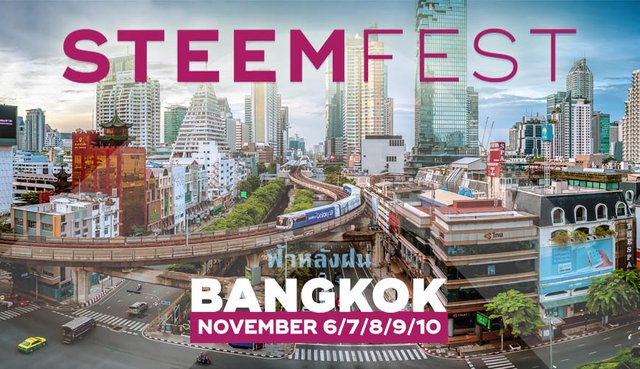 But here are some facts about my trip:
My flight leaves from Germany (Frankfurt Airport Oct.30)
I've never been to Asia before.
My previous flights have never been longer than 3 hours.
From my hometown to Bangkok it is 8.932,36 km.
If I would drive this distance with the car, I would have to drive 12.385,67 km.
Sadly this is my first entry in my passport.
According to the Emirates App, I'm on a plane for more than 27 hours and 55 minutes.
More than 100 Euros were spent for the choice of seats on the flights alone.
I booked window seats in the middle of the plane on all flights.
I will take my photo and video camera with me and tell you about my trip.
Hier sind aber nun erstmal ein paar Fakten zu meinem Trip:
Mein Flug geht ab Deutschland (Frankfurt Airport Oct.30)
Ich war noch nie in Asien
Meine bisherigen Flüge waren nie länger als 3 Stunden
Von meiner Heimatstadt nach Bangkok sind es 8.932,36 km.
Würde ich diese Strecke mit dem Auto fahren, müsste ich 12.385,67 km fahren.
Traurigerweise ist dies mein erster Eintrag in meinem Reisepass
Laut der Emirates App sitze ich mehr als 27 Stunden und 55 Minuten im Flugzeug
Über 100 Euro sind alleine für die Sitzplatzwahl auf den Flügen drauf gegangen
Ich habe mir Fensterplätze in der Mitte des Flugzeugs auf allen Flügen gebucht
Ich werde meine Foto und Video Kamera mitnehmen und euch von meiner Reise berichten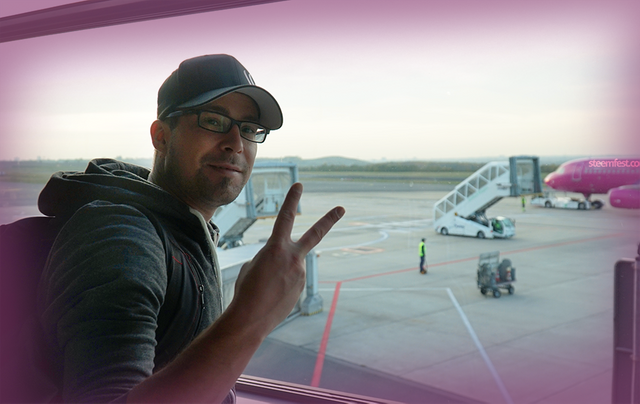 Me at the Airport Dortmund last year on the Way to SteemFest3 in Krakow
My itinerary is something like this.
🚅 Train to FRA -> 🛫 DXB -> KUL -> BKK
🙌🏻 SteemFest4 🙌🏻
🛫 BKK -> DXB -> FRA -> 🚅 Train to Home
For those of you who want to give me a highfive at the airport:
🛫 Departure: October 30th at 14:30 from FRA / Frankfurt Airport
🛬Ankunft: 30 October at 23:45 in DXB / Dubai
🛫 Departure: 31 October 03:30 from DXB / Dubai
🛬Ankunft: 31 October 14:35 in KUL / Kuala Lumpur
Then there is another flight, which is still planned from Kuala Lumpur to Bangkok. But also believe that the flights there will not be so expensive.
🛫 Departure: 17 November 20:35 from BKK / Bangkok
🛬Ankunft: 18 November 00:50 in DXB / Dubai
🛫 Departure: 18 November 03:20 from DXB / Dubai
🛬Ankunft: 18 November 07:35 in FRA / Frankfurt
5 different flights on the way to Malaysia / Bangkok :)
Mein Reiseplan sieht ungefähr wie folgt aus:
🚅 Zug nach FRA -> 🛫 DXB -> KUL -> BKK
🙌🏻 SteemFest4 🙌🏻
🛫 BKK -> DXB -> FRA -> 🚅 Zug nach Hause
Für die, die mir am Airport noch nen Highfive geben wollen:
🛫 Abflug: 30. Oktober um 14:30 aus FRA / Frankfurt Airport
🛬Ankunft: 30. Oktober um 23:45 in DXB / Dubai
🛫 Abflug: 31. Oktober 03:30 Uhr aus DXB / Dubai
🛬Ankunft: 31. Oktober 14:35 in KUL / Kuala Lumpur
Dann kommt noch ein Flug, der bisher noch geplant ist von Kuala Lumpur nach Bangkok. Glaube aber auch, das die Flüge dort auch nicht so teuer sein werden.
🛫 Abflug: 17 November 20:35 aus BKK / Bangkok
🛬Ankunft: 18 November 00:50 in DXB / Dubai
🛫 Abflug: 18 November 03:20 aus DXB / Dubai
🛬Ankunft: 18 November 07:35 in FRA / Frankfurt
5 verschiedene Flüge auf der Reise nach Malaysia / Bangkok :)
---
I'm already totally excited... But there are still some things missing that I have to do in the next few days. I have to go to the doctor again, get a little vaccination. I have to ask a friend about his big suitcase. 30kg luggage I have free :-) I hope that the Bowling Cup is not made of pure gold, otherwise I have to leave other things in Bangkok ;) I still have to take care of the visa documents and enter the necessary data so that I don't have to do this on the plane or there are complications at the airport.
I am curious whether I will find someone at the airport who also flies to Thailand for the Steemfest. I am very much looking forward to seeing the friends from Krakow again and making new friends.
See you in Malaysia and Bangkok! 27 days left 🙌🏻
Your louis88
Ich bin schon total aufgeregt... Aber einiges fehlt noch, was ich in den nächsten Tagen erledigen muss. Ich muss noch einmal zum Arzt, mich ein bisschen Impfen lassen. Ich muss noch einen Freund nach seinem großen Koffer fragen. 30kg Gepäck habe ich frei :-) Da wird so einiges rein gehen - ich hoffe, das der Bowling Pokal nicht aus purem Gold ist, sonst muss ich andere Sachen in Bangkok lassen ;) Ich muss mich noch um die Vorlagen für das Visum kümmern und die benötigten Daten eintragen, damit ich dies nicht im Flugzeug machen muss oder es am Flughafen zu Komplikationen kommt.
Ich bin gespannt, ob ich jemanden am Flughafen finden werde, der auch nach Thailand zum Steemfest fliegt. Ich freue mich auf jedenfall sehr, das es bald los geht und die Freunde aus Krakau wieder zu sehen und neue Freundschaften schließen kann.
Wir sehen uns in Malaysia und in Bangkok! 27 Tage noch 🙌🏻
Euer louis88
---