The Road to Steem Fest | Funding thanks to HF 21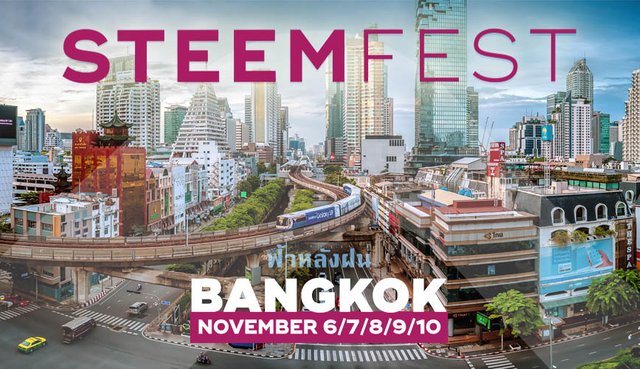 Attending Steem Fest is not easy, there is a lot of planning, wishing and then , budgeting - and the worst part, paying - and we saw how expensive it can be on the last
#RoadToSteemFest
where we were able to read about everyone's budget.
With the Hard Fork 21 coming in less than 7 days now, every post payout will behave differently than what we are used to. The reward curve will be different, the ratio of author vs curator rewards is changing, we have the SPS... pretty much everything regarding payouts will change.
So, it's our chance to make high quality posts and get higher rewards than before, especially since everyone joining will get a Blocktrades vote to surpass the reward curve!
Let's make this post about...
Why do I want to go to Steem Fest? Help me fund my trip!
Tell us why you want to go to Thailand! Write such a great post tht everyone will want to vote it to help you fund your trip to Bangkok in Novemeber to meet a bunch of Steemians there!
Small set of rules:
You have until Friday 30th of August to post about this topic.
Use the tag #roadtosteemfest and #blocktradescontest so we can all find the posts and get to vote on our posts to help out our funding.
Every Steemian who makes a quality post about this topic, will get a vote from @blocktrades - percentage may change depending the quality of the post, just make sure to use the tags "roadtosteemfest" and "blocktradescontest". On the last week, we had to make some adjustments on the VP so some posts didn't get a blocktrades vote, sorry for that but it will not happen again :)
This #RoadToSteemFest initiative, just like last year's, will run until the previous week of Steem Fest. There will be around 16 topics regarding the #roadtosteemfest so make sure to try and join every one of them because...
...everyone who joins in on at least 75% of the topics, will be eligibile to win a big surprise in Bangkok. This surprise will be revealed later down the road and only people who attend SF will be able to receive it.
Remember, you have until Friday, August 30th to publish your Funding post.
---
There is already two contests to win Steem Fest tickets + Accommodation in Thailand sponsored by @blocktrades and @actifit and @steemhunt check the actifit one here and check the @steemhunt one here
Thank you everyone who made a post about this. Any vote or resteem is appreciated, since all the liquid rewards from this post will go to fund one lucky Steemian's Steem Fest 4 entry ticket.