Rivetz and Peer Mountain Partner to Deliver World-Class Security for Decentralized Identity Network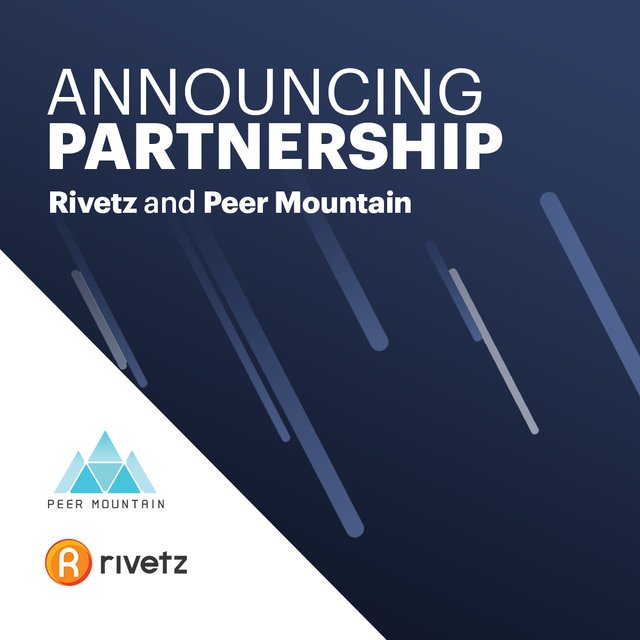 New Partnership Enables Hardware-Level Protection of User Identities and Digital Assets for Commerce and Beyond
LUXEMBOURG, Luxembourg / RICHMOND, Mass. – October 10, 2018 – Rivetz, a pioneer of blockchain-powered, embedded mobile security solutions, and Peer Mountain, the leading cross-blockchain protocol for self-sovereign identity, today announced a partnership to bring advanced cybersecurity protections for user identities and digital assets, enabling simpler and safer commerce at scale.
Rivetz will enhance Peer Mountain's decentralized identity network with hardware-based cybersecurity protections. Peer Mountain will boost Rivetz's security offerings through its advanced user identity verification through its trust ecosystem.
"Protecting our digital assets including our identities will be a key factor in the digital age,"
said Jed Grant, CEO of Peer Mountain.
"Combining the strength of Peer Mountain and Rivetz will allow us to guarantee our users the highest security standards in this newly decentralized world."
Peer Mountain is the only decentralized identity network that serves consumers who want a self-sovereign identity, service providers who need continuous, reliable compliance and trust providers who offer validation services that need trust interoperability and portability. The Peer Mountain Token (PMTN) is a utility token used to exchange value within the Peer Mountain ecosystem, where every peer in the system is an attestation engine, receiving a micropayment in PMTN every time they provide validation for another Peer Mountain entity.
"Peer Mountain offers end-users advanced decentralized identities and businesses a compliance ecosystem powered by distributed ledger technology,"
said Steven Sprague, founder and CEO of Rivetz.
"We are happy to introduce a modern token model that validates and enriches identity in combination with military-grade cyber security power-driven by blockchain."
Rivetz's best-in-class security solutions hinge upon access to the Trusted Execution Environment (TEE), which is an isolated, measured computer environment separate from the operating system. By provisioning all digital transactions through the TEE, Rivetz assures that users' private keys cannot be altered or stolen if the operating system were tampered with or infected by malware.
About Peer Mountain
Peer Mountain is a cross-blockchain protocol that connects self-sovereign ID holders with businesses enabling commerce at scale. We are the only decentralized identity network that provides businesses with instant cost-effective regulatory compliance, puts people in control of their protected personal information and pays ID verifiers for their trustworthiness. Peer Mountain is working with a major Swiss financial institution to develop its platform, which it will roll out to 12 million Swiss and German end users by the end of 2019. For more information, please join the discussion in the Peer Mountain Telegram group.
About Rivetz
Rivetz technology and services aim to provide a safer and easier-to-use model for all users to protect their digital assets using hardware-based trusted execution technology. The device plays a critical role in automating security and enabling the controls that users need to produce high assurance data and benefit from modern services. Rivetz leverages state-of-the-art cybersecurity tools to develop a modern model for users and their devices to interact with services on the Internet. They were selected for Telecom Council's prestigious Innovation Showcase Class of 2018. Find out more at www.rivetz.com and follow Rivetz on Facebook, Twitter, YouTube and Telegram.