I love every form of entertainment that takes me to an entirely different world, or even just another person's world. Therefore, I love books and movies most of all, but I'm an extremely average consumer: I don't usually care much about technicalities, and my "expertise" comes merely from having read and watched a lot of different things. I love both "heavier" movies and blockbusters and I never expect either genre to rise to the same standards.
I like to record my opinion on things, so I often write reviews about what I like, don't like or is extremely popular. I try to keep my reviews as general as possible, but proceed with caution.
---
SPOILER ALERT FOR THIS REVIEW: MILD 🌶
MAMMA MIA! HERE WE GO AGAIN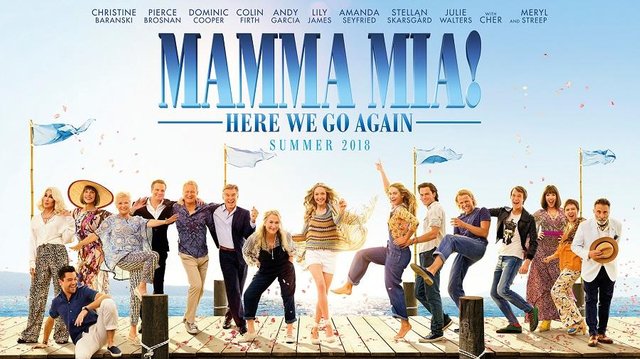 UNIVERSAL PICTURES
Fair use
Cinematography: 8/10
Acting: 8/10
Story: 5/10
Entertainment: 7/10
I longed and waited for this movie to come out, rejoicing when it was announced and when it wrapped (the same day as the sequel to Fantastic Beasts, incidentally). I love musicals, I love escapist, joyful comedies, and I love ABBA. I've seen Mamma Mia! as a show multiple times and I adore the original movie. The soundtrack is very often on repeat in my car and, as a result, I've known the songs by heart for years.
It should therefore come as no surprise to know that I rushed to the theater as soon as this sequel/prequel came out (alone, since my bf was at work, but I took it as a good sign since I had watched the first movie alone, too). Unfortunately, I was a little underwhelmed. The score is great, the acting and singing is too, the scenery and costumes are beautiful, and the movie is just as fun, joyful, and entertaining as the original. The only thing lacking is a plot.
Three things I liked
The music. ABBA music is incredibly catchy, adorable, and feel-good and it's bound to make anything better. This movie's score is probably not as memorable as the first, but it's got some great hits in I kissed the teacher, Waterloo, and Fernando, and it also ties very well with its predecessor by often quoting previous songs. The choreography is also very good and entertaining.

The cast. Everyone was simply wonderful, with only one exception. I really like Amanda Seyfried, and adored Lily James as young Donna. I also have a big crush on Colin Firth and Dominic Cooper, and Pierce Brosnan is always very charming. The three young fathers-to-be were also rather easy on the eyes. The singing and acting was on point and it was almost eerie to see how much the young Dynamos resembled their older counterparts.

The dialogue. Fun, spunky, entertaining. Everything we came to expect from the first movie.
Two things that meh
Cher. I didn't understand the Cher character at all. She's barely even there at all: she walks in, sings Fernando (not memorably, in my opinion), speaks a couple of lines of dialogue, and that's it. I think her character was superfluous, at most, and not fully attuned to the franchise's mood and lightheartedness. She could certainly have been written slightly better.

Donna. If you don't know, yet, I'm not going to spoil the reason for you, but Meryl Streep is hardly in this movie at all. In 40 years of acting she's never agreed to a sequel before and, apparently, the production was only able to talk her into a cameo for this one. I'm glad she agreed: the movie is bound to be a great success and I'm sure she won't regret taking part. But I wish she could have been moved to participate more. Donna is the driving strength and beating heart of Mamma Mia! and her absence was sorely felt from the sequel part of the movie. Luckily, Lily James was a great young Donna herself, so we weren't left completely without her.
One thing I didn't like
The plot. Because there's none. The film moves back and forth between a prequel and a sequel to the first movie and if the prequel still has something akin to a logical thread, the sequel is nothing more than a succession of beautiful scenes, nice dialogues and captivating musical numbers, without no real plot.
In the prequel we see a young Donna graduating and leaving England to travel the world, finding her place in her the little Greek island, meeting and falling for Harry, Bill, and Sam. It's the better constructed half of the movie, even though we know what happened: the story develops a little differently than what was told in the first movie, but not significantly. I'd have loved to see young Sam actually draw his plan for Donna's hotel on a table napkin, like he said he did in the first movie, but that's ok. The music is fun, the singing and dancing contagious, Donna is adorable, and the three guys very charming (I though Bill looked like a future serial killer, but that's probably just me).
In the sequel, Donna's hotel has finally been re-hauled and is ready for a big, stylish, opening night. And that's it. Really. No real conflict, no real drama, nothing. Every little hitch is resolved within minutes and ends up not being a real problem at all. As the trailer shows, Sophie finds out she's pregnant and I was expecting the movie to draw a parallel between Donna's pregnancy and Sophie's but no: the only thing they have in common is that they're both on the island. Sophie has a partner and a big extended family around her and the pregnancy announcement comes after every other minor glitch had been solved. Honestly, I was very underwhelmed by this part of the movie because as it is it feels like mere filler for the prequel storyline. Since they were doing it, they might have put a little more effort into it.
The bonus
The man at the ferry passport booth. Pretend this is a Marvel movie and stay for the post credit scene: it won't disappoint.
Saved by the past 🍪🍪🍪🥛⚪️
---
And since after weeks of silence I've managed to get this review out on this very day, it's a great opportunity to wish
A VERY HAPPY BIRTHDAY
TO MY OWN MAMMA
even though she's not on Steemit nor does she know of its existence!