4 Long Months From 62 To 63 Reputation
It took me four long months from reputation 62 to get to the reputation score of 63. As I'm tracking and keeping data about lots of things, following my reputation score progress was and still is just one of them.
These reputation score data are telling me that I began my 62 reputation journey this year on May 23, and ended it up a few days ago, on September 23, 2018. As it happens to be that I reached the reputation score of 63 on the exact date in the month when I started to climb to that "peak," it wasn't hard to calculate that this ride took me four months exactly.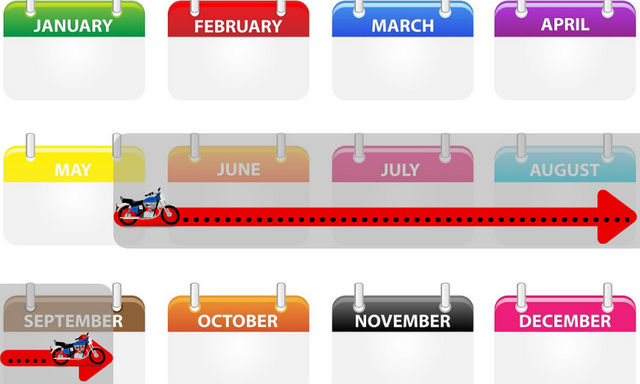 Own derivative work with illustrations from Pixabay. Credits to Kaz for calendar-icons, and OpenClipart-Vectors for motorcycle-motorbike, both used under the CC0 Creative Commons license.
At the time I'm typing this my basic Reputation score number is 16,714,821,050,095 (you can find this number at steemd.com or by replacing the "UserName" in the following link with your or anybody else's Steemit username - https://steemd.com/@UserName).

Screenshot from
Steemd.com
From this number, with some more or less complicated formula is calculated the simplified score number that we can see on our Steemit blog page displayed next to our usernames. Each action and activity that we perform on the platform or better to say on Steem blockchain (as it doesn't matter which app or Steemit mirroring site we use) will increase that number. Of course, the most significant impact would make the upvotes that we receive (no matter if for our posts or comments).
When the new account is created, it's automatically granted with 1,000,000,000 Basic Reputation score that we would see on our blogs as the Reputation score of 25. For reaching every next level, we would need to increase our Basic Reputation score number for about 30% or to be more precise around 29,15%.
In other words, a new member with just created a new account would have to increase, through its activity, the above mentioned automatically granted 1,000,000,000 BRS (Basic Reputation Score) up to 1,291,549,665 to reach the Reputation Level 26.
That way, as the approximate 30% increase is calculated on the new BRS number, each next reputation level is getting harder and harder to achieve.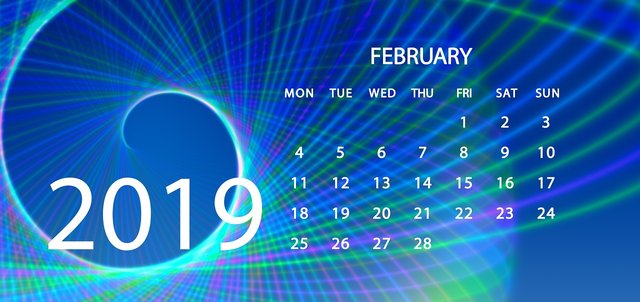 Image from Pixabay. Credits to geralt for agenda-calendar-2019, used under the CC0 Creative Commons license.
Therefore, for me, to get from current Reputation Level 63 to the next Reputation Level of 64, and having in mind all the above said, it means to increase my Basic Reputation Score for about another 4,850 billion (4,850,000,000,000) or so.
It's approximately the same journey a new member with reputation level 25 would have to reach the reputation level 31. In other words, not that easy to achieve as it might seem.
For me, it also means, and in case if I'm going to keep my activity at the same level as it was in the past four months, it would be a new at least five months long ride. In that case, and if my predictions and calculations are correct I might get to Reputation Level 64 somewhere at the end of February or beginning of March next year.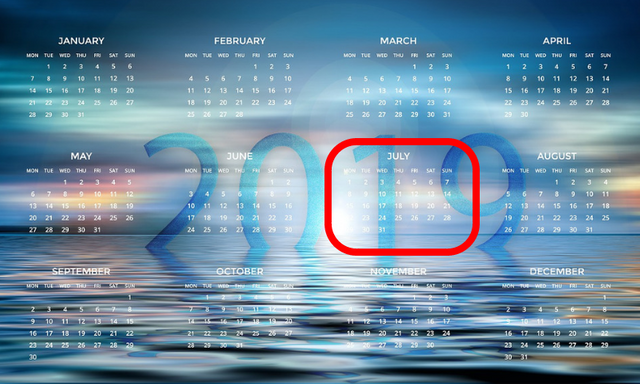 Own derivative work with the image from Pixabay. Credits to geralt for calendar-2019, used under the CC0 Creative Commons license.
But as well, it could easily happen, as many factors are influencing this, that this journey of mine to Reputation Level 64 may take twice as long. In that case, I would reach that new "peak" of mine only in July 2019.
However, if some miracle (in the form of some whale's or orca's over a sudden decision to start supporting my work) wouldn't happen in the meantime, if nothing, I'll need to buy myself a new, better "bike" than the one I was using for my ride from 62 to 63 reputation level and fill it up with plenty of gasoline. 😜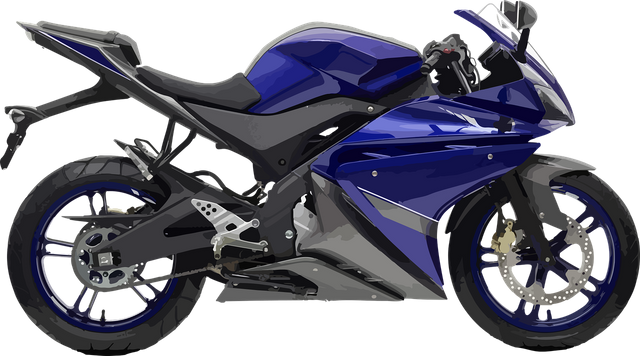 Own derivative work with illustration from Pixabay. Credits to alt11 for engine-motorcycle, used under the CC0 Creative Commons license.
---
Posted on Tuesday, September 25, 2018
---