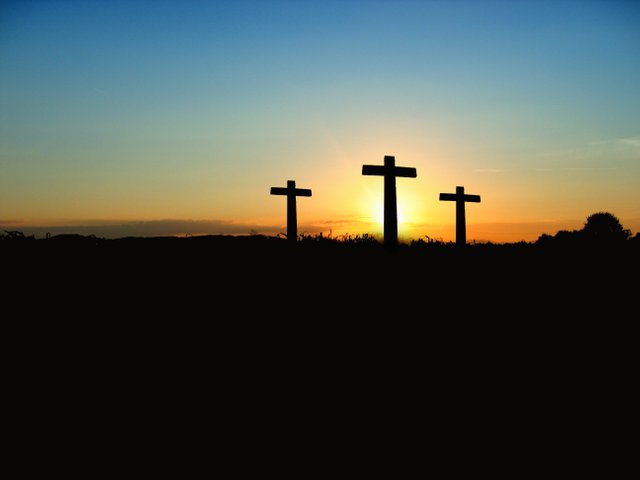 Pexels
I don't share much when it comes to religion. I have always been of the mindset that if it comes up organically in the course of a conversation, I'm more than happy to talk about it, but I generally don't dive into matters of faith unsolicited. I guess today is an exception. Why? I would like to get my thoughts out onto the blockchain at least once, for starters. And also, a song in church struck me yesterday with its simplicity and how powerfully the message resonated with me.

For those not in the know, modern music at the kind of church where the pastor wears jeans (like my church) has come a long way from the days of the pipe organ and the hymnal. Nowadays it's much peppier, with all kinds of instruments. But oh boy do I prefer those hymns. To me, the guitar has and always will be just a little too "college kid trying to impress the ladies" for me to take it seriously at the front of a church. Give me a good old hymnal, a pianist who knows what they're doing, a choir, and I'm there. But that seems to be mutually exclusive to the whole "church that has a single congregant under the age of 50" idea, so I am stuck with modern worship music, complete with guitar and no fewer than 120 beats per minute.
You can imagine my delight, then, when my church began introducing a "hymn" as part of their morning worship a week or so ago. Unfortunately, the accompaniment still had six strings and the song moved at about twice the speed of the original, but the melody was largely intact and the lyrics were generally unchanged. So yesterday, we sang this song, which I have probalby not heard or sang before then for at least a decade: "Jesus Paid It All." The chorus goes like this:
Jesus paid it all,
All to Him I owe;
Sin had left a crimson stain,
He washed it white as snow.
The Bible is full of all kinds of symbolism and imagery. Most of it was pretty relevant to daily life back when it was written, I'm sure. Agricultural analogies abound, and there is a fair amount of animal husbandry and blood in there. Not too easy to interpret in the 21st century. But financial imagery, now that I can understand without the aid of a pastor or a concordance.

I had an epiphany of sorts while singing this song, which is this: the first two lines of the chorus perfectly summarize my faith. This is what I believe, and how it relates back to that song:
In the cosmic ledger of life, God keeps an account for each of us. The moment we do something wrong, it's tallied against us as a debt we have to pay. That small lie you told about why you were late to work? Debt to pay. That time you swore at your mom back in high school? Debt to pay. That time you robbed a bank and had to murder the only witness? Debt to pay. These debts stack up and stack up your entire life. Then you die. And then you are in front of a collections agency run by God, and it's time to pony up.
Even if you only owe a single penny, you're still on the hook for payment. Unfortunately, we have nothing God wants at that point and no ability to pay. So, unable to settle our debt, we are separated from Him forever. What that looks like, some people call hell, or a lake of fire, or any number of other things. But at the end of the day, it's really just separation from God for eternity.
The only way to join God after this life is over is to have lived a perfect life. To have accrued zero debt. Clearly, this is impossible. Personally, I'm waaaaay in the hole at this stage of the game. The point is, it doesn't matter how good a life I lived: if I messed up just once in my life, I'm not good enough.
But what if someone else paid my debt for me? What if someone came along, lived a perfect life, and then took on my debt? What if this person did that purely out of love, and offered this gift of debt-elimination to me? Would I accept that gift? Several years ago, I did. My debt has been paid by someone else.
Now the second line: all to Him I owe. Because I am so incredibly grateful for the fact that someone paid off my debt, I want to give anything and everything I can to this person. I will never be able to repay what was done for me, but I want to try.

I love how this hymn, in those two short lines, basically summarizes what it means to me to be a Christian. You owe a debt to pay for all the wrong you've every done. It's impossible for you to ever pay off this debt. However, someone else has paid your debt for you, and you just need to accept the gift. With that acceptance comes a gratitude that impacts your behavior and your outlook on life from that point on.
If this mirrors what you believe or close to it, I hope you found some encouragement here.
If this is something that's just "not for you", I still thank you for reading my post. I just want to leave you with one thought: there is hope out there. If you ever feel hopeless or empty, I personally believe that anyone can find answers through Jesus.
If this is all new to you or you've heard it before but just never given it much thought and now you'd like to know more, I'd love to speak with you. Feel free to message me on Discord where I am DollarsAndSense#7718.



Join us @steemitbloggers
Animation By @zord189, Dividers By @jaynie