The Type of Love That Lasts
When you beg someone to love you, be prepared to always beg to sustain such love. Likewise, when you buy someone's love with money or material things, be prepared to always pay to sustain such love.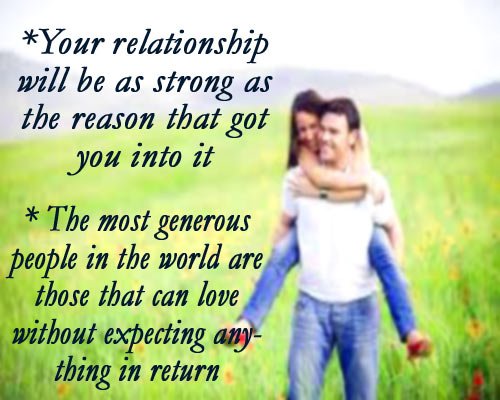 Love given out of sympathy or material gains hardly stands the test of time. Love is something that should be given freely and willingly. It's a decision we make to those we think are invaluable to us and worth risking our time, energy, resources and life for. It's like pledging to commit yourself to the happiness of someone else without them asking you to because you think such a person worth it.
Relationships where love is built naturally stands higher chance at succeeding than relationships where the love was influenced by one of the partners. Money, sympathy and any other thing can buy love temporarily but such love will always wane. This is why I always tell singles seeking to go into relationships and those trying to build lasting relationships with their partners to only give their love to those that love them freely for who they are.
When someone loves you freely for who you are, both of you can easily work through your differences and make the relationship work because there's a special bond of connection between the both of you. But when someone loves you because you influenced him/her to love you, the differences between both of you will always be there, and one very sad thing about such type of relationship is that the person that's begging for love will be the only one putting in all the work to make the relationship work. But the sad truth is that such a one sided relationship will hardly work because relationship is a game for two and it requires both partners to give it their best shot in order for it to be long lasting and enjoyable.
A person's reason for being in a love relationship with you is very crucial to the success of your relationship with such a person. Also, how seriously your relationship will be taken by your partner and invested in by him/her is very much dependent on what's connecting both of you together. Have you ever sat down and ask yourself 'what the love connection between you and your partner is.'
Should your partner get what he/she is getting from you from someone else, do you think he/she would still be with you or consider you a suitable partner for him/her? Some of us are consciously hanging on a relationship we know is non-existent because we're scared of starting over again or for whatever reason best known to us. But I think it's very pointless to waste more time on something that's already programmed for failure.
Being in a relationship with someone that doesn't love you freely for who you are is a waste of time. It's even worse if your partner is just hanging there with you out of sympathy or because of the material things that you're offering. They are certainly going to get tired of loving you out of sympathy or find someone else that can offer them more material benefits than you can offer. So stop wasting your time with such type of people and save yourself from the unnecessary tension and stress. Love that is influenced hardly stands the test of time. Anyone that can't love you freely for who you are doesn't worth your attention, let alone your love.
Dont waste your time, emotion, energy, attention, resources and life on people that you have to beg or appease in order for them to love you and be with you. Such relationship has no foundation and any little wind - not even storm, will send it crashing down real fast. Dont waste your life on undeserving people because you deserve very much more.
If he/she cannot love you freely, then he/she doesn't deserve your love and everything that goes with it.
Thanks for visiting my blog.