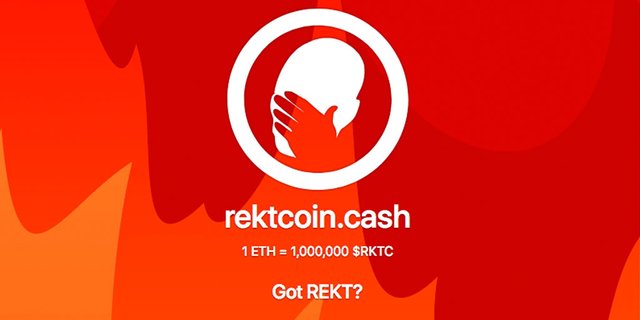 It is about 4 years ago that the original REKTCOIN resurrekted on Bitcointalk. It was a short lived token to salvage those who got rekt in crypto, then only 3 months later it got REKT itself as you can see here on CMC.
So the idea for REKTcoin is not new. We are just here to improve it, especially the use case. We stand for the original values of REKTcoin: to offer some comfort to those who got rekt.
But REKTCOIN.cash is also the new and improved REKTCOIN.
Heck, one can even say REKTCOIN.cash is REKTCOIN:
No need to mine. You can just funnel your ICO's ETH revenues directly to the REKTCOIN.cash address on the Ethereum Mainnet and get $RKTC instantly as ERC20: 0xf3e61d4a877ef82d68ebc97acf99e1c08ee342f2.

Instant Whale Guarantee: 1 ETH already gives you 1,000,000 $RKTC

No security token, pure utility: to indicate you got rekt, you need to hodl some $RKTC on your ETH address.

Some unconfirmed, ungrounded, reports say by having minimum 1,000,000 $RKTC on your ETH wallet actually protects you from getting any further $RKTC.

Scarcity: Only 294 ETH worth of $RKTC can ever be issued.

Attractive bonus: Get 5 ETH of $RKTC in 1 go via 0xf3e61d4a877ef82d68ebc97acf99e1c08ee342f2 and get a SteemFest 2018 ticket.
---
0xf3e61d4a877ef82d68ebc97acf99e1c08ee342f2
minimum contribution 0.1337 ETH
---
| | |
| --- | --- |
| Hard cap | 294,553,323 $RKTC (294 ETH) |
| Minimum contribution | 0.1337 ETH |
| Maximum contribution | 1337 ETH |
| Bonus | 5 ETH = SteemFest ticket |
| End date | 07 Nov 2018 19:00 UTC (start of SteemFest 2018) |
| Send ETH to: | 0xf3e61d4a877ef82d68ebc97acf99e1c08ee342f2 |
---
F A Q
Are you joking?
What would be the joke? REKTCOIN.cash offers a way to get $RKTC and and attractive bonus. It is a place where you can donate some $ETH which will help fund SteemFest. If you donate considerably, you even get a ticket to SteemFest (and maybe even a REKTCOIN.cash t-shirt).
How to contribute?
Send ETH (minimum 0.1337) to the $RKTC ERC20 contract address: 0xf3e61d4a877ef82d68ebc97acf99e1c08ee342f2 and get instant $RKTC in your wallet returned. Don't send from exchanges (!) directly but always send from an ETH wallet you have access to.
How to apply for the 5 ETH SteemFest Ticket Bonus?
First off, you are epic. You make SteemFest happen for the not so fortunate, you found a way to have crypto make the world go round and round. Donate the minimum of 5 ETH, then reach out via steemfest@gmail.com (subject 5 ETH REKT BONUS) with your ETH wallet address, and the signature of the exact message: STEEMFEST 2018 - 5 ETH RKTC BONUS TICKET (sign with your ETH wallet address used to obtain minimumly 5 ETH worth of $RKTC (5,000,000+), and you get the ticket in your inbox.
What are you going to do with the ETH collected?
All proceedings go to funding SteemFest 2018, 7-11 November Kraków Poland.
---
REKTCOIN.cash official SteemFest 2018 sponsor
Come to SteemFest 2018 in Kraków!
Get away from those candles.
Have a drink and a good time.
Then moon.
(rinse, repeat)