Hello Steemians! Today I will show you how to elaborate a Pascualina Tart.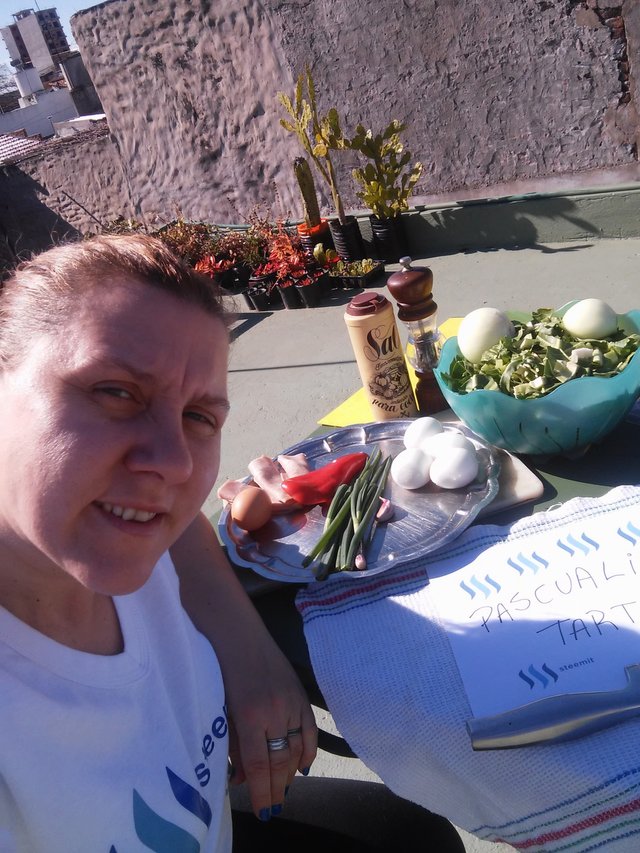 The Pascualina Tart is traditionally served during Lent, but it makes an excellent lunch or supper any time of year. You may either elaborate your own puff pastry for the Pascualina Tart or buy the premade puff pastry and elaborate the rest of the recipe. I will show you how to elaborate the Pascualina Tart and how to elaborate the puff pastry in case you don't want to buy a premade one.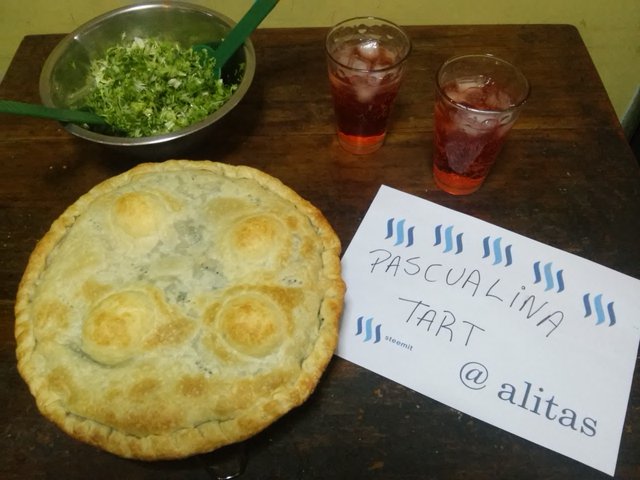 Puff Pastry (for the Pascualina Tart caps)
You will need:
| 400 grams General Purpose Flour | 400 grams cold butter |
| --- | --- |
| Lemon Juice | Salt |
Put the flour in a bowl, a teaspoonful of salt and cold butter in small pieces. Add two tablespoons of lemon juice and 300 cm3 of cold water. Mix with a wooden spoon joining it together. Put on a clean table and stretch it with a rolling pin. Fold it in three sections, stretch again and repeat the process six times. Set it aside for one hour and then stretch it.
Make two buns and stretch them to form the two caps for the Pascualina Tart.
Pascualina Tart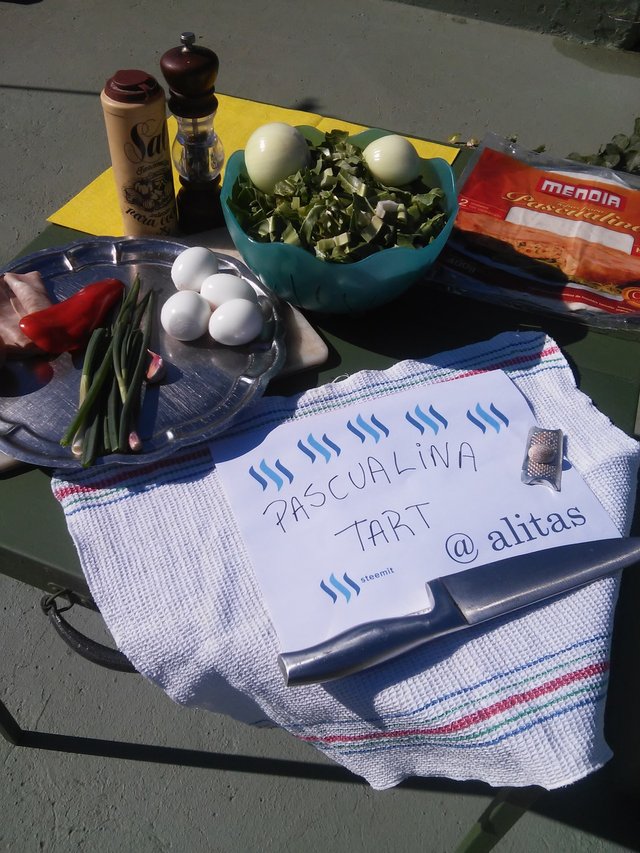 You will need:
| 1 Garlic Clove | 1 Bunch of Chard |
| --- | --- |
| 1 ½ Onion | 2 Scallions |
| 3 Slices of Ham | 1/4 Bell Pepper (red) |
| 1 Raw Egg | 4 Hard Boiled Eggs |
| Nutmeg | Salt, Pepper |
| Grated Cheese | 2 Pascualina Tart Caps |
Elaboration
Boil one bunch of chard and then chop it; set aside. Saute the onion, the scallions, clove and bell pepper. Add them to the boiled chard.
Mix the preparation with one raw egg, the slices of ham, salt, pepper, nutmeg and grated cheese.
Put one of the Pascualina Tart caps on a pizza pan. Spread the preparation and on top put four hard boiled eggs (you may cut them in if your wish) and cover with the second Pascualina Tart cap.
Put in an oven over high heat during about 40 minutes (20 minutes in the lower side of the oven and 20 in the upper side).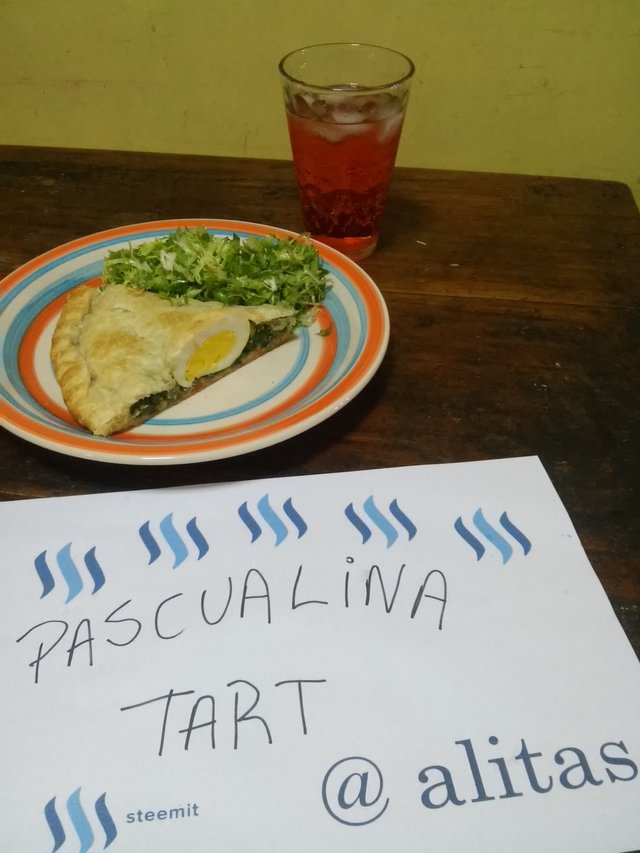 Serve and enjoy!
•♥•☆ @alitas •☆•♥•
Check my other recipes on Steemit:
My Organic Marmalade Crêpes!
Let's prepare a Guacamole!
My Vegetable Soup
How to prepare a Squid Cazuela with waffle fries!
Hi Steemit, I'm Alejandra! Let's prepare some argentinean 'tortas fritas'
Also you may want to read:
New Steemit Ambassador Invites you to a City Tour through Buenos Aires, Argentina!
If
Gyuri and Mariska (my parents)