Passion Fruit Juice + Soy Milk Recipe!
Would you like to read this post showing you a new veggie-fruit juice I tried on the first days of my return home after a 3-week trip to Europe because you might want to try it yourself?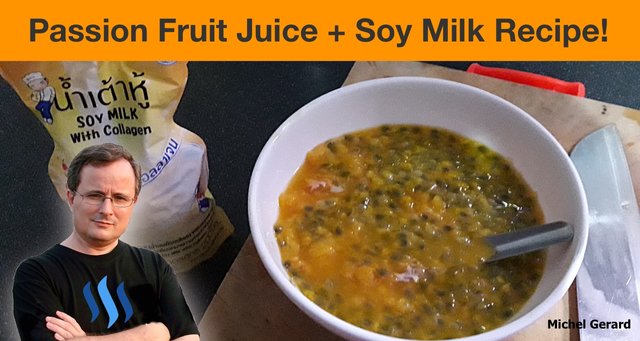 I knew that spending 3 weeks in Europe, in a motorhome and without a juicer, that it will be difficult to get my daily juice.
You may want to read my post to see how I started juicing: I Invested in a Kuvings Cold Press Juicer!
During the trip in Europe, which turned to be France and Switzerland, I bought some bio juices in supermarkets, but even if they tasted good the fruit and veggie they chose to mix was a bit strange and at the end quite sugary.
I went back to my juices here in Bangkok a day after we arrived home and it felt really good.
What I want to share with you today is a new recipe I have just tried.
You can read all my other posts about juicing here: Fruit-veggie juices & smoothies
All photos are mine and taken with my Samsung phone.
Passion Fruit Juice + Soy Milk Recipe!
This juice is very easy to make and it's not the first time I experiment with passion fruits as a while back I tried a similar thing, but it was a smoothie.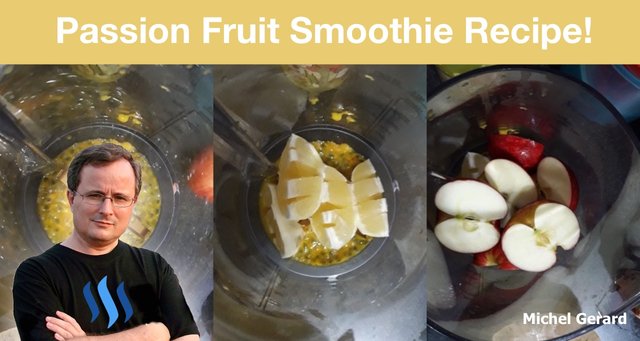 You can read the post here: Passion Fruit Smoothie Recipe!
The problem with the blender was that it cut the seeds in very small pieces, which were not that nice to swallow.
This time, I decided to use the juicer so as to not have the seeds in the drink.
I used a dozen passion fruits.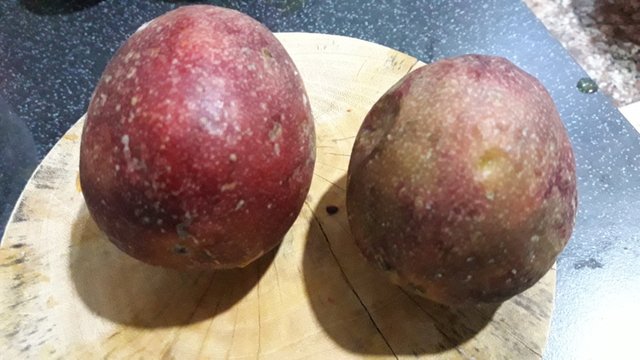 I cut them half and with a spoon collected the inside in a ball.
I will be adding soy milk to the juice.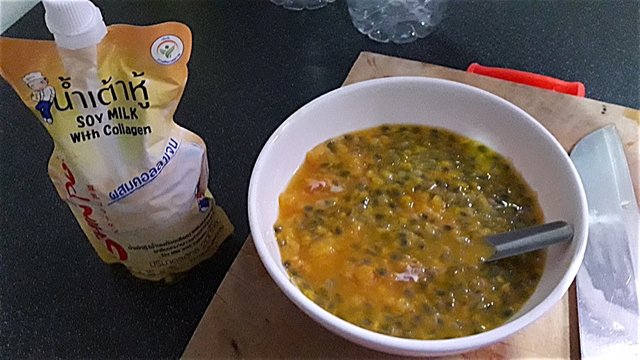 I then used some greens, two cucumbers and a lemon.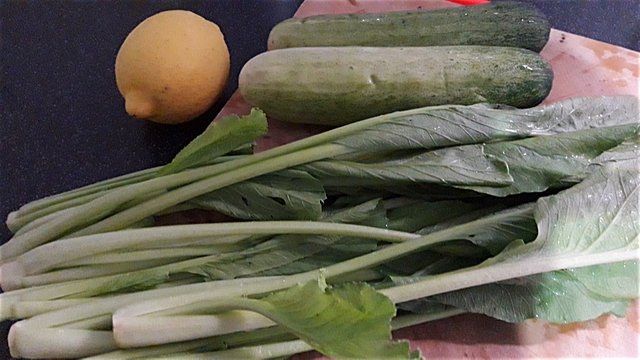 As you can see, this is a simple juice with few ingredients.
When all was cut off, I juiced them first and poured the passion fruit liquid in the juicer.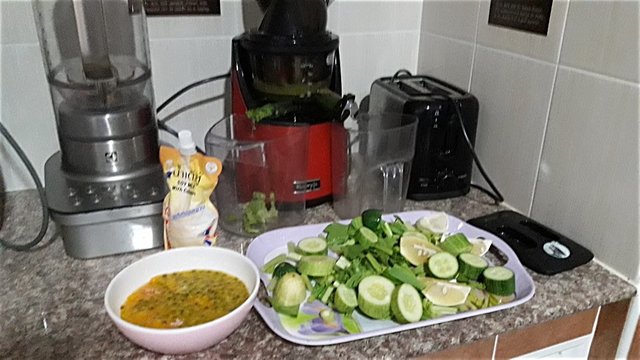 It doesn't look like the passion fruit was there at the end, but it was.
The green from the veggie is dominant.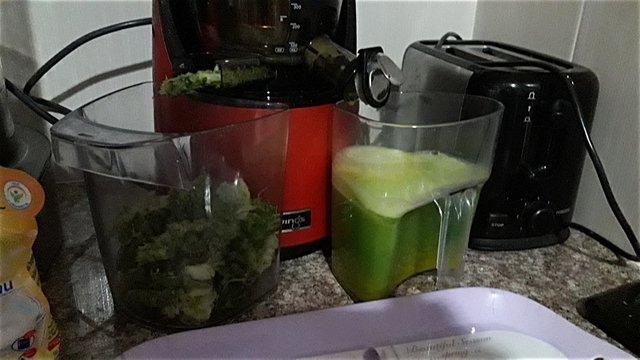 I then poured the juice in a glass and added the soy milk to it.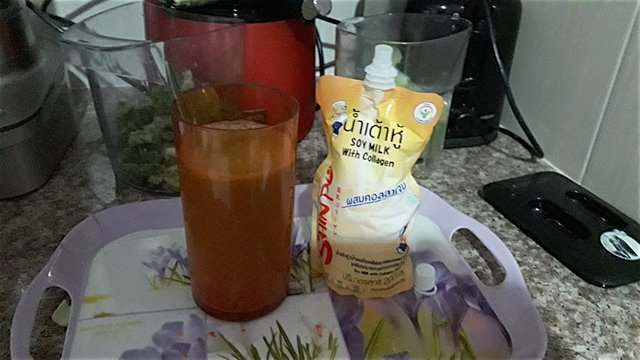 I did not want to add the soy milk in the juicer, which you can do, but after mixing the juice and soy milk together in the glass, I believe the result is the same.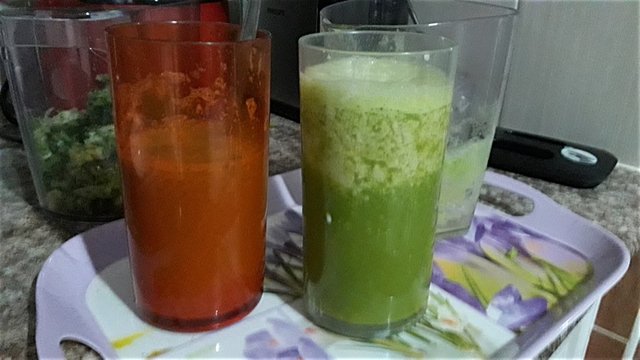 I roughly got two glasses that I drank immediately after.
That was an excellent and healthy juice and much more enjoyable to drink without the seeds.
It was for sure much better than these European juices you buy in supermarkets.
I hope that you enjoyed reading this post and that maybe you will try it yourself.
I would be glad you do.
All photos are mine and taken with my Samsung phone.
I have categorized my posts on Steemit for easy access:
Steemit tools | Steemit strategies | Steem economics | Steem on WordPress | Blogging on Steemit | Steemit posts I curated | Cryptocurrency | Cryptocurrency trading | Mac computer tutorials | WordPress & online marketing | Self-development & motivation | Travel in Thailand | Travel in Japan | Travel in Europe | Life in Thailand | Fitness challenge | Fruit-veggie juices & smoothies | Education | My answers on Quora | Fundition tutorials & projects | Miscellaneous writing
You may prefer to go to my Steemit Posts Directory.
Want to learn a new skill? Visit MG Course Discounts where I have lots of online courses you can take for only $9. Sign-up for the newsletter to get one free course and coupon codes.
The most important votes you can make on Steem are for Witnesses. The top 20 witnesses can influence the addition or removal of features in future Steem hard forks. Read my post: What is a Steem Witness, How to Vote and Why?
Michel Gerard