Hi everybody! By now you probably all know about the new feature in Steemit that was introduced yesterday. REBLOGGING, the ability to share posts from others with those who follow you. First I would like to say that even though this feature still requires further development, it is beyond a doubt an AWESOME feature! Congratulations to the DEV team for this exciting new feature.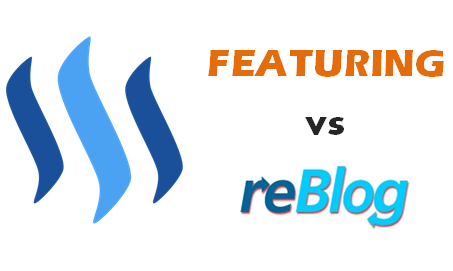 FEATURING vs REBLOGGING
Now to my main point! Having this new Reblogging feature will allow us to see the real intentions of ALL those people that are constantly featuring new authors, all of them say they do it out of good will and that their MAIN GOAL is to expose undervalued authors and that they also give all the earned SBD to the authors that are featured. I don't know about you but I have always thought there should be another way to do this, I usually see 2 or even 3 posts in the top 20 trending results from the same person featuring several authors and I say to myself we should use this only to see the author and go to that person's blog and vote for his post instead of the featured one!
Well now we have the perfect solution! REBLOGGING, THE PERFECT WAY AUTHORS FEATURING PEOPLE CAN ACCOMPLISH THEIR MAIN GOAL, if it really is only to expose the Author and not get a cut of his reward in Steem Power.
Featured authors will get what they really deserve!
STEEM POWER for writing a good post, instead of just the SBD generated by the featured post.
Actual exposure of their blogs.
More potential followers.
People reblogging will still be rewarded:
More followers if what they are constantly sharing is good content.
Good curation rewards, since they would be the among the first people voting before exposing the content.
Well it all comes to what people featuring other people really wants, but now, we can see their real intentions!
Upvote and Reblog this so that we can see MORE REBLOGGING AND LESS FEATURING !!