I read a post by the developer for Steemworld that he needed some financial help keeping this Application on the Steem blockchain because of the economics of Steem in this bear market. So I had been writing this post for a contest and I decided to split the post reward with the developer @steemchiller as a tangible demonstration of my appreciation.
This post is my entry in the Realityhubs Contest: My Favorite dApps.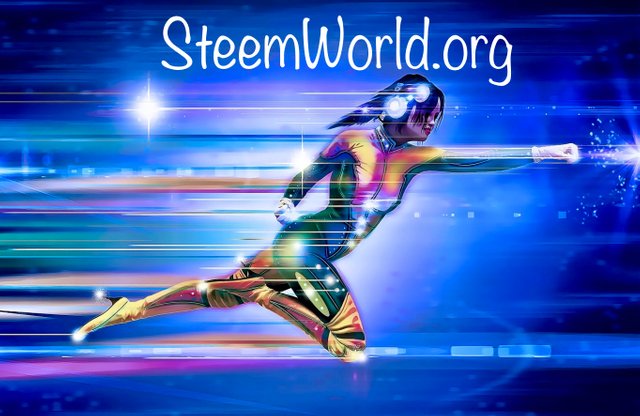 The Review
The application "Steemworld" was created by @steemchiller and he continually updates it. His recent updates in fact are outstanding because it allows you to see all the balances of your tokens in one place, claim your rewards all at once and stake your rewards ten tribes at a time. These functions alone are fabulous, but there is so much more to this application. I honestly believe that once you read about this application and start using it, you will use it everyday! And once a week you will discover something else it can help you do better!
@steemchiller produces a weekly post about Steemworld, which includes any updates and explains new functions or new uses he has added.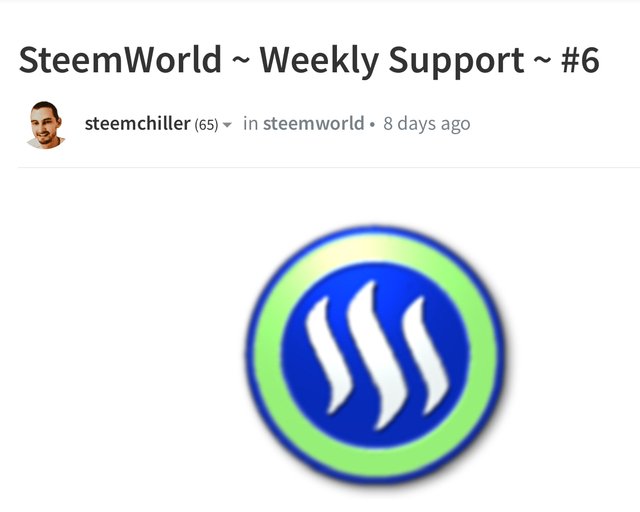 Those of us on the Steemit platform are fortunate that we have a very productive developer community which has provided us with over 200 applications to use on Steemit. Steemworld is one of those that I use everyday. It's uses and functions are many and I am sure I don't use all of them, but these are the ones I do use:
Check my voting power
Check my vote value
Check my post list to see how much each earned, who voted for them and how much.
Check my Steem-Engine Tokens list
Check my Steem Engine Token Rewards
Claim all my Steem Engine Token rewards at once
Stake all or some off my Steem Engine Rewards, ten tribes at a time.
Check all your delegations, add or remove delegations
New account creation to onboard your friend by paying Steem or RC.
Plus other functions I describe below and use pictures to help explain functions shown below.
How do you use it?
The application web address is www.steemworld.org. In order to use it to manage your progress on Steemit and all your Steem-Engine Tribe Tokens You type www.steemworld.org/ and add your Steemit nickname like this: www.steemworld.org/@shortsegments
Steem-engines Tribes Tokens Listing
Steem world is your one-stop shop for all things Steemit and all things Steem Engine!
You can check your listings of Tokens, and see how many rewards and staked tokens you.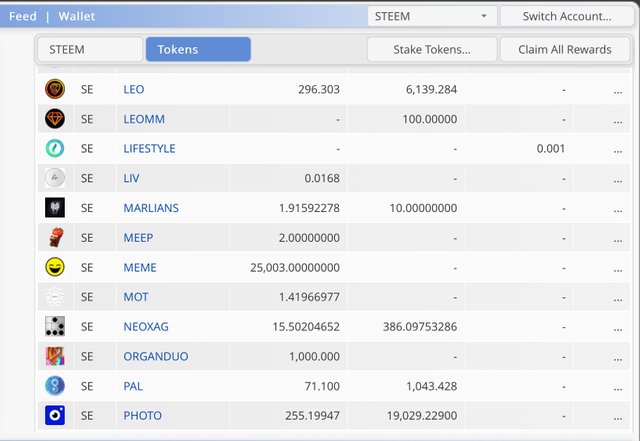 You can also claim all your Token Rewards at once here from all the tribes!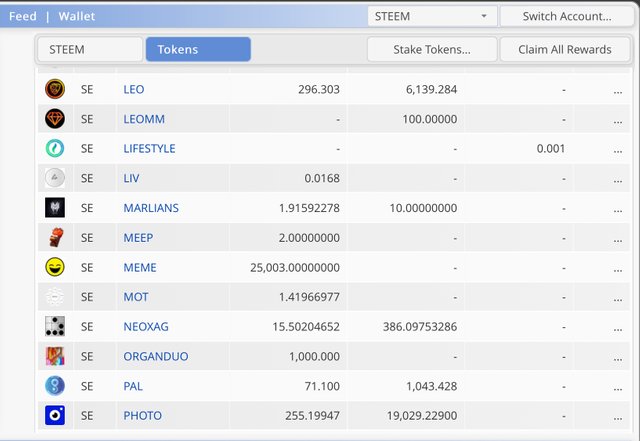 You can also Stake All your Tokens at once here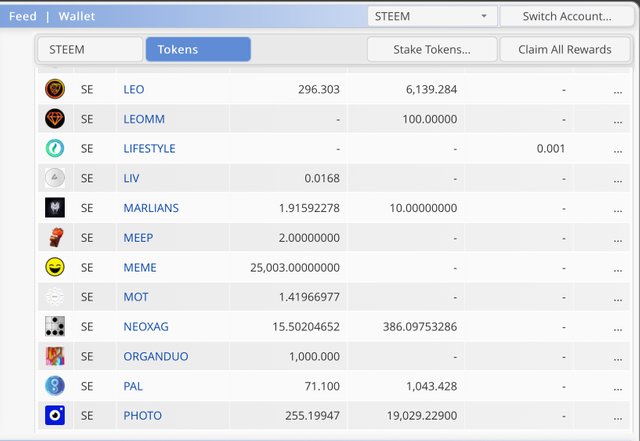 New Account Creation
You can onboard new Steemians by creating new accounts here by paying with resource credits or Steem.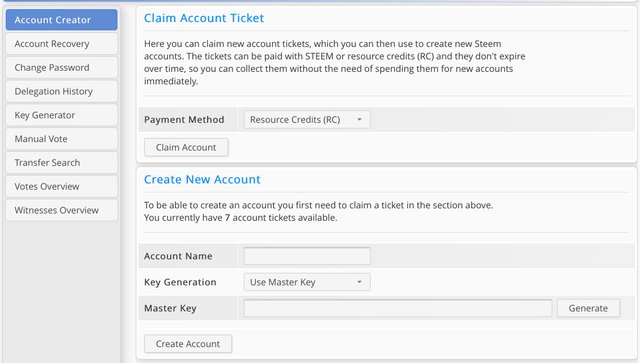 Check my voting % and how much my vote is worth when I vary my voting percentage. It also tells me how long do I wait to get back to100%.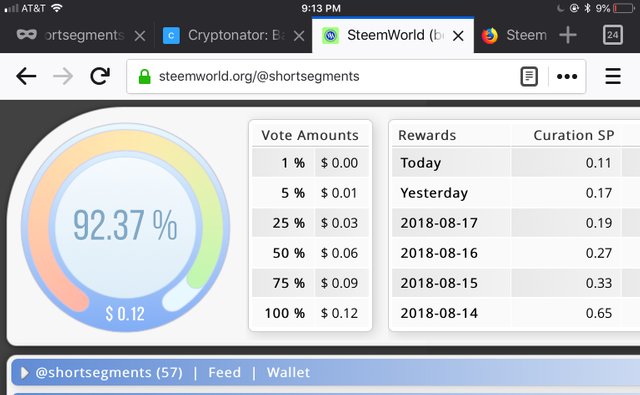 Check My Stats
How much Steem Power do I have, how many followers, what's my reputation; how close am I to increasing my reputation.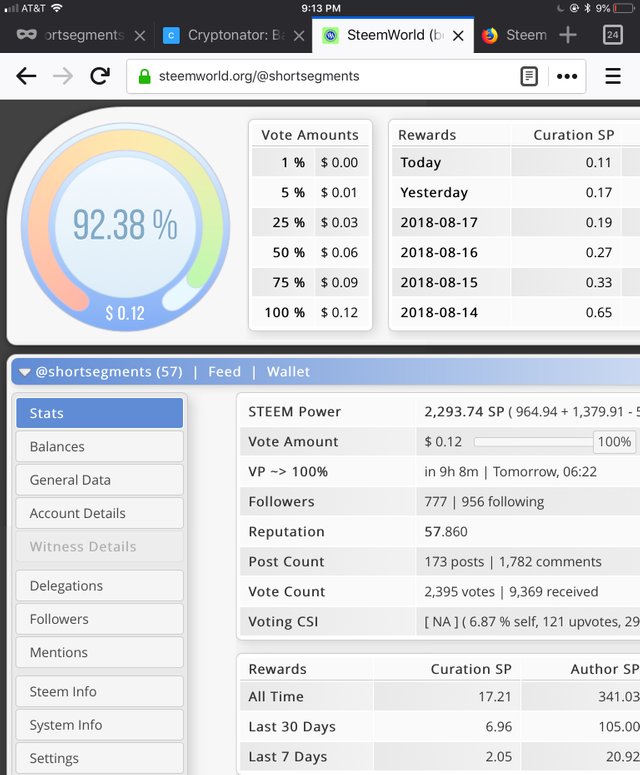 Check my list of posts
This section gives me a list of my posts, how old are they, how much has each post has earned and what's my total reward amount for the whole list. But that's just the beginning. There are also subcategories of information about each post. Which tell me more and I have pictures and brief explanations below.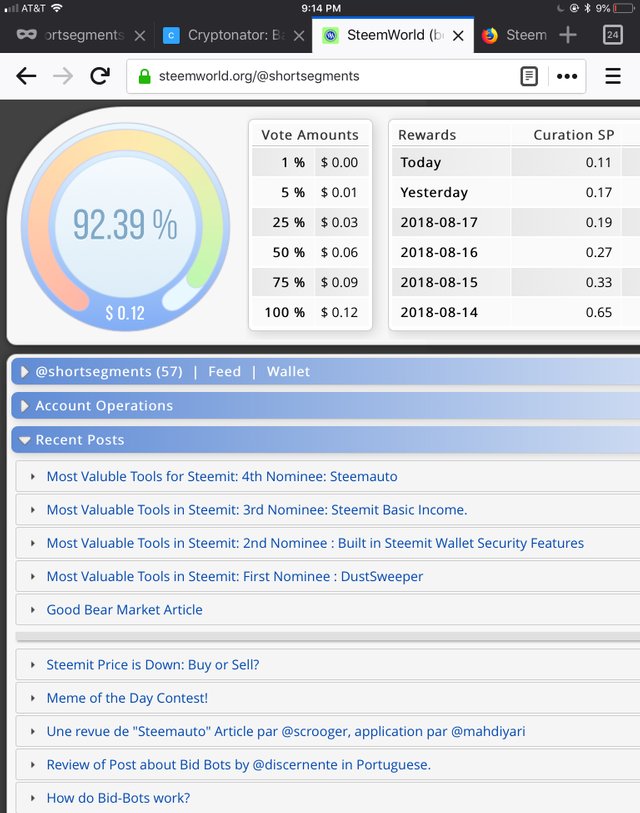 Post Summary
This tells me how much my post rewards are, but also tells me how is paid to me as the author and how much is paid to the curators or readers and upvoters.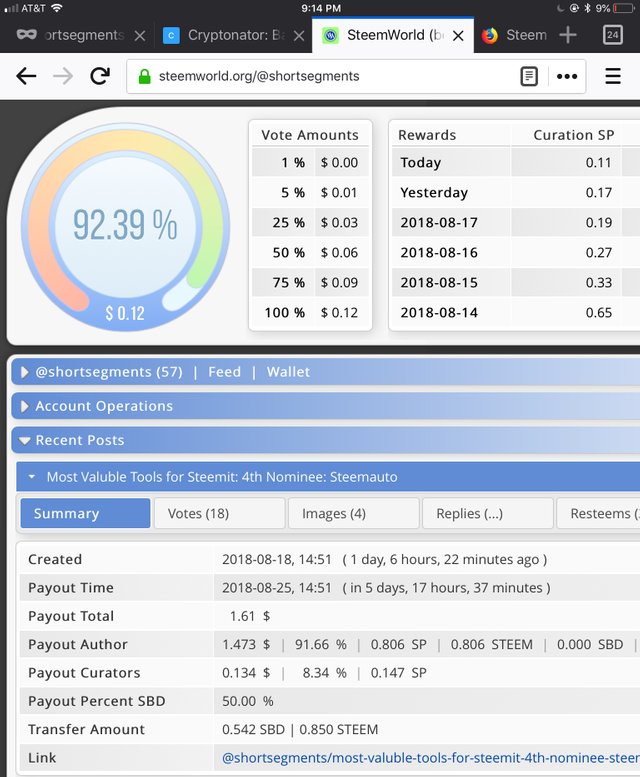 Voter Listing
This tells me who voted for my post, what voting percentage I got and how many Steem tokens I got from each vote!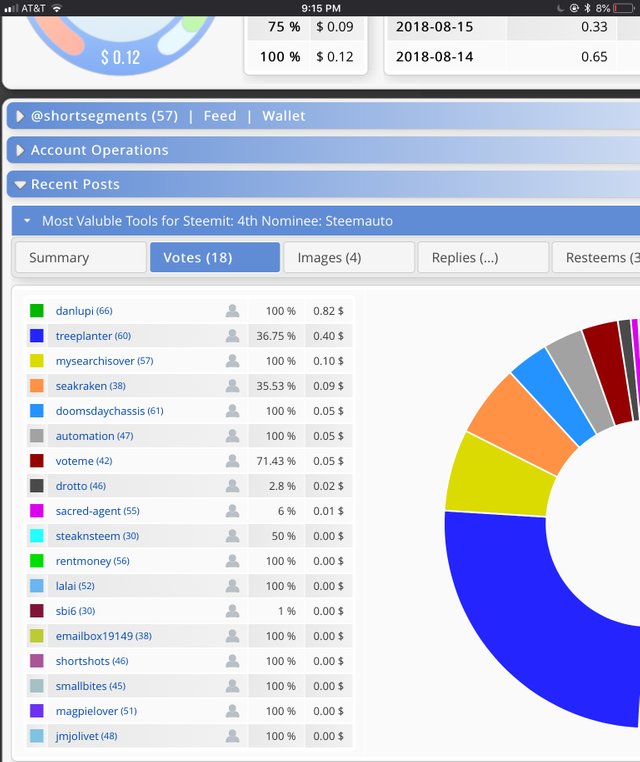 Voter Listing Graphic
This shows me in graphic or visual sense how much value each vote had compared to all others. You hover over a color and it gives you the Steem name and value of the vote!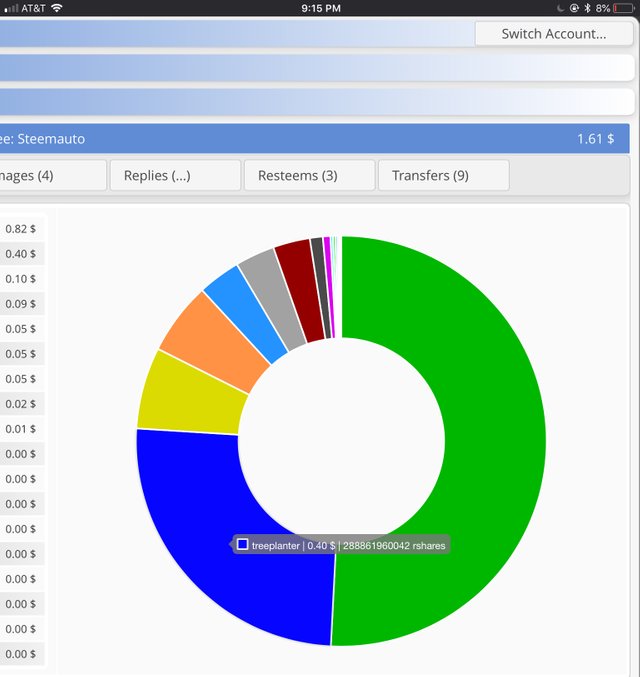 Replies to my post
Every comment or reply is listed here for me to read.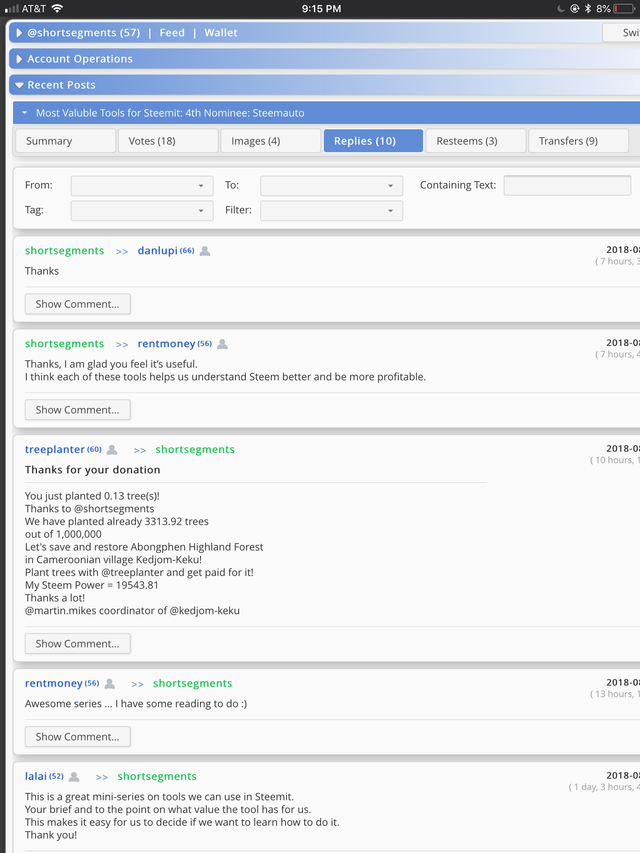 Resteem
This column tells me how many times people resteemed my post. Plus clicking on the colum gives me a list of everyone who resteemed my post, so I can thank them.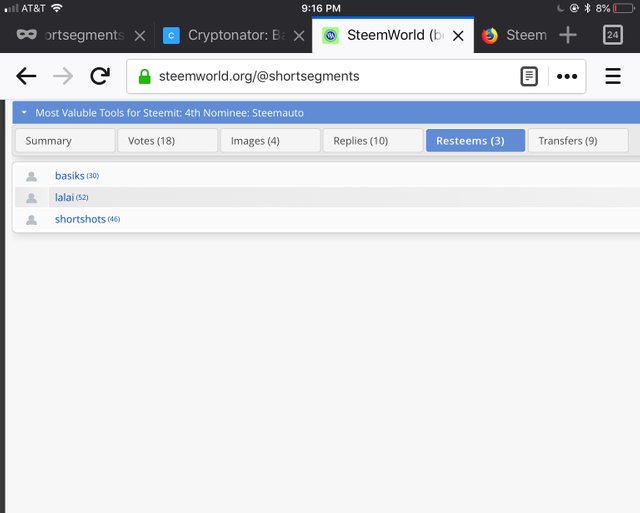 Followers
Tells me who followed me today, yesterday, etc, so I can contact them, plus it gives me basic information like the
So I can contact them and engage them!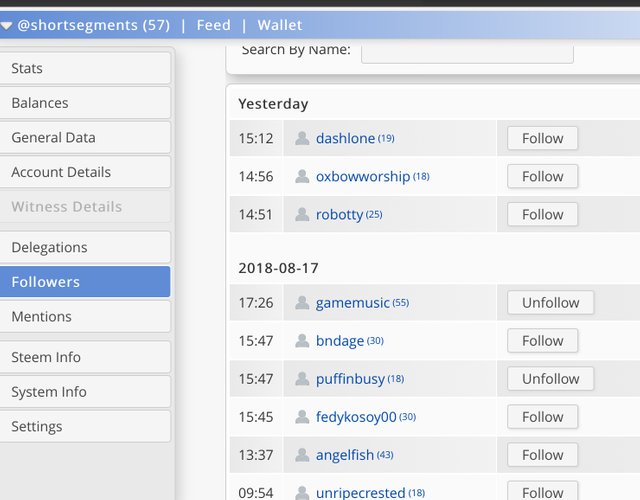 Mentions
Anytime someone mentions you by name, the blockchain hears and Steemworld records it here. So you find out you won stuff, or you were ranked in someone's ranking of posters like a country specific or topic specific type of post. This tells you if your a significant player in a niche or who to contact to collect your winnings. Plus you can thank people who write about your posts! Or if your a developer here is where you find out someone is writing a great review of your application, like me! Thank you @steemchiller!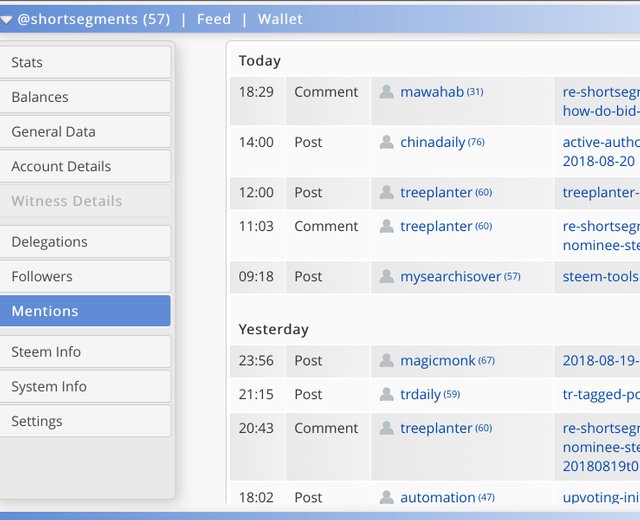 Steem Price
Yes you can find that out here too!
Check out the price of Steem and SBD, and you daytraders can check internal versus external market prices to get the best price or profit from the difference.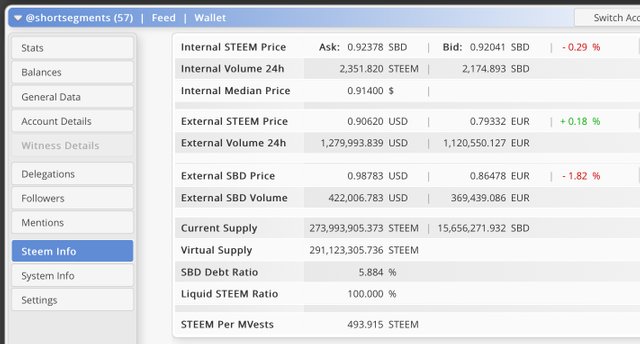 Your coming author rewards on your posts
You can tell at a glance at a list of your unpaid posts how much your Author rewards are from each post. The section under this lists your curation rewards. This let's you see where the bulk of your rewards are coming from and plan your efforts accordingly for maximum profitability!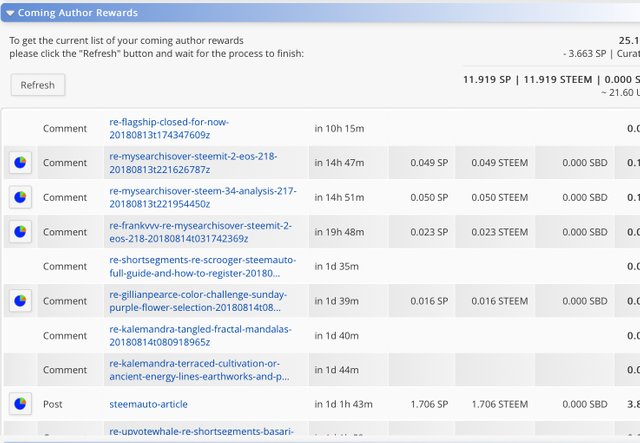 Check, Add, Remove Delegations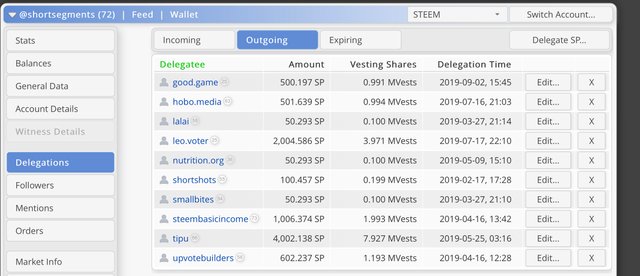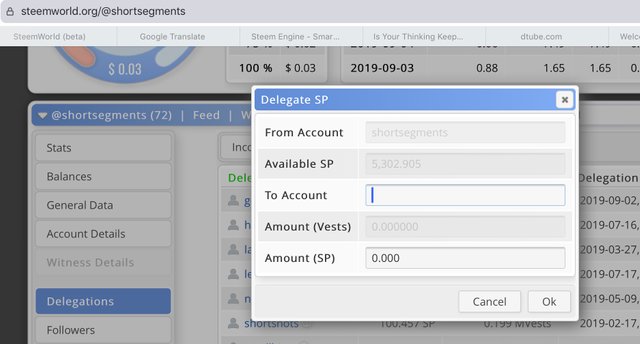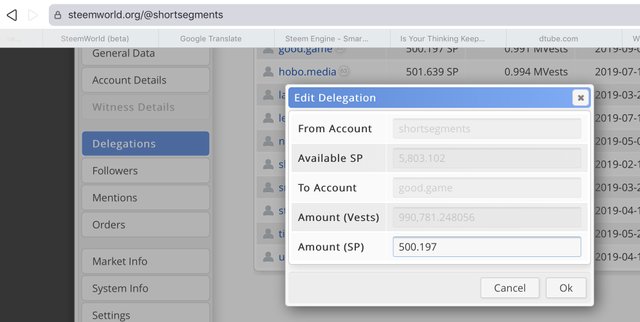 Conclusion
I use this application everyday because it allows my to monitor every aspect of my Steemit blog, my progress on that platform and all of my Steem engine tokens, over thirty of them. I can claim my Steem rewards and all my Token rewards and stake my token rewards ten tribes at a time. The application provides tons of information about your posts and you can use it to study the blogs of others. I think this DAPP is one of the candidates for the Most Valuable DAPP for sure on the Steem blockchain because it is an incredible One Stop Shopping for everything Steemit. Plus it comes very close to being a one stop shop for all the Steem Engine tokens. There are several single function applications made for the Steemit platform, but this is a very good multifunction application. I encourage you to study it's capabilities carefully.
📷📸 and ✍🏼✍🏼 by Shortsegments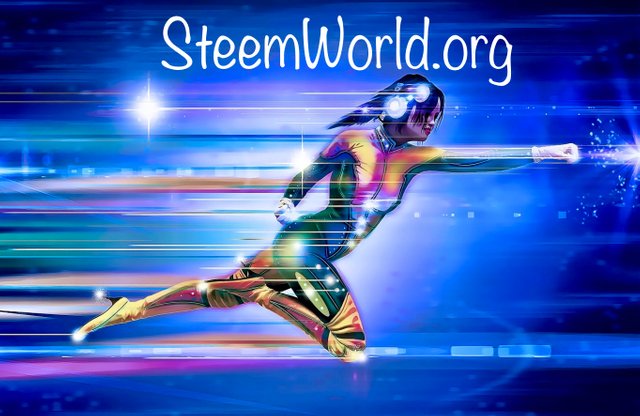 Instructions
"Steemworld" an application created by @steemchiller
The application web address is www.steemworld.org. In order to use it to manage your progress on Steemit and all your Steem-Engine Tribe Tokens
You type www.steemworld.org/ and add your Steemit nickname like this: www.steemworld.org/@shortsegments
References
All pictures are mine.
All information is derived from my personal experiences with this application.
The application is made by @steemchiller and I hope you follow him and support this project by upvoting his weekly reports!
📷📸 and ✍🏼✍🏼 by Shortsegments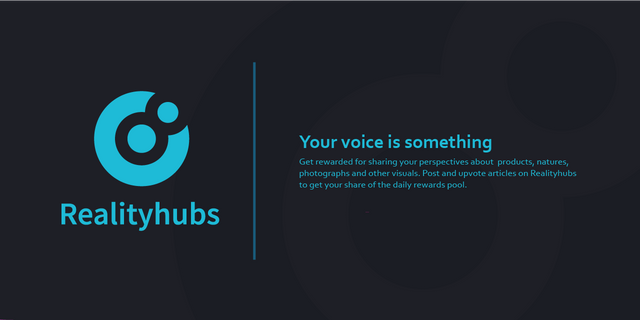 RealityHubs.com
RealityHubs is a place for reviews.
Learn more about this new project Here! .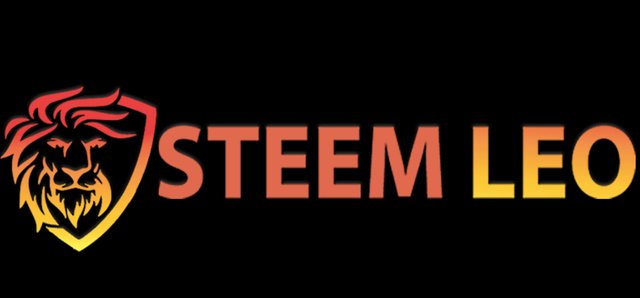 Source
Steemleo is a community for investors or people who want to learn about investing!
Click here for more information



PhotoStreem: a place for people interested in photography
PhotoStreem
---
Posted on RealityHubs - Rewarding Reviewers