SteemRadio - schedule of all the steemit radio shows - week beginning 4 June 2018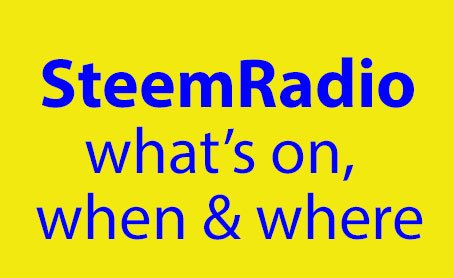 The Steem Radio Waves are fairly placid this week.

Just one new show picked up on the radar.

The Whaleshares Blue Report Show with @freedomexists, @chiefmappster and @seveaux airs on Thursdays from 11pm UTC.


---
---
The Whaleshares Blue Report Show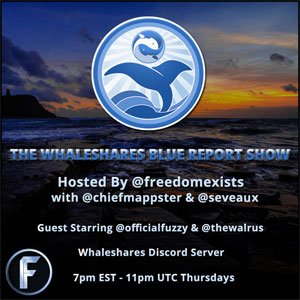 With the coming launch of the new Whaleshares platform @freedomexists is launching a new format show The Whaleshares Blue Report Show.
The show will start with a news segment, followed by a Coffee 'n' Crypto session with @chiefmappster. Next up will be a music session with @seveaux.
The show will also feature a Community Curation session, as well as a discussion with an invited guest.
I believe I will be the guest this coming Thursday !
More details about the show are at :
---
---
My Life in 8 Songs


The guests for this week's My Life in 8 Songs show on Thursday will be @yidneth, @entrepreneur916 and @steemcafe.
I am still catching up with editing and releasing past show recordings but here are three more new interview releases for @johnvibes, @movement19 and @d-vine :
---
---
The Alternative Lifestyle Show


Guests on this Friday's Alternative Lifestyle Show are still being finalised, but we should be joined by @cecicastor and @chrisabdey who will be updating us live from Nicaragua on the ever deriorating situation in that country.
We should also have @buzz.lightyear from Malaysia talking about his new EMPOWER renewable energy blockchain project.
Friday's show will also include an update on my A Dollar A Day charitably giving project that started last month.
In case you missed last week's show with @astralliam, @nikema, @article61, @mrbullet131, Debora Milazzo and @quochuy the recording is now available :
---
I am always on the lookout for more guests for future shows. If you have in any way an alternative lifestyle and would like to tell the steemchain about it please do contact me via a comment below or on Discord @Pennsif#9921.
---
---
If you know of any other relevant shows that I haven't included please do put the details in a comment below or DM me on Discord @pennsif#9921 . Also please let me know of any changes to the shows already listed

---
The times for the shows are all shown in Coordinated Universal Time UTC/GMT - which is currently UK time. There are numerous sites on the web for converting UTC to your local time. This one looks particularly useful worldtimebuddy.com
---
SteemRadio : schedule of shows for week beginning 4 June 2018


---
---
You might also be interested in some of my other posts :
MY RADIO SHOWS :
MY PROJECTS :
---
---
[ header graphic by @pennsif // fox head logo by @dreemsteem ]