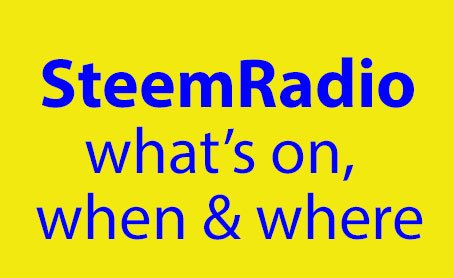 Some hot news on the Steem Radio Waves this week.

The mega @utopian-io project is coming to the radio waves on MSP Waves.

Also this week the first round of the MSP Waves Radio Show Reviews Contest will be drawing to a close on Thursday. There is still over 25 SBD in the pot to be won - just for listening to MSP Waves radio shows and writing reviews.

Check out the post here for full details of how to enter and how to win...


---
---
Utopian Open Source Radio Show


Wednesday sees the launch of the new Utopian Open Source Radio Show on MSP Waves Radio.
The show will initially be one hour from 7pm - 8pm UTC immediately before Shut Up & Listen with @kodaxx.
Full details will be coming soon but it is understood that the show will be hosted by @jedigeiss and @buckydurddle will be assisting behind the scenes.
The show will include news and information from the world of open source software, utopian.io success stories as well as one or two guests and audience participation.
---
---
My Life in 8 Songs


The guests for this week's My Life in 8 Songs show on Thursday will be sports fan and fishing fanatic @broncofan99 from Ottawa Canada, musician, dancer, foodie, outdoor enthusiast and lover of life @coruscate from Washington USA and homesteader and super-curator @goldendawne from Michigan USA.
I am still catching up with editing and releasing past show recordings but here are three more new interview releases for @johnvibes, @movement19 and @d-vine :
Last week's show recordings will be posted shortly.
---
---
The Alternative Lifestyle Show


Guests on this Friday's Alternative Lifestyle Show include @quochuy who will be talking about worm farming and mushroom growing in Australia - and he might also be singing about Angels as well.
The show will also include a discussion about Dementia Fraud with Scott Bullet and Debora Milazzo - thank you to @article61 for organising this.
Friday's show will also include an update on my A Dollar A Day charitably giving project that started this month.
In case you missed last week's show with @freedomtowrite, @breezin, @masterroshi, @richforever, @gregorypatrick, @makinstuff the recording is now available :
---
I am always on the lookout for more guests for future shows. If you have in any way an alternative lifestyle and would like to tell the steemchain about it please do contact me via a comment below or on Discord @Pennsif#9921.
---
---
If you know of any other relevant shows that I haven't included please do put the details in a comment below or DM me on Discord @pennsif#9921 . Also please let me know of any changes to the shows already listed

---
The times for the shows are all shown in Coordinated Universal Time UTC/GMT - which is currently UK time. There are numerous sites on the web for converting UTC to your local time. This one looks particularly useful worldtimebuddy.com
---
SteemRadio : schedule of shows for week beginning 28 May 2018


Sat 02 Jun | 9pm - 12am | MSP Waves | Frequency Waves 432Hz with @globocop
| | | | |
Sun 03 Jun | 1am - 2am | MSP Waves | Minnow University with Shane @swelker101
Sun 03 Jun | 2am - 3am | MSP Waves | The Peace Academy with @isaria & @aggroed
Sun 03 Jun | 4am - 6am | MSP Waves | Coffee and Philosophy with @Clayboyn
Sun 03 Jun | 3pm - 6.30pm | SteemStar | Steemitizens of Steem with @SirCork
Sun 03 Jun | 5pm - 7pm | MSP Waves | God Waves with @globocop
Sun 03 Jun | 7pm - 9pm | Clinic FM | Sunday Sauce & Staples with @Annieben
Sun 03 Jun | 7pm - 9pm | MSP Waves | Romance on the Air with @hope777
Sun 03 Jun | 9pm - 11pm | MSP Waves | From the Ground Up Lazy Sundays @ftgu
Sun 03 Jun | 11pm - 12am | MSP Waves | Steemit Creative with @swelker101 & @isaria
---
---
You might also be interested in some of my other posts :
MY RADIO SHOWS :
MY PROJECTS :
MY CONTESTS :
---
---
[ header graphic by @pennsif // fox head logo by @dreemsteem ]